Lifestyle
Travel is a major focus of these sites but also with beauty, fashion, lifestyle and or society. Our general travel blogs are categorized in our Blogs of Travel Directory, not here.
Im a 26 year old LA transplant from Florida who came to visit the City of Angels for the weekend 3 years ago and never went back home!
13 views
Submitted Feb 21, 2015
My name is Rochelle. I am lucky enough to live in one of the top tourism destinations in the world which means there is always something to do. Growing up I had no idea my home town of Orlando, Fl was a place people would dream of coming
8 views
Submitted Dec 24, 2015
An adventure craving, travel, wellness and positive lifestyle blog all bundled up in one!
7 views
Submitted Jan 31, 2016
We are world travelers, luxury travel bloggers, luxurious hotel reviewers, travel writers and travel photographers. Traveling is our way of life. We like discovering new places, cities, luxury hotels and new culinary experiences around the world.
8 views
Submitted May 27, 2015
travel, food and lifestyle
7 views
Submitted Feb 7, 2017
Food, Travel, Arts & Culture
8 views
Submitted Feb 15, 2016
Im Andrew Henderson – serial entrepreneur, international investor, citizen of the world, and free man. I share tips on how to internationalize your assets and regain your freedom in today's economic turmoil. My free daily newsletter provides insights I've gathered from my travels on how you can take action.
116 views
Submitted Jun 25, 2013
I'm Caroline. I'm not your average gal. I'm also a copywriter and part-time globetrotter that talks about my boobs a lot
9 views
Submitted Dec 27, 2015
I created this space to share about our family's travels, the inspiring people we meet along the way and the many things I'm learning as we go
9 views
Submitted Dec 22, 2015
on a quest for health, wealth and happiness
11 views
Submitted Jun 12, 2014
stories of adventures & creative endeavours
13 views
Submitted Dec 27, 2015
Passion for travel, adventure, embracing Mother Nature & connecting with people and within one self.. .Soul conscious living. These are my storied journeys spoken through image and word.
7 views
Submitted Dec 26, 2016
So this is my third blog… yes, I had 3 separate blogs. Crazy. Anyhow I did until I discovered the Import button. Now I have 3 blogs that have been forced into one blog – These blogs began at 3 times
14 views
Submitted Dec 20, 2015
Our Wandering Mind started off as wanting to create a space that I was able to record my experiences while studying abroad in Australia. Through the process, and with my background in studying Communication, I decided that Our Wandering Mind could be the perfect space for me to share my thoughts and experiences in anything beauty, travel, and lifestyle!
8 views
Submitted Dec 31, 2016
We are Craig and Cheryl Koller. Practically newlyweds with a blended family of four (yes four) daughters. With mixed emotions we will soon be "Empty Nesters". Both born in the good ole USA, (Cheryl in Georgia, Craig in Florida) we have lived very different lives. Together, we have found a great balance and a mutual avid love of travel, adventure, long Harley rides, unique cultural experiences, music, food and wine.
10 views
Submitted Jul 3, 2016
I'm a computer Engineer by profession but I enjoy art, travelling, planning the travels, journaling and blogging the weekends and vacations trips Outside Suburbia!!
10 views
Submitted Dec 27, 2015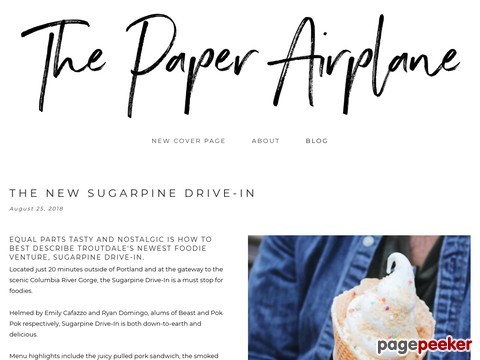 The Paper Airplane is a lifestyle site sharing authentic stories for the modern wayfarer about travel, food, culture and adventure, as well as how to create daily, meaningful experiences both at home and abroad. It's a love affair of countless hours, a few sleepless nights, and one gigantic dream involving an already well-worn passport. These days the world is more connected than ever and I hope that you come to find The Paper Airplane a trusted millennial resource that inspires you to make travel an accessible part of your life.
11 views
Submitted Dec 26, 2015
The Partytrail is a Los Angeles based lifestyle blog about travel, culture, and nightlife from different spots around the globe.
10 views
Submitted Feb 18, 2016
Based in NYC, TheSimplySaid is a collective of personal stories that explores life in many forms, from photography and fashion, to travel and culinary.
7 views
Submitted Nov 30, 2016
For many of us, work is something that has to be done, something that must be grimly endured. Work is largely seen as a means to an end, offering no other reward.
14 views
Submitted Feb 8, 2013

About Dave's Pick
Category Stats
Listings:
252
Regular:
252
Last listing added:
Dec 26, 2017