Ezines
A Travel Thing was created with the goal of being a place for travelers to find information about destinations and things to do while travelling. The articles published on the site are based on information from our own experiences or interviews, tips and guest posts from other travelers or relevant content and news curated from the web.
154 views
Submitted May 19, 2016
Your Ultimate Online Travel & Adventure Magazine
174 views
Submitted Apr 26, 2010
content focusing on road trips in the USA
145 views
Submitted Jan 14, 2016
magazine of place and exploration
148 views
Submitted Nov 22, 2015

the comfort and travel magazine
143 views
Submitted Jan 7, 2016
Departful is an independent online travel magazine founded in 2012 in Toronto, Canada by a team of experienced and enthusiastic travelers. We feature current travel news, stories, tips, and diversions based on our own experiences from over 100 countries (and growing) covering all things adventure, culture, food and drink, technology, and gear
168 views
Submitted Mar 9, 2013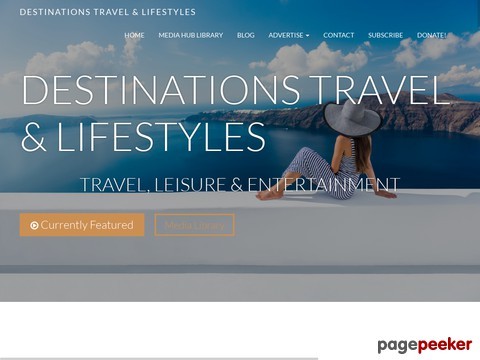 articles about beautiful destinations
183 views
Submitted Apr 8, 2013
Digital Nomad Travel Magazine is a fountain of inspiration for independent adventure travelers and photographers.
152 views
Submitted Oct 21, 2014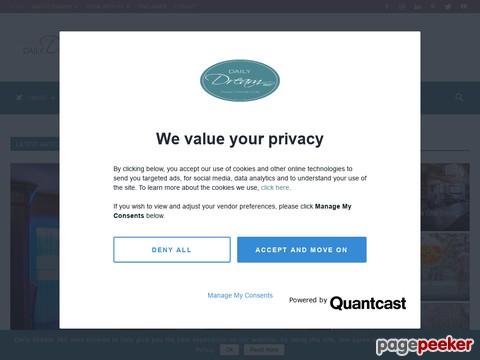 Dream Travel Magazine is an online travel magazine filled with travel tips, hotel and excursion reviews, favourite destinations and dream vacation destinations. Our mission is to provide the best travel information, tips, reviews and resources to help our readers turn their dream vacations into reality.
166 views
Submitted Jun 3, 2013
Enduring Wanderlust is an online travel magazine and blog that delves into the most compelling aspects of travel. Our mission is to share with our community of explorers the knowledge necessary to fulfill their love of travel. We offer up-to-date travel news, expert viewpoints about the best destinations, thoughtful travel tips, and a formula for having the most authentic trips.
165 views
Submitted Mar 10, 2010
EN ROUTE WONDERS -The Complete Travel Index is a B2B Digital Magazine that caters to Travel, Tourism & Hospitality industry players in India and rest of the world. We believe in creating a unique web portal, beneficial to the millions of travelers across the globe, as well as the people from the travel trade industry, who make their travel an experience!
144 views
Submitted May 31, 2015
online travel magazine
162 views
Submitted Jun 15, 2012
FarewellTravels is a boutique online travel magazine for the discriminating traveler. Our objective is to share the most worthwhile travel experiences, destinations and products and at the same time, promote responsible tourism
171 views
Submitted Mar 25, 2010 free online travel site - provides young adults with a place to get independent information on the best travel articles and deals
758 views
Submitted Feb 26, 2010
Global Traveler is the only monthly, ABC-audited magazine written exclusively for frequent business and luxury travelers. Our readers know the best in travel – from the finest premium cabins on airlines around the world to the most luxurious 5-star hotels. The Global Traveler team brings all the up-to-minute, need-to-know information to elite travelers every month.
163 views
Submitted Nov 16, 2012
The official travel magazine of the International Food, Wine & Travel Writers Association, Global Writes provides an ever-expanding library of illustrated trip reviews by professional travel journalists with advice on the best vacation ideas and itineraries, plus tips and recommendations on global destinations, hotels, B & B's, cruises, restaurants, food, wine and more. To plan your next adventure -- or just dream about one -- become an insider through the travel experiences of IFWTWA members worldwide.
168 views
Submitted Aug 14, 2010
the magazine for the intrepid traveler
146 views
Submitted Nov 22, 2015
Globonaut was inspired by a desire to create an open platform and community where anyone can share their stories about the world around us. It is an online travel magazine with a core crew of bloggers, but also a place for anyone to share their ideas and content.
132 views
Submitted Dec 26, 2016 an online travel magazine publishing the best travel stories from off-the-beaten track destinations, informative articles on budget travel, volunteering, working, and living abroad
170 views
Submitted Mar 31, 2010
an online travel magazine covering the world's most fascinating people and places. Written by international writers who know the regions they cover
853 views
Submitted Feb 26, 2010

About Dave's Pick
Category Stats
Listings:
59
Regular:
59
Last listing added:
Apr 24, 2017