153 matching results for "adventure":
Adventure
generator for spontaneous fellows - the intelligent search engine for the cheapest tickets of low-cost airlines
175 views
Submitted May 13, 2012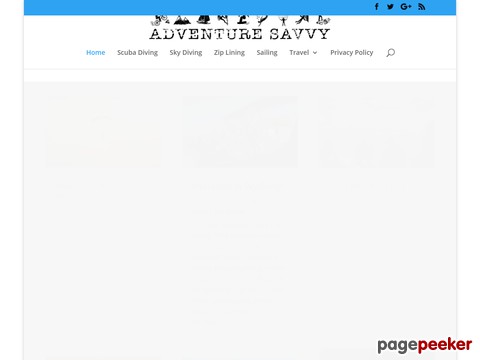 international adventures
102 views
Submitted May 27, 2015
Meet Kelly & Ryan, A Couple With A Passion For All Things Travel
72 views
Submitted May 30, 2015
Australian based
adventure
company, offering International trips
64 views
Submitted Dec 11, 2012
Traveling solo is the best way to meet and connect with people and different cultures. It opens your eyes and makes your world grow bigger.
55 views
Submitted Dec 5, 2012
unique travel experiences for the 20s and 30s
54 views
Submitted Nov 21, 2013
Adventure
Strong is about living life actively – not passively. It is about getting off the couch and into life. The goal is to build a community of like-minded people with interests in
adventure
, fitness/health and travel.
50 views
Submitted Dec 12, 2012
Cameron L. Martindell is a freelance
adventure
and expedition writer and photographer who is always "Off Yonder: Seeing the world for what it is."
50 views
Submitted May 10, 2013 global community of travelers
49 views
Submitted May 1, 2016 Odyssey365 is a super casual trip around the world in 365 days, which will be recorded and edited all the stories and adventures on video and posted on our website and social networks.
49 views
Submitted Jul 27, 2013
Travelog, as I understand, is a fusion of two words travel + dialog, a conversation about one's travel. It also means travel + log, logging your travel into a journal or something. Because I don't want anything or anyone to be left out, Travelog with Jem (TwJ, read T with J) takes both definition.
48 views
Submitted May 8, 2016
Velabas: A Travel Narrative and Drawings from Hitchhiking Around the World
45 views
Submitted Nov 19, 2012
With a passion for
adventure
and social justice, I have been able to create a hybrid business which allows me to live my dreams while supporting others. Though it is a risk, it is a risk worth taking.
43 views
Submitted Oct 18, 2014
Were Jason and Nikki Wynn, a couple of perpetual travelers, RV'ers (for now) and modern day documentarians. This is the home of our discoveries and adventures all depicting the unscripted tale of the quirky couple who traded in everyday life to satisfy their wear-out-your-shoes sense of
adventure
.
42 views
Submitted Nov 8, 2013
Danny began adventuring at the age of four when he cycled down the steep steps that led up to his family home in Buxton. The cuts on his knees, and sore head did nothing to deaden his adventurous spirit or his love of cycling.
42 views
Submitted Jul 14, 2013
We are the
Adventure
Travel Trade Association (ATTA), a global membership organization and home to a thriving community of more than 800 responsible, profitable businesses, destinations and media who transform customers and businesses alike into advocates for sustainability and justice worldwide.
42 views
Submitted May 24, 2013
I am from Tokyo, Japan, just traveling the world, usually solo. I actually think I was born to travel. Now that I believe so, I finally (after a few long term travels) decided to share my travel stories, thoughts and photos.
41 views
Submitted Dec 23, 2015
We met by chance one night in Toronto and have never looked back. Shadi is an animator/motion graphic artist and Im a social worker... but we're considering making traveling our full-time job! We began our vacation adventures with a trip to the Mayan Riviera for Valentines Day in 2012. We love Mexico and will be returning there for our next
adventure
, so stay tuned!
38 views
Submitted Jun 15, 2014
Big World, Small Budget is a collection of all things travel. As a (not-so) young backpacker without a whole lot of money, my experiences tend to lie in the budget travel world, and my writing and travel tips reflect that. Unlike other travel blogs, I dive deep into the finances – accounting for every penny spent to ensure that, by following my advice, you get the most travel bang for your buck. Ive focused this website on budget travel, but its also where I share stories and advice about my greatest passion.
37 views
Submitted Nov 10, 2014
Alastair Humphreys is an adventurer, blogger, author and motivational speaker. He produces a monthly newsletter with the highlights of the blog and important expedition news.
37 views
Submitted Jul 6, 2013