88 matching results for "hotels":
The Social Media Tourism Symposium is the only conference of its kind that provides an opportunity for destination marketing organizations,
hotels
, resorts, attractions, and tourism related entities to share ideas and learn more about how to leverage social media within the tourism industry.
223 views
Submitted Nov 14, 2012
My name is Tom and together with Kate (my most loving wife), we started 2bearbear.com – a Singapore Travel Blog where we can share our travel experiences and create an online avenue for ourselves to remember all our trips. Basically when we want to review our trips or share travel itineraries with our friends, we just ask them to head here.
213 views
Submitted Jun 19, 2014
TravelingPanties is an online magazine featuring luxury travel advice from an expert. Katie is also a freelance travel writer for outlets like Forbes, Fodors, Startle and Cheapo Air.
204 views
Submitted Nov 28, 2012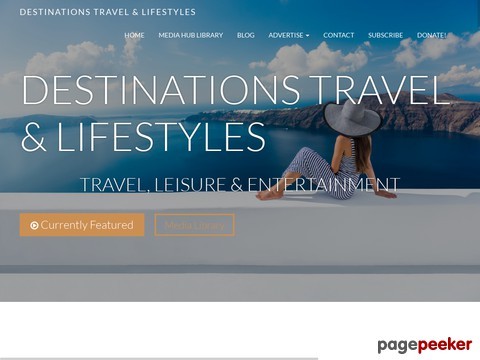 articles about beautiful destinations
165 views
Submitted Apr 8, 2013
this author loves to travel
164 views
Submitted Jun 5, 2016 Haute Compass is a unique travel guide with personalized insider tips and exclusive information. Our recommendations offers inspiration for the discerning traveller We have selected the best
hotels
, restaurants, bars, cafés & shops in London, Berlin, Milan, Copenhagen, Stockholm, Hong Kong, Dubai & the French Riviera.
156 views
Submitted Feb 16, 2013
real weddings in dream locations
151 views
Submitted Nov 16, 2012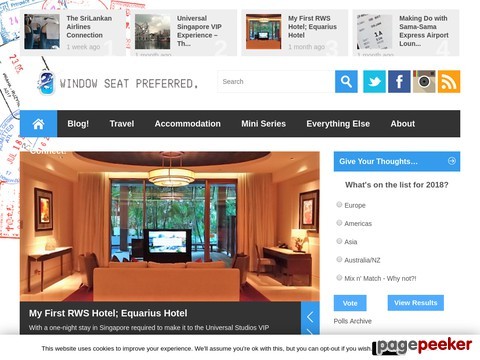 Round-the-world #traveller, renowned cheapskate, #tech & #internet addict
150 views
Submitted Jun 17, 2014 global community of travelers
149 views
Submitted May 1, 2016
Advisortravelguide , is a blog dedicated to YOUR TRAVEL DESTINATIONS. Whatever destination you are taking as a traveler, a holiday, an intrepid adventurer or an organized tourist destination, we are going to give you some advices for every single step of yours.
148 views
Submitted Feb 23, 2013
Find great
hotels
at low rates anywhere in the world. book online, pay at the hotel. no booking fee, no cancellation fees. over 80,000
hotels
.
146 views
Submitted Mar 22, 2013
Sheraton Harrisburg Hershey Hotel is just minutes away from downtown Harrisburg, Harrisburg International Airport and Hersheypark with easy access to historic Gettysburg, beautiful Lancaster, and charming Pennsylvania Dutch Country.
144 views
Submitted Jan 12, 2016
A Columbia River Gorge hotel in Washington State near Hood River and Portland, Oregon offering accommodations, golf, a spa, recreation, wedding locations and conference and meeting facilities.
144 views
Submitted Feb 16, 2011
accurate travel news and advice from Bob Payne
140 views
Submitted Feb 10, 2013
Offering UK and Ireland travelers holiday packages and deals on flights,
hotels
and activities in Dublin, Spain, Paris, Berlin, Dubai and other city destinations. Features specials on spa, golf and seasonal getaways to Marriott
hotels
and resorts worldwide.
138 views
Submitted Apr 21, 2011
Thai Plenty: The entertainment site about anything Thailand
132 views
Submitted Apr 2, 2016
Online guide, Qatar
129 views
Submitted Feb 26, 2010
Providing worldwide luxury travel within any budget. contact us today to plan your dream vacation.
122 views
Submitted Jan 19, 2017
I enjoy traveling and I have many stories and reviews of
Hotels
, Restaurants, Attractions, Trips and much more from around the world
122 views
Submitted Jun 14, 2014
The Hotel Astoria Hotel is a comfortable accommodation in Caorle, Italy. Directly overlooking the western beach and a short walk from the picturesque old town, is the ideal destination for your next summer holiday in Caorle.
122 views
Submitted May 3, 2011