8 matching results for "road trips":
Cameron L. Martindell is a freelance adventure and expedition writer and photographer who is always "Off Yonder: Seeing the world for what it is."
167 views
Submitted May 10, 2013
We help you keep track of all coolest
road
trips
around the world, catering to adventurers and off-road car enthusiasts who love to travel the world.
130 views
Submitted Aug 15, 2017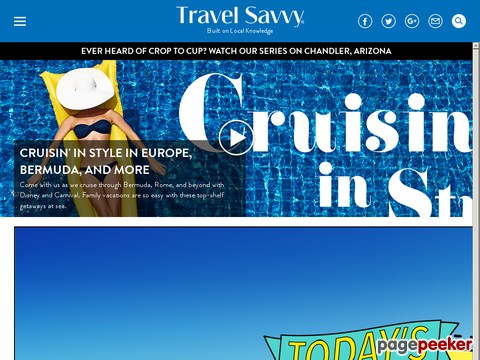 Travel Savvy is built on local knowledge. We know because you know!
121 views
Submitted Nov 30, 2016
Just Short of Crazy is a lifestyle, travel and food blog, edited and created by Deb Thompson.
104 views
Submitted Aug 4, 2014
We believe that travel makes families stronger, smarter and happier. Time spent on family vacations builds lasting family connections. Visiting new places keeps adults and children's brains active. Memories from a great vacation can last a lifetime.
70 views
Submitted Nov 8, 2013
I caught a case of the travel bug early in life. Even the business travel required by my first job in corporate communications sealed my incurable state. Many times I thought, "They're really paying me to travel?"
65 views
Submitted Nov 21, 2015
With a severe case of wanderlust, Leah lives by the motto, "Life's too short to live with a someday mentality." When she's not in Houston dreaming about travel, she's being groped by airport security, getting her passport stamped, seeking out street food that won't make her sick, and writing all about it on LeahTravels.
64 views
Submitted Dec 12, 2012
Driven by an insatiable desire to uncover the unique, my passion to share stories of amazing
road
trip finds and all that is beautiful in people, places, food & style across America has lead me to my latest television development project.
57 views
Submitted Jun 15, 2016