85 matching results for "travel tips":
David & Veronica are experiencing the collision of Baby Boomer and Empty Nester. We decided to grab life by the horns, sell the nest and become GypsyNesters!
68 views
Submitted Jul 25, 2014
My name is Tom and together with Kate (my most loving wife), we started 2bearbear.com – a Singapore
Travel
Blog where we can share our
travel
experiences and create an online avenue for ourselves to remember all our trips. Basically when we want to review our trips or share
travel
itineraries with our friends, we just ask them to head here.
67 views
Submitted Jun 19, 2014
I'm Kate. My website is about
travel
,
travel
stories, news,
tips
and views for female
travel
50+ or people at any age. I love seeing the world, meeting new people, and doing new things. My stories are about my journey and the people I meet.
60 views
Submitted Jan 30, 2017

These days I
travel
as light as I can. Ive got a smaller backpack, sensible shoes and a waterproof jacket. I always have the next trip or two on the horizon. I feed my
travel
fund as feverishly as I can. I'm making it happen. Life is short.
50 views
Submitted Jun 12, 2014
I am CLAIRE, TRAVELER and PHOTOGRAPHER whenever I can, which turned me into a
TRAVEL
PHOTO-BLOGGER. I want to get people out of their own little world to discover the beauty of Earth
43 views
Submitted Jun 15, 2014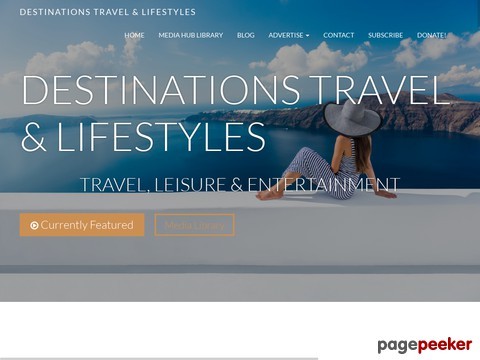 articles about beautiful destinations
43 views
Submitted Apr 8, 2013
38 views
Submitted Dec 5, 2012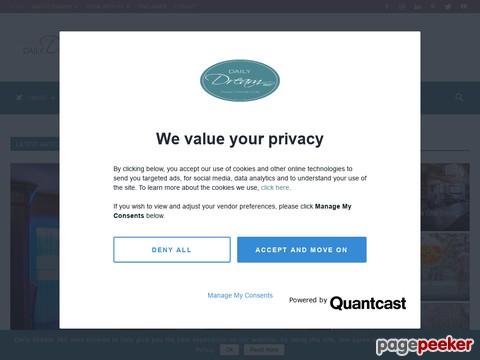 Dream
Travel
Magazine is an online
travel
magazine filled with
travel
tips
, hotel and excursion reviews, favourite destinations and dream vacation destinations. Our mission is to provide the best
travel
information,
tips
, reviews and resources to help our readers turn their dream vacations into reality.
36 views
Submitted Jun 3, 2013
Advisortravelguide , is a blog dedicated to YOUR
TRAVEL
DESTINATIONS. Whatever destination you are taking as a traveler, a holiday, an intrepid adventurer or an organized tourist destination, we are going to give you some advices for every single step of yours.
35 views
Submitted Feb 23, 2013
A modern day nomad, social media enthusiast and marketing consultant
33 views
Submitted Feb 24, 2013
We are Paul & Kristin and are living a nomadic lifestyle by choice.
30 views
Submitted Aug 8, 2013

Christie is an engineer by education but a traveller by inspiration. She is originally from the beaches & sun of St. John in the U.S. Virgin Islands but is now living along the skylines of the Hudson River in Hoboken, New Jersey.
29 views
Submitted Jan 15, 2015
capturing images with my iPhone as I wander locally & around the world
28 views
Submitted Feb 7, 2013
Were Jill & Curtis. Were on a quest to seek adventure while traveling the world forever!
26 views
Submitted Jun 14, 2014
The intent of MBSB is to chronicle my path and sub sequentially stimulate others to follow theirs. It also serves as a guide and a community for travelers, nomads and those interested in training muay thai in Thailand. At the very least, it's meant to offer some interesting anecdotes. And some pretty pictures.
26 views
Submitted Dec 10, 2013
We are a Sandy and Vyjay, a
travel
blogger couple . Travelling has been our passion and we love exploring world cultures, seas, mountains, nature, food, art, history and urban places.
23 views
Submitted May 1, 2016
We are Jozef, Arthur, and Ben, three soon to be university students from the UK who have decided to see a bit more of the world before heading back into education.
23 views
Submitted Dec 7, 2014
Since the day I was old enough to remember, Ive always had a desire to venture to new places, experience new things and explore (sometimes getting myself in plenty of trouble doing so). As I got older, I didn't get much smarter in that department, but I did gain a bit more experience over the years.
23 views
Submitted Jun 13, 2014
Let Us
Travel
The World Together
23 views
Submitted May 15, 2014
Look, technically were two grown adults who quite frankly refuse to grow up! Our nicknames have always been Peter Pan & Tinks and very fittingly so. We have this incredible urge to
travel
the world for a living someday when all our kids are grown up and out the house, but have started our great adventures when and wherever we can. This is where well share them with you, give you handy
travel
tips
and advice and help you to start ticking off your bucket lists too!!
22 views
Submitted May 27, 2015