36 matching results for "ubud":
ADVENTURE INDONESIA, a registered trademark and licensed Indonesia tour operator. We are member of Pacific Asia Travel Association (PATA
101 views
Submitted Dec 16, 2012
Ultra-luxurious yet sustainable developments set in some of the most spectacular locations.
99 views
Submitted Dec 17, 2012
LiveTravelTeach began to chronicle my tale of living and traveling abroad. It is growing into a photography, teaching & traveling forum for tips and tales of the good and the bad that goes along with these adventures.
91 views
Submitted Nov 2, 2016 Agung Raka Bungalow is built on a 3,500 square meters property between Pengosekan art village and the artistic center of Peliatan,
Ubud
, Bali and trips to Monkey Forest and Central
Ubud
are equally convenient either by vehicle or on foot. Agung Raka Bungalow are built to complement the landscape that surrounds it, providing a sensational feeling of being in a beautiful village, with a stunning sunset view from the rice terrace, while still within less than an hour drive from Ngurah Rai International Airport.
89 views
Submitted Dec 16, 2012
Welcome to Wonderful Bali, a Bali site with great photo albums, Bali maps and insider articles on the island of Bali.
89 views
Submitted Dec 16, 2012
This unique comprehensive family guidebook offers up to date information about kid friendly activities and places in Bali as well as practical and cultural background information relevant for families with babies, infants, children and teenagers.
89 views
Submitted Dec 16, 2012
The Best of Bali lists only links to web sites providing interesting, important and up-to-date information on the island of Bali in Indonesia.
75 views
Submitted Dec 16, 2012
We are Bali's leading Gay and Lesbian professional travel specialists, established in 1999, with years of experience organizing both individual and group tours
69 views
Submitted Dec 17, 2012
we are adventurers, travelers, dreamers. We are the Storytelling Travellers! Discover the world with our stories about unique and vivid places, cultures, beauties and beyond.
68 views
Submitted May 30, 2015

private rooms, pool, suites
68 views
Submitted Dec 16, 2012
Maya
Ubud
Resort & Spa sits between the Petanu River valley and the verdant rice fields of Peliatan. With 108 luxury guestrooms and private pool villas, it is around a one hour drive from Bali's international airport.
63 views
Submitted Dec 16, 2012
Welcome to Green Field Hotel and Restaurant. Let the energy and the spirit of Bali invite you. Your stay in the artist village of
Ubud
will allow you to have a relaxing and outstanding holiday. On this unique island, where the Gods and the people meet you will enjoy a magical time.
63 views
Submitted Dec 16, 2012
Bali Sunrise was founded in 2001 by I Gede Mangun, who was born and raised in Songan Village, in the Batur Caldera. He has spent his whole life trekking the mountains of Bali. Adventurous in spirit, Gede has traveled extensively in Indonesia, and has recently wandered as far as Europe in order to experience Western culture first hand.
58 views
Submitted Dec 16, 2012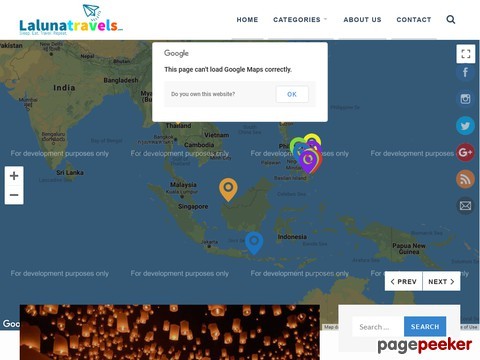 Hello, fellow nomads! Jaro and I (Lua) hail from a little town in the southern part of the Philippines called Iligan City. We now live in Davao City. We moved here after we got married in April of 2015.Jaro and I met in a choir while we were both still in the university.
55 views
Submitted Nov 23, 2015
The Balinese people are famous for their charm, their hospitality and their Hinduism calm. You will see why everyday that you stay in
Ubud
Inn. Here service is impeccable. The comfort and peace within the hotel seem the beautiful garden.
53 views
Submitted Dec 16, 2012
Continually Updated Insider Information About Bali
52 views
Submitted Dec 17, 2012
it is the warm hospitality that has earned us our remarkable reputation. here at your home away from home, new guests become friends and repeat guests become a part of our family. come and discover the Kamandalu experience.
51 views
Submitted Dec 16, 2012
Narasoma Homestay is a peaceful accommodation venue set within a traditional Balinese family compound.There are 5 rooms with beautiful views of
Ubud
and Mount Agung. Additionally available a traditional royal Balinese suite. Everyone welcome families, couples, twin share or singles.
50 views
Submitted Dec 17, 2012
Warjihouse is a home stay with cheap budget that is located in the earth of
Ubud
Bali, a famous village with the beautiful nature and Balinese Art. It offers the comfortable accommodation in the center of real Balinese society life in
Ubud
Bali. It is situated in the form of Balinese traditional village close to the religious, social and art activities.
50 views
Submitted Dec 16, 2012
Our unique resort grounds and natural spa setting provide a relaxing getaway for singles, couples and families alike, seeking a peaceful retreat, enabling them to unwind and re-energize. Bordered with coconut trees and encompassed by spring-fed streams and the Petanu River, the soothing sounds of nature are heard throughout the resort.
49 views
Submitted Dec 16, 2012