6 matching results for "volunteer":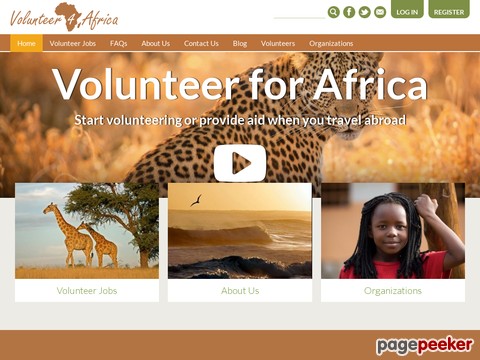 Volunteer 4 Africa is a non-profit organization dedicated to helping people volunteer in Africa for free or at reasonable cost.
Visit Website
a book for volunteers, about volunteers and by volunteers
Visit Website
With a passion for adventure and social justice, I have been able to create a hybrid business which allows me to live my dreams while supporting others. Though it is a risk, it is a risk worth taking.
Visit Website
Hello there

Hippohelp.com is a map based platform connecting travellers with hosts, all over the world. The travellers provide free services, in exchange for food and accommodation.
Travellers and hosts can both place markers on the global map, making it easy to find each other and plan the trip.
It's completely free for both host and traveller, and it's possible to login with Facebook.
Thanks!
Leopold Huber
Founder och Hippohelp.com
Visit Website

Hi there! I'm Christina Gmyr: travel addict with a passion for great food and living adventurously. I recognize that this life is so brief, and I aim to make the most of it.
Visit Website

A new venture for The Borneo Orangutan Survival Foundation (BOSF) is the construction of our Samboja Lodge facility. Here, for the first time, visitors will be able to work closely with us in the many projects currently active in Samboja Lestari in aid of saving our rainforests and the orangutan.
Visit Website