Tours Trips & Treks
Put some adventure into your life. These companies offer organized trips to many International destinations. Companies offering Tours, Trips & Treks to more specific locations are listed in our Continent specific sub-categories. Also visit: Guided Mountaineering
Africa

(6)

These are tour companies that offer trips to Africa. Also visit:

African Safaris

Asia

(21)

These are tour companies that offer trips to Asia

Europe

(11)

These are tour companies that offer trips to Europe

Local Tours Guide Companies

(19)

North America

(11)

These are tour companies that offer trips to North America

South America

(9)

These are tour companies that offer trips to South America. No country specific listings here.
Responsible Adventures are the Himalayan Trekking Specialists. We offer unparalled services in the Himalayan regions. Service includes for all ages and any group size, ranging from family trekking holidays to school educational trips.
146 views
Submitted Feb 26, 2010
offering tours and safaris to many destinations around the globe
586 views
Submitted Feb 26, 2010
offering soft adventure travel, specializing in South American destinations
581 views
Submitted Feb 26, 2010
IBEX is a non-profit organization that invests all proceeds in conservation and biodiversity research which benefits natural habitats and human health in the host countries. You as a traveler directly contribute to preserving our planet's environment, improving human health, and supporting environmentally sustainable communities.
40 views
Submitted Jun 24, 2012
The Black Sheep Touring Company of New Zealand is a luxury tour operator offering guided vacation / holiday package deals for adventure travel in both the North and South Islands of New Zealand. Our exclusive escorted trips offer diverse activities for the active traveller and the chance to see an abundance of New Zealand nature and wildlife.
154 views
Submitted Feb 26, 2010
Creating Tailor made trips around the world
74 views
Submitted Jun 4, 2012
to build an entirely unique and efficient travel company that promotes education through travel. Founded by veterans of the student travel industry, BrilliantTrips is dedicated to providing individuals and groups with an international experience that promotes sustainable tourism and cross-cultural understanding
11 views
Submitted Feb 27, 2010
brite spokes is a new travel brand that offers a wide variety of thematic trips, exclusive experiences and personally enriching adventures.
11 views
Submitted Aug 16, 2013
For more than 120 years, Brownell travel has provided discerning travelers with white-glove service and the most experienced and knowledgeable travel advisors in the industry. Beyond travel agents, our advisors are recognized as the very best by the leading travel magazines for their experience, expertise and highest professional standards. We invite you to explore our website and select a travel advisor who can show you the difference between a nice trip and an unforgettable experience. Welcome to Brownell, the experts in luxury travel.
14 views
Submitted Jul 21, 2010
get expert local secrets and advice before your next trip.
9 views
Submitted Oct 2, 2013
Africa and other Middle East trips
172 views
Submitted Feb 26, 2010
City Discovery is a leading provider of sightseeing tours, travel experiences and ground transportation worldwide. With over 5,000 carefully selected travel activities in 300 destinations and user-friendly features such as traveler reviews, wish lists (called wishbox on the site), suggested itineraries and gift certificates, City Discovery can meet the varied interests of travelers. It sells directly to consumers through City-Discovery.com and a network of over 7,500 travel agencies and affiliates
21 views
Submitted Jul 11, 2010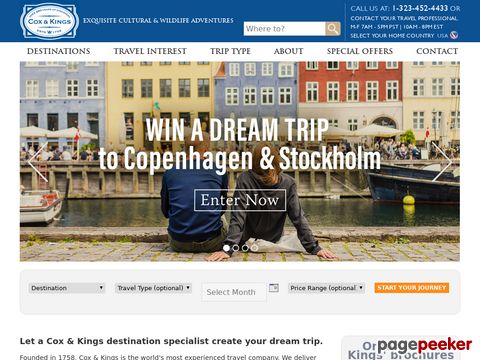 Exotic places. Romantic getaways. Insider access. We specialize in luxurious travel to many of the most beautiful destinations on the planet - from classic journeys to world-renowned sites and cultures - to custom-designed private travel adventures.
58 views
Submitted Mar 25, 2010
Our mission is to bring an educated, insider's approach to your travel. Founded in 2009, our company is not listed or advertised
11 views
Submitted Dec 17, 2012
Offering Trips throughout Asia including cultural tours, treks, and safaris
91 views
Submitted Feb 26, 2010
At Dragoman we aim to offer authentic, grass-roots adventurous holidays. Travel with us and we'll get you off the beaten track and really under the skin of the places, whatever style of trip you choose. This means taking the road less travelled, mixing with the locals, learning about their culture and most importantly having an open mind.
19 views
Submitted Apr 3, 2014
remarkable small group journeys
524 views
Submitted Feb 26, 2010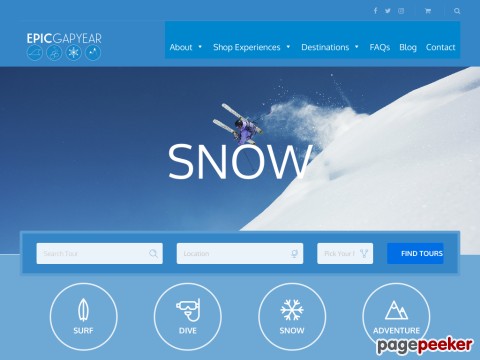 offering personalized trips and experiences
15 views
Submitted Dec 20, 2014
At Explore we&#39
20 views
Submitted Jun 23, 2013
"personal adventures to other worlds"
217 views
Submitted Feb 26, 2010

About Dave's Pick
Category Stats
Subcategories:
6
Listings:
113 (190 counting subcategories)
Regular:
113
Last listing added:
Jun 5, 2017