Travel Communities
These are community travel related websites - interaction among members is key to these sites.
INDULGEDTRAVELER.COM had a most unusual start. Meeting locals and other tourists with tales of their own lavish, chic travel experiences, was the basis for the luxury travel magazine.
10 views
Submitted Feb 17, 2012
Intrepid Model Adventures or IMA is a open community and global movement started in January 2011.
19 views
Submitted Jul 12, 2012
Welcome to Itchyfeet Online Travel. Since 1999 we've been here to share our experiences and to hear yours. Enjoy your visit and consider sharing your photos and articles with us.
10 views
Submitted Mar 15, 2010
We are a group of individuals who love travelling and believe in the power of the community to make the world a smaller place. We hope you can help us achieve our goal by sharing your itineraries and travel experiences with millions of others who have the same passion.
10 views
Submitted Feb 15, 2016
Along with first-hand broadcast-quality videos featuring celebrities and cultural icons, Jetset Extra has created a sophisticated and entertaining approach to travel editorial by offering viewers the inside scoop on destination secrets, trendsetting fashions, dining, shopping, arts and entertainment-- all through the eyes of the world?s most fascinating individuals.
63 views
Submitted Apr 7, 2010
Jetsetter is a private online community that provides members with insider access, expert knowledge, and exclusive deals on the world's greatest vacations. All of the properties we feature are hand-selected by our team of globe-trotting correspondents, and sales last five to seven days. Our philosophy is that travel should be fun and easy
40 views
Submitted Jun 20, 2010
Kettik is an online Travel Blogging, Photo Sharing, Review & Recommendation platform all rolled into one.
11 views
Submitted Jul 27, 2013
Travel information from people you can trust. Find other travelers who share your interests and travel preferences.
16 views
Submitted Apr 23, 2010
figures that the best travel advice comes from locals. Localyte.com seeks to connect travelers with what they call Localytes (don
18 views
Submitted Apr 13, 2010
The world is your oyster and Lost Waldo is all about sharing its beauty. There's a whole world of travel, destinations, activities, people, culture, restaurants, and amazing sites to see out there and we're posting only the best. - See more at:
http://lostwaldo.com/about/#sthash.fbvjagVW.dpuf
5 views
Submitted Dec 17, 2016
Love Lust or Bust is a global community where those who love to travel, and travel for love can share stories of adventure, love, and passion. Love Lust or Bust is filled with travel tips, advice on maintaining a long distance relationship, great date ideas, and wedding traditions and cultures around the world.
18 views
Submitted Nov 20, 2015 Your travel journal. Create. Share. Explore. Realising that there must be a way to bring journeys to life by sharing images, text and video, and placing them together on a virtual map, we built MapVivo to add an extra dimension to your journeys
18 views
Submitted Jun 21, 2010
the Matador Community - excellent travel resources and content
18 views
Submitted Mar 25, 2010
Minka Guides: fabulous travel with Fanny Minka
9 views
Submitted May 23, 2016
Log your travels in a new way!
17 views
Submitted Jun 15, 2012
MvMTravel.com Community is the place where individual traveler, tourist, tour & travel service provider can share the ideas, information and connect with each other. Our travel community provides personal space; connect with friends, blogs, forum, events and many other activities.
215 views
Submitted Feb 26, 2010
content from around the world
12 views
Submitted Jun 15, 2014
My Travel Bug, Inc. publishes this website free and open to the public. This website has travelogues, photographs, a travel grant directory and travel links information. By collecting and publishing stories, pictures and audio of people
13 views
Submitted Jun 17, 2010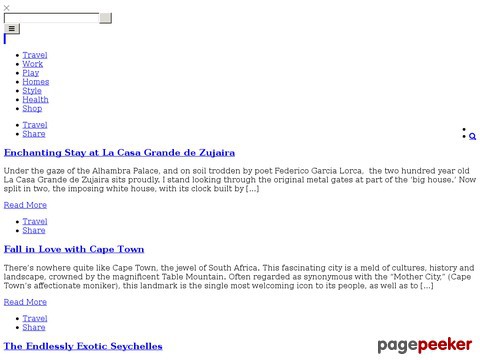 Nextleg is dedicated to what's ahead of the bend in travel and tourism -- from hotel debuts to the newest restaurants. Travel lovers forecast what's hot next. You can join and contribute free
213 views
Submitted Feb 26, 2010
This was our 12,000th travel link added! Oh Hey World was founded by Andrew Mattie and Drew Meyers in June 2010 with the goal of making backpacking a simpler and more social experience as well as connecting those from Generation X & Y who share a passion for traveling the globe and interacting with different cultures. Topics discussed here could range from a review of a really awesome hostel in Rome to tips to traveling on the cheap through Central America to a guide to backpacking Santorini.
39 views
Submitted Aug 8, 2010

About Dave's Pick
Category Stats
Listings:
141
Regular:
141
Last listing added:
Feb 9, 2017