Travel News
We are the Adventure Travel Trade Association (ATTA), a global membership organization and home to a thriving community of more than 800 responsible, profitable businesses, destinations and media who transform customers and businesses alike into advocates for sustainability and justice worldwide.
30 views
Submitted May 24, 2013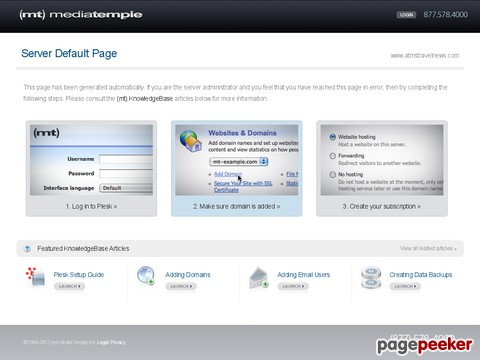 Adventure Travel Media Source
234 views
Submitted Feb 26, 2010
accurate travel news and advice from Bob Payne
26 views
Submitted Feb 10, 2013
Breaking Travel News (BTN) is one of the Internet's most comprehensive online travel news networks that offers both the travel trade and consumers instant updates on the most significant developments in the travel and tourism sector
189 views
Submitted Feb 26, 2010
Global Travel Trade News
28 views
Submitted Apr 23, 2010
International travel news
43 views
Submitted Jun 18, 2010
latest online travel news
48 views
Submitted Feb 26, 2010
world view with an edge - USA and World travel blog
22 views
Submitted Jun 15, 2012
travel tips, recommendations and honest reviews
677 views
Submitted Feb 26, 2010
Travel reviews and travel advice from a frequent traveler
26 views
Submitted Feb 13, 2013
PhoCusWright is the travel industry research authority on how travelers, suppliers and intermediaries connect. Independent, rigorous and unbiased, PhoCusWright fosters smart strategic planning, tactical decision-making and organizational effectiveness.
32 views
Submitted Apr 14, 2013
Skift is a travel intelligence media company that offers news, information, data, tools and services to professionals in the travel industry and professional travelers to help them make smart decisions about travel.
23 views
Submitted Feb 27, 2013
global monitoring of tourist deaths, attacks, robberies, ripoffs and arrests
21 views
Submitted Feb 20, 2013
daily travel and tourism news portal for the International travel trade market since 1999
30 views
Submitted Apr 23, 2010
Travel Post Monthly has been developed to give a forum for publication to the International Travel Writers & Photographers Alliance (ITWPA) members and other freelance writers and photographers to showcase their work.
35 views
Submitted Aug 4, 2010
the national (USA) newspaper of the travel industry
61 views
Submitted Feb 26, 2010
Travel press release distribution and travel news exposure for tourism companies
55 views
Submitted Jun 18, 2010
online travel news
18 views
Submitted Jun 23, 2010

About Dave's Pick
Category Stats
Listings:
18
Regular:
18
Last listing added:
Mar 3, 2014