TV Travel
Travel programs on TV.
Raw Travel is a socially aware and eco-conscious travel series for independent travelers. The television series celebrates the self discovery that travel to diverse locations and learning from other cultures can bring.
16 views
Submitted Nov 3, 2011 overland travel and film making in a land rover
25 views
Submitted May 19, 2010
Over the last 13 years, Samantha has traveled around the world visiting over 220 cities in 49 countries and 30 of the United States creating over 160 hours of programming (and counting). After all of that traveling she reluctantly accepts her title as a travel expert, preferring jokingly the more humble title of Travel Goddess.
12 views
Submitted Aug 2, 2013
Born on June 1, 1979 in Aspen, Colorado, Savannah Jane Buffett had a passport before she could walk, traveling the world with her parents, one of whom is the legendary singer/songwriter Jimmy Buffett.
23 views
Submitted Nov 14, 2012
Simon Reeve is an author and broadcaster. In recent years he's been travelling around little-known regions of the world for a series of BBC television documentaries. On this site you can find out more information on Simon's journeys and books
15 views
Submitted Mar 27, 2010 Sixpenny Globe is, in the simplest terms, a web series about long-term budget travel. But its far from a how-to guide to backpacking. If anything, it more often reveals how-not-to. We throw in some Cheap Tricks that we picked up along the way for the benefit of those who will hereafter embark, but at its core Sixpenny Globe is just a story.
21 views
Submitted Mar 31, 2014
hosted by Rudy Maxa - public television travel show featuring culture, history, architecture, art, cuisine & more!
209 views
Submitted Feb 26, 2010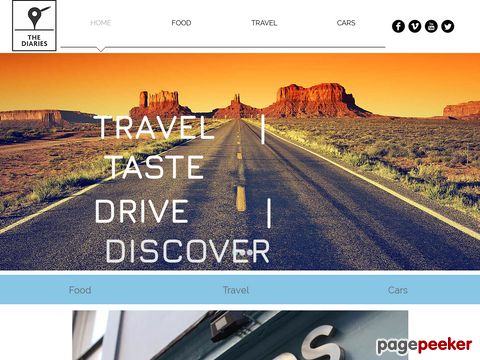 The Diaries is a TV Show, Blog and digital hub for all things Food, Travel and Cars
16 views
Submitted Apr 26, 2015
The Highway Girl is a multimedia entertainment company encompassing a traveling music TV show, authentic travel clothing and products, and a vibrant lifestyle community.
14 views
Submitted Jun 22, 2010
The Jet Set is a fresh new talk show designed to reinvent travel television and keep pace with the professional, leisure and aspiring traveler by experiencing the sights, sounds and scenery of destinations around the world or here at home, along with you!
7 views
Submitted May 1, 2016
the Travel Channel
685 views
Submitted Feb 26, 2010
Tim and Thomas travel around the world and meet complete strangers who want to show them what life is really like in their cities. It could be magic. It could be a disaster. But it
27 views
Submitted Apr 24, 2010
Travel+Escape is the home of top rated travel-themed programs with entertaining hosts, compelling stories and exotic locations. Travel + Escape is a national channel, available in 1.1 million households across Canada. The channel appeals to those who have a passion for travel and adventure.
36 views
Submitted Aug 9, 2012
TravelTalkTV has producing travel news segments for several years. These are currently broadcast in Southern California on CNN/Adelphia locally and archives of recent segments are available online
357 views
Submitted Feb 26, 2010
Hi, my name is Kate Lauren Thomas. And I am an on-camera host, travel expert and producer of travel media. Above all, I am a traveler and storyteller passionate about inspiring people to use travel as a tool for a more fulfilling life.
19 views
Submitted Oct 11, 2012
Follow Canadian Cailin (O?Neil) as she travels the world giving tips and tricks on how to get around and make the most of your own adventure
50 views
Submitted Feb 26, 2010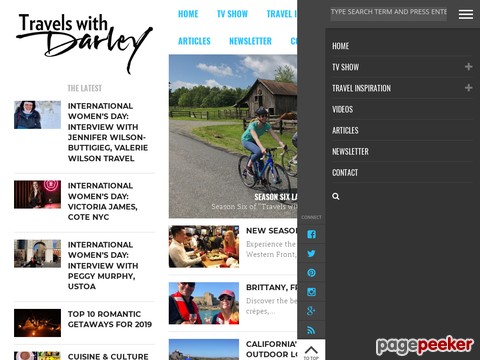 Travels with Darley is a travel TV series broadcast on PBS stations and on digital networks, including the AOL On Network. Host Darley Newman of "Equitrekking" fame joins locals to showcase the top food, culture and adventure attractions in the USA and around the globe.
6 views
Submitted Dec 19, 2016
Vihari - The Traveller - a path-breaking show on travel and tourism which was a first in the annals of the Telugu Television history.
4 views
Submitted Dec 30, 2016
join Emmy awarded Jeffrey Lehmann as he "guides" you around the USA and the World
454 views
Submitted Feb 26, 2010
WORD TRAVELS is a TV series that follows freelance journalist Robin Esrock and national travel columnist Julia Dimon as they battle deadlines, jetlag, culture shock – and each other – to file the best travel stories possible.
9 views
Submitted Apr 16, 2013

About Dave's Pick
Category Stats
Subcategories:
1
Listings:
39 (45 counting subcategories)
Regular:
40
Last listing added:
Dec 30, 2016