| | |
| --- | --- |
| Where | San Francisco to Los Angeles |
| When | June 3 – June 7, 2001 |
| Total Mileage | 575 Miles |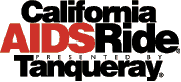 The Rider
Dave, of Dave's Travel Corner, has always enjoyed the challenge and thrill of long bike rides. He loves the open ride and the freedom of a bicycle. When he was presented the opportunity to ride in the 8th annual California AIDS Ride between San Francisco and Los Angeles he immediately jumped at the chance. What could be a better way to combine one of his favorite outdoor sports with the ability to simultaneously raise money for an extremely worthwhile cause.
Photographs
Please click on the thumbnail photos below for larger images and then use the "back" button to return to this page
The AIDSRide
The California AIDS Ride 8 was a very strenuous but successful one. Each day I rode an average of about 80 miles with the longest day topping out at just over 100 miles. The ride was completed on a mountain bike and for the most part took place along coastal roads from San Francisco to Los Angeles. The weather was ideal for biking – not too hot and not too cold.
There were approximately 3300 riders participating in this event. This was truly a mobile city. Each day hundreds of support crew would move the facilities for themselves and the riders to the next camp. Huge mobile showers, mobile kitchens and many gear trucks all were moved from camp to camp.
Each day hundreds of tents were setup in large fields. Entertainment was provided on a large stage, but most people were in bed by 9pm as the course opened each morning at 6:30am and lines began forming for breakfast around 5am.
Closing ceremonies were held at the LA Coliseum which included a ceremonial lap around the track inside the coliseum.
The riders on this ride raised a total of approximately $12 million. A big "Thank You" goes out to all the sponsors!
Additional Links
If you have additional questions or would like more details about Dave's experiences on this ride please email: dave@pon.net
www.aidslifecycle.org
www.pallottateamworks.com