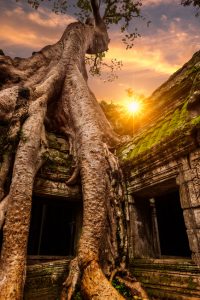 Angkor Wat is known worldwide and is certainly the most famous attraction in Cambodia; it is located only 6km from the old market in Siem Reap – take Charles DeGaulle Blvd to reach the main Angkor Wat temples.
Tourists used to be denied access to rent motor bikes for personal use (because of the danger of landmines) but now one can rent a bike for use around Siem Reap. You can either rent a taxi, tuk-tuk, regular bicycle, or go with someone on a motorbike. Single day, 3-day pass or a seven day pass are available for purchase. The ticket gates are situated to the right of the main road as one drives towards Angkor Wat.
There are over 100 temples in Angkor Wat all built of only granite, sandstone and wood (the wood has long since decayed of course) between the 9th and 14th centuries. The primary temples can be seen in about a day – many people find that several days is a good amount of time to be able to visit the main temples as well as some of the other smaller less visited temples. When one looks at the temples its amazing to think that they are so old and that they were all made without the help of modern construction equipment.
If you just have a single day to visit, consider taking the "little circuit" which is 17km in length and covers most of the main part of Angkor Wat. The main temples are the most crowded of course, but there are many temples that if you stop to visit you probably will find you are among only a few tourists visiting.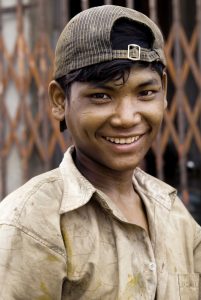 To reach the top of some of the temples you have to climb up incredibly steep steps (steeper than even the Mayan pyramids in Mexico). In addition to the steepness of the pyramids the steps are now slanted downwards because of years of erosion and rain. They can be incredibly slippery during the rain and its seriously recommended that you not try to climb to the top of these during rainy conditions. At this point its best to take pictures at the base.
Most of the local guidebooks do not recommend venturing into the "jungle" while you are at Angkor Wat due to the possibility of there still being unexploded land mines. Some guide books say that the area in and around the main temples of Angkor has been cleared of unexploded land mines. Its always best to stick to paths that are well traveled and refrain from being adventurous.
Dave's recommendation: stay away from impulse bushwhacking new trails through the jungle.
There are plenty of restaurants and refreshment stands near the main temples. These areas are a good place to meet people from all over the world. The owners of the restaurants can be quite solicitous of your business as you approach them. Sing song voices inviting you to their particular restaurant will call out as you approach the restaurants.
Note the bathrooms within Angkor Wat are free with your admission, however you will find that many of them have children out front who will try to charge you a nominal admission. These are very enterprising youngsters as they make it appear that you have to pay to use the restroom. Sometimes they will have made a sign and they hang it above the main entrance indicating their entrance fee. This practice is obviously accepted as officials seem to have done nothing to stop them.
The best time for photos of course is during the golden hour in the evening when the sun casts a somewhat golden hue on everything. Because of this reason, on your tour you may want to consider leaving a visit to the main temple for the end of the day.
If you have a large budget you can rent a helicopter from Helicopters Cambodia in Siem Reap for an aerial tour of Angkor. Hot air balloon rides are also available on site.