Overall I found the Cambodian food in Siem Reap to be a little greasy and not very flavorful, and certainly not spicy like some Thai food. There are many many cheap places to eat in Siem Reap – a good number of them serving both Khmer food and western style food – you will find the Khmer food is usually cheaper than the Western food.
Prices often range from $1/meal to several dollars. Many of the tourist restaurants are located around the old market. Talk with fellow travelers and try to get recommendations.
Blue Pumpkin is located near the Old Market and serves sandwiches, fresh salads and Thai food. The owner runs the restaurant with his his – he used to be the pastry chef at the Sofitel Royal Angkor hotel. They also have a bakery. Phone: (855) 012 946 277
If you are in the mood for some Thai food be sure to visit the Chiang Mai Restaurant located on Wat Bo street. They have garden seating or an inside AC room. They are open until midnight. Phone: (855) 012 980 833
Dead Fish Tower is located on Sivatha Street – it is a bar and a Khmer/Thai restaurant. They stay open late. Beers, cocktails and fruit shakes also served. Phone Number: (855) 012 630 377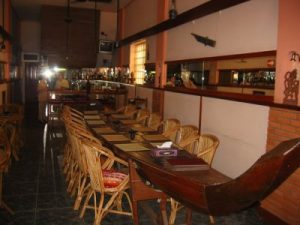 Only One Bar/Cafe is a nice but somewhat expensive French restaurant located just opposite one side of the Old Market. The food here is quite nice – one of the main tables is very long in the shape of a boat. This restaurant opened in 1995 and is run by a French man (Yves). Cold cuts, wines and cheeses are imported from France – their Shiskabob meal is very good. They are located just across from the old market. Phone Number: (855) 063 963518
Photo: The inside of the Only One Restaurant
Red Piano is located near the Old Market. They serve international food, pastas and steaks. This was a favorite stay for the cast of the Tomb Raiders movie staring Angelina Jolie in November of 2000. For more info about this movie, only the 2nd to be filmed by Hollywood in Cambodia since 1964.
Food is served at this restaurant until 10:15pm. They also have a bar. Be sure to order the appropriately named, Tomb Raider cocktail! Phone number: (855) 012 854150