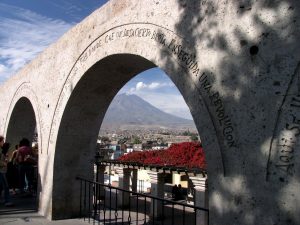 Banks are plentiful especially around the center of town and Plaza del Armas. Unlike most other cities, there are some banks in Arequipa that actually are open on Sundays! ATM machines are abundant in the center of town and are open 24/7.
Taxi Drivers – in Arequipa do not use meters. You need to decide on a price before you get into the car. Typically trips around town will cost merely several soles. We used Alberto Loayza, a taxi driver from the company, Mega Car. He is a friend of one of our friend's in Arequipa and you can use his services based on pre-arranged times.
He does not speak any English so your Spanish needs to be passable. He can arrange city tours and he also enjoys hiking so can possibly arrange a day hiking trip. His number is: 258080. He is very honest, helpful and an excellent driver. Other taxi companies in town are the following: Angel's Tours 202020, Taxitel (with Saga Falabella sticker) 452020, and Taxi Turismo 458888 or 459090.
General