We have eaten at many restaurants in Arequipa and never had a problem with the food in regards to food sickness. With that said, be sure the food is well cooked and avoid unwashed fruit or uncooked vegetables, such as lettuce. In basic restaurants we refrained from ordering fresh salads even though we were very tempted. We never had a problem eating fresh fruit and vegetables in the higher end restaurants.
Some local dishes to consider trying are cuy, (roasted guinea pig) and ceviche, (raw fish cooked in lemon juices – usually trout). Restaurants service ceviche are called cevicherias or cebicherias – specializing in raw fish soaked in lemon juice. While in Arequipa also be sure to also try some additional authentic Peruvian specialties such as the adobo stew, the somewhat spicy recoto relleno (chile peppers with meat and potatoes), pisco sour (Peru's alcoholic national drink), and chica morada – a purple somewhat sweet drink made out of corn juice. Arequipa also has very good "cheese" ice cream which can typically be purchased from from street vendors.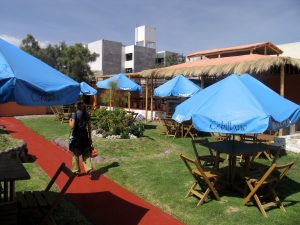 El Cebillano is one of the more popular seafood restaurants in Arequipa. It is located at Calle Misti 110, in the Yanahuara district, just below the Mirador de Yanahuara. They serve a variety of seafood as well as excellent drinks. Be sure to try their Peruvian seafood specialty dish, served in oyster shells.
Dining is in their inner grass courtyard – umbrellas are located at each table. Service is excellent. Often becomes crowded on weekends.
El Restaurador is located at San Francisco 319-A which is one of the streets that borders Plaza de Armas. A fairly touristy restaurant but with reasonable prices.
El Viqedo Jayari is a great restaurant serving a variety of Peruvian dishes. Patrons can also enjoy dining at the bar.
La Trattoria del Monasterio is a high end Italian cafe set among the walls of the Santa Catalina Convent in the heart of Arequipa. It is owned and run by the famous Peruvian chef Gaston Acurio who also has his own TV show. Dining here is quiet and intimate and serves what is probably the best Italian food in Arequipa.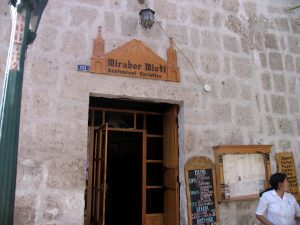 Mirador Misti is an excellent somewhat touristy restaurant serving a variety of Peruvian cuisine, iternational dishes and desserts. Excellent trucha (trout), ceviche, cuy (guinea pig), and rocoto relleno. Diners can also try their alpaca steak (alpaca resembles a llama and its wool is commonly used in clothing).
Two levels are available for dining – we recommend the top level as its the highest and offers the best views of El Misti and the rest of Arequipa. This restaurant is located on a small street near other restaurants and shops at Pasaje Catedral N 111. Phone: 405290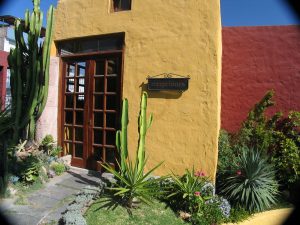 Sol de Mayo is located at Jerusalen 207 and is a gorgeous restaurant serving clientele for over 100 years. The main buildings were refurbished in 1997 and it shows nicely. The main dining courtyard is set among the courtyard gardens – sometimes live bands will perform on a small stage. The food is incredible. Be sure to try the adobo dishes, or their fish dishes. Some of the stews are also quite tasty.
The only thing lacking in this restaurant is their lack of service – the waiters were a bit slow to bring drinks and the main meal, they forgot orders, and after telling our waiters 3x within about 30 minutes that we were ready to leave and wanted to pay the bill, we had to get up and walk to the main cashier. At that point the scrambled to find our bill and we finally were able to pay and leave. For more information please phone: +51 54 254148 or email: soldemayo@terra.com.pe
El Tuturutu is located at Portal San Agustin 105. This is a tourist restaurant located right on Plaza de Armas. They serve breakfast, lunch & dinner. A variety of foods are available including local and international cuisine. Sometimes live music is played during the nights. For more information email: tuturutu_balcony@hotmail.com or PHONE 054/201-842