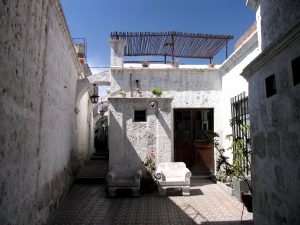 Using Travel Agencies can be advantageous or disadvantageous depending on the situation and how you like to travel. Depending on the situation and type of trip, using travel agencies are often more expensive than planning and making the trip on your own. However, travel agencies will often save valuable travel time as they already have existing relationships established with guides and local tour operators. They offer pre-arranged tours and coordinate all necessary logistics.
Budget travelers should definitely shop around at several different agencies – prices do vary quite a bit. Sometimes agencies combine their customers into one tour, even though each agency charges a different amount!
We found that Arequipa travel agencies in general were more affordable than the agencies in Cuzco. Arequipa is not as popular a destination for tourists compared to Cuzco, however there are still numerous agencies to choose from, most offering climbing trips of the nearby mountains and volcanoes, rafting, and treks to Colca Canyon. A 3 day 2 night climb of the famous volcano, El Misti was offered as low as $75 covering the guides, some equipment and food. A typical price for this particular climb was between $80 and $90.
Some travel agencies communicate with each other by Whatsapp – so we found that if one agency had a particular trip already booked, they could immediately message another agency to find out if they still had space.
There are numerous travel agencies in Arequipa. Several of the agencies we visited and or used their services are listed below in alphabetical order.
Cusipata Tours specializes in river rafting trips on nearby rivers. The closest trip is on the Chile River, about 35 minutes from the center of Arequipa. One can run this river in the morning and be back in town by the afternoon. We've used their services before – they are professional and really know what they are doing. Visit: www.cusipata.com
GSA Tours is located at Portal de San Agustin 111. They offer many guided trips, rafting, climbing and trekking. They also offer Arequipa city tours visiting some of the city's most popular attractions. Travelers can rent a personal guide, or rent cars through this agency. For more information call 054-202427 or email gsa_aqp@hotmail.com
Giardino Tours is located at next door to La Casa de mi Abuela Hostal. They are a good source of general tourist information – not only do they offer outdoor activities but they can handle transportation including plane, train & bus tickets. For more information call 51-54-221345 or email: giardino@terra.com.pe or visit their website at: www.giardinotours.com
Incaventura is located in Arequipa at Santa Catalina 118-D Cercado. This company offers reasonable priced treks, climbs and rafting trips. They offer several options to hike the Colca Canyon. Be sure to ask for Edison as your guide on the Colca Canyon trip (if he is available). Edison was studying to be a lawyer and guides during his spare time. He's a great guy. Be sure to talk to either Tessy Mogrovejo Vera or Lizbet Junco Cabrera. They handle the front desk and they both speak English and are fluent in Spanish of course.
For more information visit their informative web site at: www.incaventura.com or email them at: tessy@incaventura.com PHONE: 054-204819
Land Adventures is physically located across the street (upstairs) from Zarate Adventures (see below) – about a block north of the main Plaza De Armas park. Their address is Santa Catalina 118-B. They offer a variety of very inexpensive climbing options – if you need more time to acclimatize during a climb, ask them and they can arrange longer more custom trips for you. Visit: www.landadventures.net
Yunisa Travel Tour is run by Yunisa Lopez and offers trips to Colca Canyon but also affordable climbing trips as well. They are located at Portal San Agustin 105. Their trips tend to be very low cost and slightly lower priced than many of the main agencies. For a few dollars cheaper make sure you know what you are getting. The owner of this agency used to work for Incaventura (see listing above). For more information you can email them at: yunisatravel@hotmail.com or yunisatravelcolcatour@hotmail.com Phone: 054-223317-9639822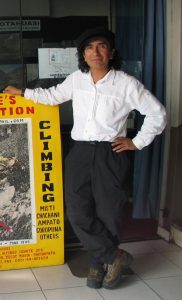 Zarate Adventures offers a variety of trips including climbing treks, (both beginner and technical), mountain biking, eco-tourism and more. The founder of this company Carlos Zarate is in his late 70's and he is still putting younger climbers to shame. We met one of his sons, also named Carlos – see photo – and he told us that his father was currently out climbing volcanoes!
This company is well-known because its chief guide, Miquel Zarate helped find a now-famous frozen Inca mummy girl Juanita on Ampato Mountain – a very tall mountain north of Arequipa. They were featured in an article in the National Geographic. Be sure to visit the information about Juanita who is housed in the Museum – Santuarios Andinos.
For more information about this company please visit their website in English at: www.zarateadventures.com/ or email them at: zarateexpeditions@hotmail.com or PHONE them at: 0051-54-463624
They are very centrally located, just a block north of the main Plaza de Armas at Sta. Catalina 115-A/Vitrina B. Offering excellent service, professional guides and a trip you won't forget. They can also arrange other climbs within the country.