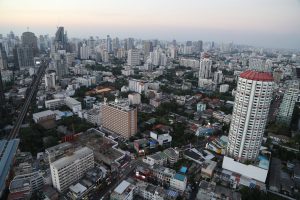 Bangkok may not be for everyone. The high heat, humidity, congestion and air pollution may be too much to take for some people. There are so many attractions, including Wats, that a tourist could spend several weeks in Bangkok and still not see everything. It is hard to define the allure of Bangkok. At first glance it is a busy chaotic, polluted city – that is true; it is all of these things. However, once one delves into the history, attractions and starts meeting people perceptions will change. I find short visits are the best – 2 to 4 full days at a time.
With that said, without a doubt Bangkok is one of our top two favorite cities in the world (the other being Los Angeles).
Every time I leave Bangkok and I come back I feel refreshed and ready to see more of this city. There is so much to see that you should not try to see everything at once. Pick out a few of the highlights. If you have a couple of days and you are a first time visitor to Bangkok I recommend seeing at least the Grand Palace, Wat Po, Wat Arun and another attraction or two. Some of the attractions we visited in and around Bangkok are alphabetically listed below: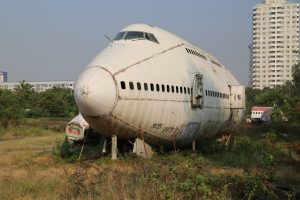 Airplane Graveyard – is home to a number of abandoned airplanes including a large 747 that like the other planes here, has been mostly gutted and is in various stages of disarray. An interesting site – especially for plane enthusiasts, despite the fact these planes will never fly again. The site is bordered on one side by a small canal and on the Ramkhamhaeng Road side by a wooden fence. At least one family lives here – apparently having converted several of the old airport hangars into homes.
One family raises fighting cocks and they also oversee visitors coming to the site. At last check they charge 200 baht per person to enter and walk around and through the planes. They let visitors in through a gate in the wooden fence – or if for some reason they don't have the key to the gate lock handy, you will have to jump over the fence.
There is easy access to the small planes – the 747 requires some agility to reach the main floor – once you do so there are steps leading up the upper deck. Closed toe shoes are highly recommended for entering this particular plane.
Getting here: there is no Metro or Skytrain stop within the immediate vicinity of the graveyard and with traffic can take significant time to reach if coming from central Bangkok. Closest public train stop is the Ramkhamhaeng stop on the Airport Rail link. Once you exit this station you can take a motorbike (about a 12-15 minute ride) or a taxi. You can tell your driver Ramkhamhaeng 62 (which will put you in spitting distance of the graveyard). We've seen horrifc traffic backed up both ways on Ramkhamhaeng Road before – and guessing during times like these it would take at least an hour if not more from the Ramkhamhaeng Station to the Airport Graveyard.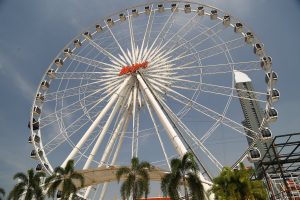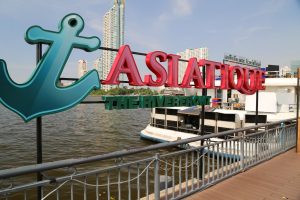 Asiatique is located along the banks of the Chao Praya River – about a 10 minute drive (with little traffic) from the Saphin Taksin Skytrain Stop. One could also walk to Asiatique from the Saphin Taksin stop if in shape. However note that Asiatique offers free daily ferry service from the Sathorn Pier (next to the Saphin Taksin Skytrain stop) between the hours of 4pm and 1130pm (we have seen sizable lines cuing up for the ferry at times at Sathorn). There is also a large open air parking lot on size with capacity of some 2,000 cars (parking fee charged).
Can be visited during the daytime but not much really going on here then. Starts to come alive in the late afternoon when some 1,500 shops and stalls start to open including plenty of food and drink options – a large night market with lots of lights and lots of people. Each shopping section of Asiatique is called a Warehouse (ie Warehouse Number 2). All warehouses are permanent and are lined up nicely and well organized (unlike many of the older markets where temporary stalls are setup somewhat haphazardly. We have visited during both the day and the night – the night is when you want to be here!
Other attractions including the Asiatique Sky the giant white Ferris wheel (the tallest in Bangkok) and what is simply called The Stage, home of a nightly Muay Thai show (not real Muay Thai fights that you can find at other venues around town) – tickets can be purchased at the box office in front of of the theatre (both regular seats and for a slightly higher price, premium seats are available).
Opened in 2012 on what was the former docks of the East Asiatic Company (originally based in Denmark). Didn't take long for this to become a popular destination – especially with tourists. The riverfront walk is supposedly the longest self contained river walk in Bangkok.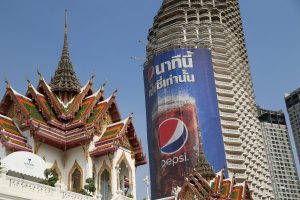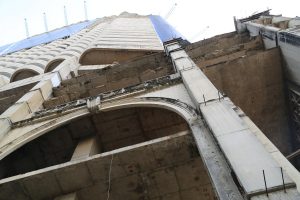 Ghost Tower or more formally referred to as the Sathorn Unique Tower – this 49 story building is in various stages of decay – it was never completed when the financial crisis hit Asia in 1997. It eerily resembles the nearby Lebua State Tower – a mirror image that reflects as a derelict skyscraper rather then the modern looking Lebua.
Visitor's used to be able to pay an admission fee to the security guard – perhaps somewhat homeless population that used to live in and around the building but this has since tightened up. Based on this unique structure – things may certainly change again but as of 2017, security will not allow anyone to climb the building.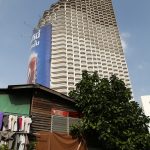 Visitors can pay to climb the 5 or 6 story (also abandoned) short building directly across the street from the Ghost Tower – and or access the first floor of the Ghost Tower only (but this is certainly not the same experience as climbing to the top).
Easy access (within a very short walk) is the Saphin Taksin Skytrain stop – use Exit 4 to leave the station. One can at least get some interesting photos from the street level in and around this area. Currently the building serves to hang several large banners advertising products.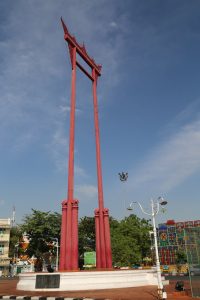 Giant Swing is located in front of the Wat Suthat Thepwararam.
The original swing on site was originally built in 1784 (and yes people did use it as a swing during official swinging ceremonies). Lightning hit the swing and it was restored in 1920 and moved to its current site. The swing was restored again in 2005/2006. The original supporting wood beams are now housed in the nearby National Museum.
The swing is certainly impressive and you truly realize it's great height when you stand next to it.
Wat Suthat, sits next to the swing – admission for foreigners is 20 baht and features a large golden Buddha.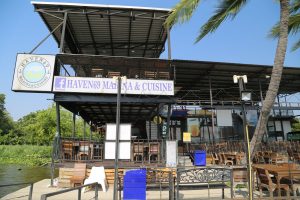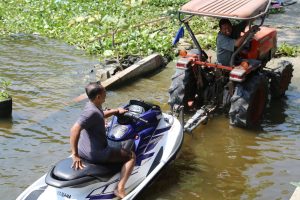 Jet-skiing – Haven 69 Marina & Cuisine is named 69 because this location is exactly 69 kilometers from the Gulf of Thailand. The closest Metro stop is Sai Ma (about a 30 minute walk to the marina or a short taxi ride). Run by very friendly locals, it offers a safe and reliable jet skiing experience on the Chao Praya River. A number of water sports activities are available here, a small bar and a restaurant.
Because there are a number of floating objects in the river (plastic, weeds and other debris) one may have to stop the jet ski often to clean these items from the propeller. During a recent visit the owner joined us on the jet ski and cleaned the propeller anytime we picked up to much debris. There are the normal ways to visit Wats in Bangkok – via taxi, tuk-tuk, motorcycle or on foot – it is the rare visitor to town who visits Wats from the backseat of a jetski!
The jetskis are rented by the hour – a one hour trip can include a visit to the north of the marina – to Ko Kret Island (home to a number of potters and other artisans) and visits to several temples including the gleaming golden Buddha at Wat Bangchak.
At times the Chao Praya can be rough with waves and you will have to certainly slow down the jet ski – at other times it can be extremely glassy and you can crank the throttle to over 60kph.
It is quite the thrill to be racing past gleaming golden wats, tall buildings, under bridges and past a number of floating river vessels all the while realizing you are surrounded by a major city on both sides of the river!
Allow one hour minimum for a tour near Koh Kret – allow at least two hours to explore the heart of Bangkok down to Asiatique and then back to the marina. Visit: www.facebook.com/haven69.marina.and.boater.club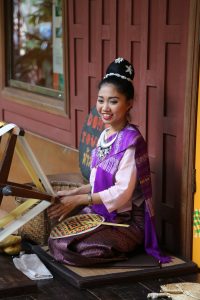 Jim Thompson's House – For a place of quiet, calm and relatively clean air (due to the jungle like setting) be sure to visit Jim Thompson's House located at 6 Soi Kasemsan 2, Rama 1 Road. His home isn't impressive like some of the Wats downtown – however it is quite appealing because of its simplicity and the location is clean and quiet. Jim Thompson was an American OSS officer (precursor to today's CIA) and a businessman who moved to Thailand and started a silk manufacturing empire.
He mysteriously disappeared in Malaysia in 1967. Speculation as to what caused his disappearance can be found on his website listed below. The tour guides are women – they all dress in purple. I chose the English tour (tours were available in English or Thai) but I thought I was accidentally assigned to the Thai tour. It was very difficult to understand my particular tour guide; most of the other tour guides seemed to have a better grasp of the English language. The tour winds its way through the interior of Mr. Thompson's teak house.
There is no air-conditioning here except in one room which contains rare pieces of pottery and other artwork given to him by royalty and other famous personalities. (Charlie Chaplin visited here once!).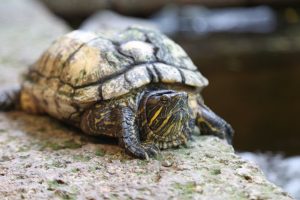 The tour is informative and highlights many of Mr. Thompson's pieces of art and furniture. The tour ends in Mr. Thompson's personal bedroom. Note the several inch high wood "bumps" in all the doorways. These were originally put in to keep the rats and other animals from being able to walk from room to room. Photographs are not allowed in the house, but are allowed in the small homes outside the main house which you can tour at your own convenience after the main tour.
After the tour you are free to walk around at your own pace in the personal gardens. Note the many pots filled with water – usually covered with lily pads. Upon closer inspection you will note that most of these contain little colorful fish. Watch out for the big fish in a few of the small pots – these tend to be cannibalistic and they will jump at your finger if you put it in the water!
There is a clean well maintained store on the premises that sells replicas of artwork, clothes, and other knick knacks as well as an excellent selection of silk items – the air conditioning is quite good here! Food is also available in a small cafe. If you are taking the Sky Train you will want to get off on the National Stadium Station along the Silom Line. A Jim Thompson Tuk-Tuk will pick up and drop off guests at the Skytrain stop (advertised as operating every 15 minutes but during our latest visit it seemed to operate more often then this).
For more information about Jim Thompson and his house please visit the official Jim Thompson web site: www.jimthompsonhouse.com
Koh Kred is a small Island just north of Bangkok in the middle of the Chao Phraya River. Only seasoned Bangkok tourists or locals typically visit this island as it is not a major tourist destination and usually is not listed in many of the guidebooks. Saturday and Sunday are the big days to visit this island – don't bother with the week days.
Mon tribes people from Myanmar (Burma) settled on this Island several hundred years ago. Today you can walk among the villages and temples. The villages typically are shopping areas setup for tourists and sell a variety of knick knacks including pottery and ceramics which is this island's claim to fame. You can walk around the island if you so choose – round trip distance is about 6 kilometers.
You can either get to this Island from Bangkok by taking the Koh Kred Cruise every Sunday with the Chao Phraya Express Boat. This is not the cheapest way to get there by any means but can be a bit faster than other methods – takes about 30 minutes from pier to pier and is 300 baht per person.
You can also take a public AC or non AC bus for 7 to 18 baht one way – catch bus number 32 along Samsen Road or along the bus route near the Chao Phraya river. Depending on traffic this trip can take between 60 and 120 minutes.
You will get off the bus just after it turns around and starts heading back. There is a bus stop where everyone who is left on the bus gets out. Then you have to cross over the road toward the river – and you can pay 15 or 20 baht for a bicycle rickshaw to take you to the pier where you catch a boat for a few minute ride to the actual island.
Lastly traffic depending you can take a taxi for probably around 200 to 300 baht one way – this will take about 35 minutes to 1 hour.
Also note on the weekend there is a tourist boat that gives trips all the way around the island of Koh Kred.

Pat Pong is the somewhat risque section of town located between Suriwong Street and Silom Street. At night this is a mix of hawker stalls, scantily clad women, night clubs, bars, bar girls, tourists and those trying to get you to see the shows. We saw one note at a hotel that said, "Bangkok Ping Pong show change my life". Not really, but women doing things with ping pong balls commonly perform at any of a number of the nightclubs here.
The souvenirs and other items sold here are extremely high priced and after bargaining down some of the prices as low as the vendors would go, we still found the prices too high in comparison to other locations in the city. For example when asking about the prices of generic photos of Thailand (same photos sold by several vendors), the price would start between 650 to 750 baht and would end up around 100 baht before we walked away).
Soi Pat Pong during the day (as experienced during several visits) was remarkably empty.
River Dinner Cruise – Chao Phraya River. This is something fun to do in the evenings. A typical dinner cruise will last 2 hours and will slowly motor along the Chao Phraya River – dining is often on the upper deck so you can see all the lit up temples as you pass by.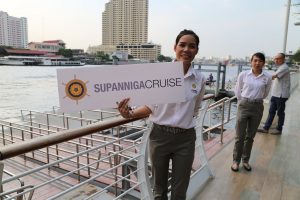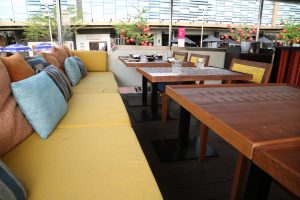 Supinigga Cruise – the story of this lifestyle brand began in Thailand in 2006 when the Laorauvirodge family opened a boutique hotel in Khon Kaen. Later they added a restaurant to this hotel. In 2013 they entered the Bangkok market with the opening of the Supanniga Eating Room in Thonglor. Both their hotel and restaurant have received numerous awards and recognition in relatively a short time.
In 2016 they introduced several cruise options on the Chayo Praya River including a cocktail or champagne cruise and a dinner cruise. Their river cruises leave from the piers directly in front of the River City Shopping Center – note that numerous river cruises leave from these piers. A welcoming staff greets you as you make your way to the river from the shopping center.
Their river boat cruise ship contains a rare fully stocked bar. The cocktail cruise is a very relaxing way to enjoy an hour in the 'heart' of Bangkok passing various temples, restaurants, prominent buildings and other boats. One cocktail is included along with Thai style snacks. Service is excellent while on board. An info brochure is provided which explains more about the locations of interest that you will see on your cruise including Wat Arun and the Grand Palace.
Head to the top deck for best viewing and more breezes.
For more information visit: www.supannigacruise.com
Another company offering river cruises is appropriately named Chaophraya Cruises – they offer nightly dinner cruises from 7pm to 9pm leaving from the River City Pier just west of the Royal Orchid Sheraton Hotel. They hold 290 passengers – top deck and downstairs dining available. For more information and to reserve seats online visit: www.chaophrayacruise.com or email: sales@chaophrayacruise.com or Phone: (02) 541-5599
Another river dinner cruise lasting about 2 hours is the Riverside Bangkok – visit their website at www.riversidebangkok.com (site is in Thai). We have been on this one and its an open air dining deck – good food especially seafood, a very relaxing river cruise.

Samutprakarn Crocodile Farm & Zoo is conveniently located within a 5 minute drive of the nearest Sukhumvit line Skytrain stop, Sai Luat. From this stop, catch a taxi or motorbike to the park. This sizable park has been here since 1950 and features the world's largest collection of crocodiles – numbering more then 60,000 of these creatures including supposedly the world's largest croc, Yai – 20 feet long. Different pricing admission for Thais versus foreigners.
One of the highlights of a visit is arguably the crocodile show where performers dare their own lives by putting their heads inside the mouth of giant crocodiles as well as their arms. This game of 'snap' is a crowd favorite. Loud sound effects startle the crowd throughout the show. Audience members often wrap coins in paper money and throw them into the croc ring, also startling the performers. One fun part of the show is when the performers gather up all the money and put it into one of the giant croc's open mouth and then retrieve the money slowly – including lifting up the tongue of the crocodile.
Also known for its chained tiger which poses for pictures with tourists as crowds gather around in jaw dropping amazement as one of their brave family members or friends poses behind the giant tiger.
The park features numerous other animals including hippos, elephants (which visitors can ride), monkeys and of course plenty of crocodiles. The park is somewhat centered around a water pond – paddle boats are available for rent here.
Waiting taxis hang out in the parking lot next to the entrance – but these often refuse to use their meter and will charge much higher prices to return to the Skytrain. Wait a bit and flag down a moving taxi instead.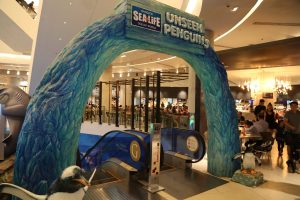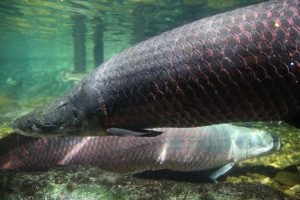 SEA LIFE Bangkok Ocean World is located in the basement of one of South East Asia's largest shopping malls, Siam Paragon. The Skytrain runs right in front of Siam Paragon and you can either get off of Siam or the Chit Lom stops on the Sukhumvit Line. A raised Skytrain pedestrian walkway connects you to Siam Paragon from either stops (the walk fromthe Chitlom stop may be a few minutes shorter than from Siam). Once inside the mall proceed down the escalator or elevator to the basement and head to the ticket counter.
A 4d movie experience plays every 30 minutes and is included with the cost of the general admission. You wear special dark glasses to maximize the effect – mist, air, seat movement and other special effects are part of this movie experience. This is a great show for all ages.
Ocean World contains a plethora of marine exhibits which include creatures from all the world's oceans. Each exhibit is organized by type of marine life. The highlight is a glass tunnel in which you are surrounded by water on all sides except the floor. Additional highlights include common household appliances which are filled with water containing fish – and even a car is full of water with fish swimming inside! Ask about the "Walk with the Sharks" experience.
For an extra fee you can go on the glass bottom boat which involves the guide pulling on a wire so that your boat moves around a large tank. Several sharks, sting rays and other fish tend to follow the boat hoping for a handout. Total time in the boat is about 10 minutes. For more information visit: www.sealifebangkok.com
Skywalk, King Power MahaNakhon for a short period was the tallest building in all of Thailand at 314 meters (since eclipsed by the 315 meter tall Magnolias Waterfront Residences Tower 1). Two of the uppermost floors are open to visitors – floor #74 and floor #78. Located within a few minute walk of the Chong Nonsi Skytrain. Pickup your tickets on the ground floor – admission provides access to both floors, a complimentary non alcoholic drink as well access to the Skywalk itself.
Tall building elevator technology has certainly improved dramatically over the years – visitors are whisked up to the uppermost floors extremely quickly with the meters per second rate flashing on the digital screen. Another glass lift is located between floor 75 and 78 and visitors can either talk this to the very top or walk on the circular steps, also leading to the top.
The Skywalk is a series of glass panels that extends out from the building on the 78th floor. Visitors have to wear special coverings for their shows and are given a special exterior bag for any purses or other bags. No photography is allowed directly on the Skywalk although plenty of photography is allowed behind a rope separating the Skywalk from the rest of the observation deck.
Guests exit through a gift shop and a maze of 4 floors with difficult to find exits. One of the Kingdom's most coveted New Years Eve late night party spots! Open daily from 10am until midnight (last admission is at 11pm). For more information, visit: https://kingpowermahanakhon.co.th/skywalk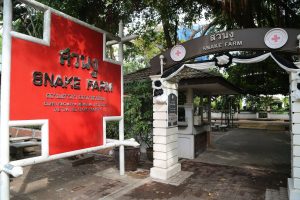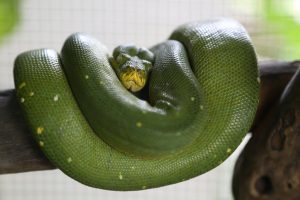 Snake Farm (Queen Saovabha Memorial Institute) is located off Rama IV Road next to the prominent looking Thai Red Cross National Blood Centre building – within a short walk from Lumpini Park. PHONE: 252 0161. The Sam Yan metro stop is a short walk away or a further walk is from the Sala Daeng Skytrain stop. This is a world class research facility – snake venom is used for snake-bite antidotes which is provided for the entire country. Tourists can watch the "milking" of the snakes for venom from the small amphitheater, slide shows about individual snakes, and there are large snake skins contained in displays (these make for great photo backdrops!).
In 2008 a 5-story building replaced the prior building and a number of other improvements on site were made (we visited both prior and after this major upgrade). Today a number of outdoor exhibits contain live snakes including some extremely venemous ones. Indoor exhibit also contain many snakes.
The Snake Museum is open from 8:30am to 11:30am and then again from 1pm to 4pm on weekdays. Venom extraction takes place at 11am daily. and admission is 200 baht. Visit: www.saovabha.com/en/snakefarm_service.asp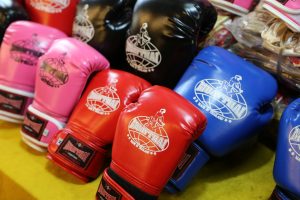 Thai Boxing (called Muy Thai). There are two primary viewing locations in Bangkok for this sport:
Rajadamnern Stadium is located on Thanon Ratchadamnoen Nok. Closest BTS Skytrain stop is National Stadium which with no traffic is about 10 minutes away but usually expect up to a 30 minute drive – or get out at the closest metro stop, Hua Lamphong – about a 20 to 30 minute car ride away. The stadium hosted its first fight in 1945. Fights are held Monday, Wednesday, Thursday and Sunday and usually start at 630pm.
One can purchase tickets on site the day of each fight by visiting their box office. Tickets are segregated and priced differently for Thai people versus foreigners – the price of tickets depends on the class of ticket you purchase which corresponds to your proximity to the fighters. Expect to pay somewhere between 1000 and 3000 baht per eight fights of which there are 5 rounds each. Never believe anyone but the actual ticket vendors if they try to tell you the performance is sold out. Note that gambling on fighters is legal here.
Next door to the ticket office is a very well stocked store containing a variety of boxing gloves and other related apparel. Visit their website for details and to purchase tickets: www.rajadamnern.com
Lumpinee Boxing Stadium (is located on Thanon Phra Ram IV ner Thanon Sathon Ti – near Lumphini Park (first opened in 1956). This stadium is operated by the Royal Thai Army. Visit: www.muaythailumpinee.net for more information.

Tubtim Goddess Shrine . This, perhaps is where you take visitors after you've seen all the major attractions that Bangkok has to offer. This is a fertility shrine focusing on the male appendage – with a display of hundreds of penises. Unfortunately in 2015, the Swissotel Nai Lert closed after 36 years in business and the Tubtim Shrine was no longer accessible to the general public.
As a result the shrine was moved to a public location – but unfortunately nearly all the penis statues were not moved. As a result, a visit here is highly disappointing especially if you had a chance to see the original shrine before it was moved. Today this small shrine only contains several penis statues. Hopefully the shrine will accumulate more statues as time goes on. Closest skytrain stop is Chitlom (about a 15 minute walk).