Bangkok features some 50 districts – with 35 being located east of the Chao Praya River and the other 15 on the other side of the river (called the Thonburi side). We highlight only a select few major parts of town, some of these encompass several districts. The regions below are among the most visited by tourists in Bangkok and contain a majority of the city's attractions and activities.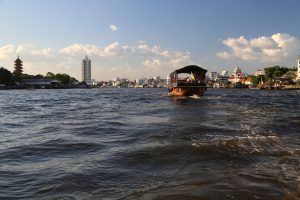 CHAO PRAYA RIVER is the lifeblood of Bangkok. It is a wide usually brown river that winds its way past numerous temples, hotels, residences and various city buildings . A number of canals also connect into the river. Sometimes the Chao Phraya provides at least a breeze to help break up the sometimes heavy humidity. Longtail boats and river taxis ferry passengers up and down and across this river.
Major temples are located near its banks including Wat Arun, Wat Po and the Grand Palace. Two of the most highly rated hotels in the world grace her banks – the Oriental and the Peninsula. Consider taking a night river cruise including a meal on the Chao Phraya.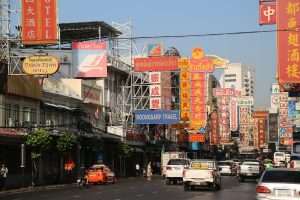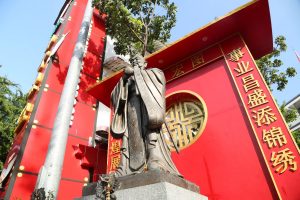 CHINATOWN – is a sizable community of Chinese businesses located about a 15 minute walk from the Hua Lamphong Train Station or only 10 minutes from the Hua Lamphong MRT Station. There are many affordable hotels and some hostels within its city street confines, numerous restaurants and various gold and jewelry shops. People enjoy coming here in the evenings to try some of the side street restaurants that open on the sidewalks – spilling out onto the streets at times.
We have visited several times during Chinese New Year – the crowds swell in the evenings to more then normal – and a number of the streets are beautifully decorated in red and gold.
Lek and Rut Seafood. A dining experience here is as pure and raw a street dining as you will find in Bangkok. This restaurant is located in the middle of Bangkok's Chinatown and is open daily from 6pm to 3am. On Friday or weekend nights this place is packed and people mill around just waiting to get a seat. It can stay totally full until at least 11pm when the crowds start thinning somewhat.
This is not high society (hi so) dining – rather you sit on metal tables right on the street, with all sorts of traffic buzzing right by you – or as the case typically is in Chinatown, barely moving at all! Beggars may stop by to request money and or vendors. However this chaotic atmosphere is part of the experience! Oh, and of course the seafood. Their most popular tasty items are the large prawns with spicy dipping sauce, crab, in shell scallops/pork and the steamed fish. Be sure to order some beer to! Located on the corner of Yaowarat & Soi Texas. Note a number of other small street-side restaurants are located here and Rut and Lek is by no means the only crowded restaurant here!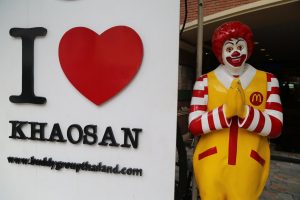 KHAO SAN ROAD – For a slice of Bangkok that really doesn't seem to feel like Bangkok visit Khao San Road. Khao San is the backpackers hub for travel in Thailand – with its fame increased after the movie The Beach with Leonardo DiCaprio was released in 2000. Not much bordering this road remains very static – with businesses and vendors continuing to change over the years. There are no longer as many guesthouses directly on Khao San (Nearby Rambutri road now serves as the budget guesthouse hangout).
Today, Khao San Road is a mix of beauty salons, waiting tuk tuks, waiting taxis, scam artists, night clubs, side alleys, tattoos, henna & tattoo parlors, pharmacy's, hostels, bars, foreign backpackers, massage parlours, tailors, budget tour operators, individuals who will create fake ID's, driver licenses, international driver licenses, press badges and any of numerous other illegitimate licenses and introduction questions framed by ulterior motives including "where are you from" and "how are you".
However note that relatively speaking, Khao San Road is no longer as cheap as it used to be although it is still one of the bargain areas in town. This area is a great place to meet fellow budget travelers and it has a great International feel with people coming here from all over the world.
The main road has been blocked off to outside traffic at times due to the great number of pedestrians here but during our latest daytime visit was open to vehicle traffic. In more recent years there is a good police presence and some of the riff-raff vendors have been relocated elsewhere. At night this road is a glitter of lights, music, and crowds.
During one trip here I was interviewed by a team of journalism students from a local university. They were recording opinions that tourists have of Bangkok and of Khao San Road in general. Apparently in their opinion, nearby Rambutri might become the next Khao San Road. In our opinion, leave Rambutri Road as is, it provides a quieter alternative to Khao San Road.
During one visit near Khao San Road – next to the Phra Athit Pier on the Chao Praya River we happened upon an English lecture by two young guys, Phil & Frank from Ireland. They had an audience of about 30 Thai people of all different ages lined up on the steps. They were teaching people slang English with the help of portable speakers and a white board.
The Thai's were listening so intently – hanging on their every word as if it were a formal English lesson. After Phil & Frank finished their dialogue the students had to practice speaking to one another in the slang English. Whats up? Hows it going. How ya doing? It was all quite amusing.
Say NO to guesthouses that do NOT serve Thai people. Some guesthouses in and around Khao San Road, including the Rambutri district either advertise blatantly that they do not service Thai people or if you are with a Thai person they will refuse that person entry to their guesthouse. Always ask your guesthouse if they service Thai people. Two guesthouses to stay away from are Bella Bella and the Sawasdee Inn – both located on Rambutri Road. Need other guesthouses in the Khao San area? Visit our Lodging Page.
And if you want a quiet and local experience during your stay with easy access to the nightlife of Khao San Road – definitely consider staying in one of the guesthouses in the Samsen area – no high rises here – rather dominated by residential old school Bangkok neighborhoods and plenty of guesthouses. And remarkably it is only about a 10-12 minute walk from Khao San Road.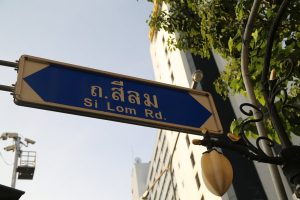 SILOM is the heart of the financial district in Bangkok – and as a result is generally less visited by tourists and is usually cleaner and quieter than some areas of Bangkok. With that said, there are still plenty of hotels located along Silom Road including a number of budget options.
The Silom Skytrain line serves much of this area. Also of note is Thailand's tallest building, MahaNakhon is located in the Silom area.
A street that perhaps might seem more appropriately located along Sukhumvit, is Soi Pat Pong with it's wild reputation for intriguing sex shows and "after hours" sexual entertainment. There are still many risque sex shows at night but it is also an evening market – and you will see people from all walks of life here. It is not dangerous – I've seen families with children browsing the night market. The shows are plentiful – the salespeople with their "sexual show cards" will walk up to you and try to get you to see their particular show – these cards list what you will "supposedly" see inside. A common card they show tourists is one that lists "DVD's, CD's, & Sex"!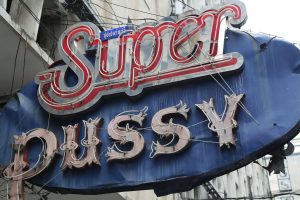 From a financial standpoint, be very careful if you go to one of these shows – the outdoor salesperson may tell you the show is free but that you need to purchase a beer once you get inside. Once you are inside a waitress will show up asking for your order. Ask her how much the cost of each beer is. Ask this question several times. After you have downed most of your beer what typically happens is a big man and a lady will walk up to you and sit next to you. These are not the people that took your order originally. They will demand payment and at this point its most likely NOT the original price you were quoted. They will typically quote you a price of at least 1000 baht per beer and then if you insist on this "new" price being wrong they will pull out a card that says the new price. They may even tell you the person outside who introduced you to their bar does not work for them and therefore his price is not correct. Umm yea!
However you are in the right – this high price is not what they quoted you and was not listed on any menus. It takes some serious guts but all you have to do is pay the original price and then start walking out of the dance bar. If you have to, tell them you will go to the police. This usually shuts them up. We've been through this exact situation a number of times and always end up walking out of the bar after almost yelling at the money collectors. We do NOT pay their inflated prices that they hit us with after we have finished our beers.
More information here from the ultimate nightlight scene website is Stickman: www.stickmanbangkok.com
SUKHUMVIT is a major thoroughfare in Bangkok beginning under the Chalerm Maha Nakhon Expressway as part of Phloen Chit Road. In fact if one wants to see the very first soi that leads off of Sukhhumvit (Soi 1) simply walk under this expressway next to the train-tracks and you will run into this first Sukhumvit Street on the east side of the expressway. Sukhumvit isn't just in Bangkok – remarkably it runs for approximately 400 km from Bangkok (still called Sukhmvit) all the way to the Cambodia border! As a result, this is one of the longest boulevards on the planet.
And if one were here (in the busiest part of Sukhumvit today) up until World War II – one would be standing in water of rice fields.
In the city, Sukhumvit is often associated with traffic (one of Bangkok's busiest) – and lots of it. Fortunately the Skytrain covers a fair amount of the most congested areas – with raised train service (the Sukhumvit Line) providing a number of stops above this great road. The Bangkok Metro also connects to Sukhumvit. Side streets are called sois – the odd ones are on the north side of the road and the even ones are on the south side of the road. However, these sois never line up so if you spot an even soi the other side might be an odd soi different by a number of 10 or more. And adding to confusion is some of the sois have their own names in addition to their soi number.
As one makes their way through Sukhumvit either by car or by Skytrain one notices all the expats from the first part of Sukhumit until about the On Nut Skytrain stop – many expats and tourists stay along this stretch of the road. Beyond On Nut, one finds less expats and tourists as one gets further from the core of the city.
Sukhumvit is also the heart of hotels in Bangkok – ranging from cheap hostels to luxurious properties. At night a number of markets are setup along its flanks. The 100 meter rule applies along its core – if you can't find what you need in 100 meters, then you don't need it!
Land is expensive along Sukhumvit and older buildings are often torn down to make way for newer high rises.
There is a plethora of of nightlife, massage parlors, restaurants, and street food either directly on Sukhumvit or on numerous side streets. This major street features everything a traveler would ever want.