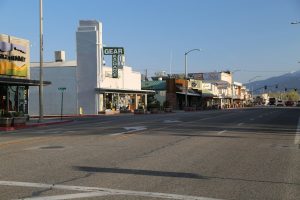 For a town its size there are a proportionately large number of hotels (and certainly many more hotels then some of its smaller town neighbors in both the north and south). Most offer free Wi-Fi and many are fisherman friendly (offering fish cleaning facilities).
Unless otherwise noted all prices range from 1 person/1 room/1 bed to 2 person/1 room/2 beds. All ratings if available are listed with each hotel. Prices are subject to change without notice.
All phone numbers below are 760 area code unless otherwise noted.
Best Western Bishop Lodge is rated three stars and is located at 1025 N. Main Street in downtown Bishop. They have 2 stories with 89 rooms. Good location for those skiing at Mammoth but who don't want to stay in Mammoth.

They offer a FREE continental breakfast and FREE local phone calls. Decent sized televisions in all rooms along with a mini refrigerator and a microwave. Recently renovated. Their prices range from $69 to $159. For more information call 873-3543. Visit: www.bestwesternbishop.com
Bishop Days Inn – visit: www.wyndhamhotels.com/days-inn/bishop-california/days-inn-bishop/rooms-rates
Bishop Village Motel is located just off of Main Street. A bit removed from the traffic of the main highway. Early check-ins allowed (2pm).

Features a large outdoor, solar heated pool. The hotel is 50+ years old – family owned and operated. Phone: 872-8155 or visit: www.bishopvillagemotel.com





Comfort Inn is rated 3 stars and is located at 805 N. Main Street. They have 52 rooms in 2 stories and their prices range from $74 to $150.

They have fish cleaning and fish freezing facilities. Pet friendly hotel. Also nice pool on site. For more information call 873-4284. Visit: www.youtube.com/user/ComfortInnBishop

Creekside Inn is located at 725 N. Main Street. The plus to this hotel is that they are located right beside a nice running creek. They are rated 3 stars and also have 89 rooms.

Offers FREE continental breakfast and FREE local phone calls. Their prices range from $99 to $250. For more information call 872-3044. www.bishopcreeksideinn.com

El Rancho Motel is located at 274 Lagoon Street and is rated 2 stars. They have 16 rooms, three with kitchens. Seasonal – please call for rates. Wi-Fi free. 872-9251.
Elms Motel. They are located at 233 East Elm Street. They are rated one star in the Triple A but by no means is this a dingy resort. If you are looking for a nice cozy quiet place to relax this is the hotel for you. It is run by a friendly elderly gentleman. Ask him how his grandchildren are doing and the stories will flow. This hotel is conveniently located next to a park with a small lake and tennis courts. Along with the room key, the park key is provided. On a warm summers afternoon the park is an excellent place to be lazy.

It is a great place to lie in the shade of a large tree and fall asleep or bury yourself in an intriguing book. The cost for a single room double bed during the summer was about $58. The rooms, bathroom, and shower are very clean. There is a fish cleaning facility on location. For more information call 873-8118. Visit: www.BishopElmsMotel.com
Holiday Inn Express Hotel & Suites is located at 636 N. Main Street. They have 66 rooms, a heated indoor pool (very usual for this part of the state), a sauna and a whirlpool.

Free continental breakfast. Free wi-fi. Rooms are very clean and comfortable beds. 872-2423

Hostel California is located at 213 Academy Ave just off of Main Street. Cute and very colorful with an almost iconic name, this hostel was founded in 2014.

Operates for those with adventurous spirits. Choose from a variety of accommodation ranging from bunk bed dorm rooms to private rooms. You might see guest pulling in – in the afternoons on bikes. Those are probably loaner bikes offered by the hostel. Visit: www.thehostelca.com

Mountain View Motel is located at 730 W. Line Street and is rated 3 stars.

They have 35 rooms and their prices range from $89 to $99. Each room comes with a refrigerator and a microwave. Very fast WiFi. 873-4242. Visit: www.thebestmotelever.com
Mountain View Hotel is a two story property on the corner of Hwy. 168 and W. Line St. Not in the center of town but within a several minute drive.

Old style motel with a nice family feel. Pool, a gas powered BBQ unit and plenty of seating outside on their lawn. Some of the staff speak German and French. Fisherman friendly – provides a fish-cleaning/freezing facility on site. Refrigerators in all rooms along with microwaves.


Motel 6 features a two story building with rooms spread out next to each other on both stories. Plenty of parking.

Prices start at $59.




Ramada Limited is located at 155 Elm Street. They have 52 rooms, an outdoor pool, and also a whirlpool. Prices range from $79 to $99. 872-1771.
Redroof Inn is located in downtown Bishop off of Highway 395. Pet friendly and all rooms are smoke free. Within easy walking distance of many restaurants including the ever popular Erick Schat's Bakery.

Some rooms have a Jacuzzi tub. Free continental breakfast is offered daily and a seasonally available outdoor pool is also on site.
Rodeway Inn is located just north of downtown Bishop at 150 E. Elm Street. They are rated 2 stars and have 55 rooms in 2 stories. They offer FREE local calls and FREE newspapers. Their prices range from $63 to $119. 873-3564.
Super 8 offers free breakfast and free wifi. A basic outdoor pool is on site (seasonal).

Reasonably priced – good location, just off of Highway 395. Pet friendly and non smoking rooms. Visit: www.wyndhamhotels.com/super-8/bishop-california/super-8-bishop/overview



Thunderbird Motel is located at 190 W. Pine Street and is rated at one star. They have 2 stories and 23 rooms. Prices range from $50 to $90. 873-4215.


Townhouse Motel offers basic and often budget accommodations near downtown Bishop, address: 625 N Main St. Very basic, often one of the cheaper options in town. Walking distance to a number of restaurants. Plenty of parking on site.





Travelodge is located at 155 E. Elm Street. All rooms contain microwaves and refrigerators. Balconies located outside of the room.

Plenty of parking including for larger vehicles. Reception open 24-7. Free continental breakfast – pet friendly and also an outdoor seasonally available pool on site.



Trees Motel is located just outside of the center of town at 796 W Line St. A comfortable property that features plenty of lawn space and trees for shade (especially nice on those hot summer days that Bishop often has).

Older style motel that has been here for years. Fairly quiet despite being so close to the main street (set back a bit helps in this regard and Line Street has less traffic then the main highway). Within about 2 miles of the casino. Nothing fancy, and that's just about how they like it around these parts.
Vagabond Inn is located at 1030 N. Main Street. They are rated 3 stars and their prices range from $59 to $130. They have 80 rooms in 2 stories. 873-6351.

Visit: www.reservations.com/hotel/vagabond-inn-bishop