We have enjoyed drinks at all of the fine establishments listed below. See the restaurant section page of this article for more information on dining options in Avalon.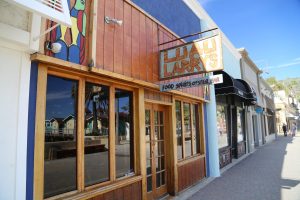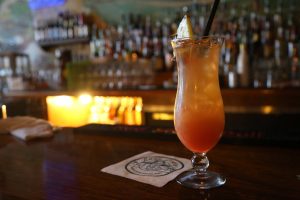 Luau Larry's is located in the heart of Avalon overlooking the bay at 509 Crescent Ave. A tradition among many to stop here, Larry's is an institution on the island. They been located here for over 20 years. They are a bar and they are a restaurant but they are much more then this to those who return here again and again every time they visit the island.
Larry's is a state of mind yet it can also be a specific drink. That drink is often but not always the infamous Wiki Wacker – a tasty mix of rum, brandy, pineapple/orange juice and grenadine. Those who order this also get the Wiki Wacker sticker and hat. The straw hat looks like it has been attacked with a weed wacker – but invariably it will look good on whomever wears it.
We can also vouch that Larry's has some of the best wings on the island. Order those up at the bar and pair it with one of their many cocktails. "Ken's Punch" is named after one of the co-founders. Sizable 45oz cocktails are popular here. Visit: www.luaularrys.com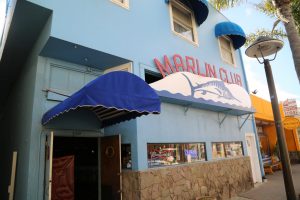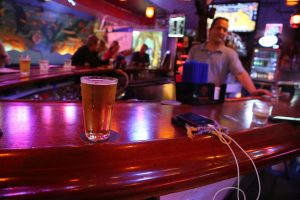 Marlin Club is as tiny little bar popular with locals. Not right on the main street and due to it's smaller size – not always as crowded as some of the larger bars. Good place to meet locals and chill after dinner. This is Avalon's oldest bar at over 60 years.
Nice vibe inside – some of the interior decorations date from the 1950's. Built to represent a boat. One pool table is inside. Bar curved so easy to see others sitting across from you. A true bar, no food. Their motto is: "Where the young surrender and the old grow tender." Stop on by the next time you are in Avalon! Visit: www.marlinclub.com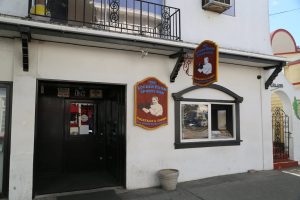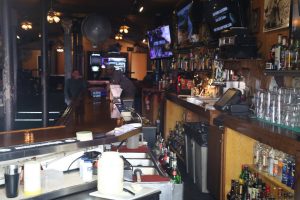 The Locker Room Sports Bar, otherwise known as J L's Locker Room is located just off the main street at 124 Sumner Ave. Appropriately named this was actually the locker room that the Chicago Cubs used during their training camp days decades ago. Ever popular with tourists and locals this bar is about drinking, watching sports and playing sports.
Two pool tables are actively used in the evenings – with a dart board in between them. Fortunately As traffic from the pool tables overlaps with the dart board users, fortunately the tips of the darts are totally dull, a dull dart board so to speak but fun nonetheless – especially after several beers or ciders. And speaking of cider, they actually have one of our favorite types of cider here by bottle – pear cider.
A great place to spend a long long night. Easy to meet others here as well. Bar in the front, the pool tables in the back. Plenty of photographs hang on the wall of famous sports celebs – including a number which are signed, presumably when they actually visited this bar.