Catalina has some incredible diving opportunities ranging from beginning to advanced. The Catalina Dive Park is an excellent area to dive or to learn diving. This park is located out on the small point almost at the base of the Casino. You can access the water via a walkway with slippery steps (very slippery!) that lead down to the water. This dive park is enclosed with floating buoys connected to each other by rope. Be careful not to leave the dive park if at all possible as there are many boats anchored and traveling back and forth on the water. Know your compass and depth. The visibility in this park is quite good often between 35 and 50 feet. For visibility, it sure beats some dive spots along California's central and northern coasts. Depth ranges from about 15 feet near the shoreline to about 100 feet out at the far buoys.
We have taken several dives at this park. One particular dive was a deep wreck dive to 95 feet to a boat named 'Sue Jack' that sunk in 1980. Be sure to pick up a dive map of the park. There are several sunken ships in depths ranging from 70 to 130 feet. This dive is well worth it if you have some previous experience diving.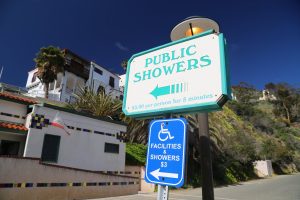 During dives, we enjoy filling up empty water bottles with frozen peas. Once the peas are in the bottle we then fill it up to the rim with water. These bottles are taken on dives and provide an excellent method for feeding the fish, especially in depths of 15 to 40 feet near the shoreline. Removing the cap and squeezing the bottle produces a flurry of green peas, which the fish absolutely love and go crazy over. Initially squeezing the bottle attracts several small fish, which in turn then attracts many more fish. Soon you have a crazed school of multi-colored fish attacking the peas and sometimes your fingers and even the bottle. The Garibaldi's (orange colored fish) are particularly aggressive. While feeding the fish we have often seen large fish (up to 6 feet long and quite heavy) lurking in the background. Fortunately they don't seem to interested in the peas or the divers, only in the smaller fish.
There are several dive supply companies in Catalina. We recommend using Catalina Diver's Supply for renting or purchasing equipment or for getting your tanks filled.
Catalina Divers Supply offer guided snorkeling tours, introductory scuba dives and personalized instruction – NOTE: – this class does not certify you for SCUBA diving), and diving from a boat (the Cat Dive boat). Catalina Divers Supply is conveniently located about 2/3 of the way down on the left side of the main pier. You can;t miss the 'blue shack.' For availability you can't beat their other location at the dive park near the Casino. In this location they operate out of a portable trailer. They have extra gear and it's a short walk from the water to have your air filled at this location.
You can reach them at toll free (800) 353-0330 or view their website: www.catalinadiverssupply.com