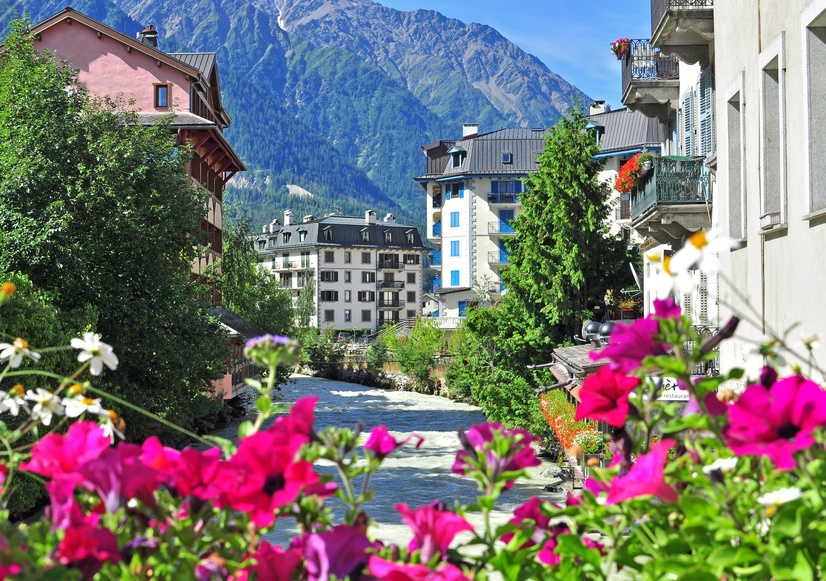 During the Paleozoic Era another mountain range stood above what is now the current Mount Blanc. Over the years it eroded and eventually filled in with several seas. Marine sediments have been uncovered by present day geologists at high elevations. Then 40 million years ago a new mountain range formed due to a folding in the earth's crust in this part of the country.
Mount Blanc took its present general shape about 15 million years ago as this fold in the earth's crust reached its climax. More recently during the Quaternary Era, many many glaciers reshaped the topography of the land. Much more recently (between the years of 1590 and 1645) Chamonix experienced several extremely severe winters. The glaciers advanced to their furthest points. The Mer de Glace (talked about later in this guide in more detail) almost blocked off the main valley.
The last recent advance of the glaciers took place in 1825 and 1826. Since then the glaciers have been receding every year. One interesting note is the natural phenomenon that took place at the old village of Les Bois. This village was evacuated in 1825 because of the close proximity of the moving ice fields. The terminus of one nearby glacier was a 120 foot wall of ice. This was a tourist attraction for many years, until the glacier completely retreated back up into the mountains.
In 1820 an event led to the death of three mountain guides. Initially five guides plunged into a deep crevasse and three of them were never seen again. A geologist predicted that if the glacier kept advancing at a particular rate of speed the bodies would be found in about 35 to 40 years. Amazingly his calculations proved true as 41 years later the bodies were found at the edge of the glacier.