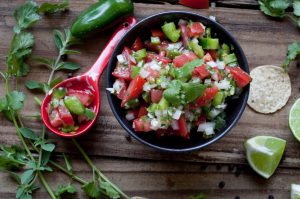 There are many small restaurants in Colima, of varying quality. Many of the cafes and small restaurants are located in or next to the main plaza.
We ate or visited the following restaurants:
Neveria La Flor de Michoacan is on a corner of the plaza and is open every day from 8am until 10pm. They have a good selection of locally spiced dishes.
La Arabica is located at Guerrero 162 near the corner of Obregon street. This small coffee house is a great place for chatting with friends or watching people walk by. A shady patio is located in the back for more privacy. They are open Monday through Saturday from 8:30am until 2pm and then again from 4pm to 8:30pm.
Centro de Nutricion Laksmi is a vegetarian restaurant located at Madero 265. Inside is a bakery, and a section containing vitamins and other health related products. This restaurant serves soyburgers, yogurt, and fruit salads. They are open Monday through Saturday from 8:30am until 9:30pm, and on Sunday from 6am until 9:30pm.
Los Naranjos is my favorite restaurant in Colima. They are only a block and a half from the main zocalo (plaza), located at Barreda 34. The servers are very friendly and patient. The atmosphere is simple and the interior is very clean. The food is quite good and portions are ample. The restaurant is situated in a long room, with the back part of the room slightly raised above the front room. Several stairs lead up to the back room, and if you look up while in the back room, you will see the sky, as there is no roof. Los Naranjos is open from 8am until 11:30pm everyday.
For those craving Italian food consider eating at Benedetti's Pizza , located at Constitucion 58 about 2 blocks north of the main plaza. The prices are decent, but the portions are a bit small. Spaghetti is also served as well.
Jugolandia is located directly next to the main plaza at Madero 17. This restaurant has inexpensive prices and serves hamburgers, juices, fruit salads, and different types of yogurt. They are open every day from 7am until 11pm.
Familiar la Plata is known for their breakfast. Located on the south side of the main plaza. They are open only for breakfast from 7am until 10pm.