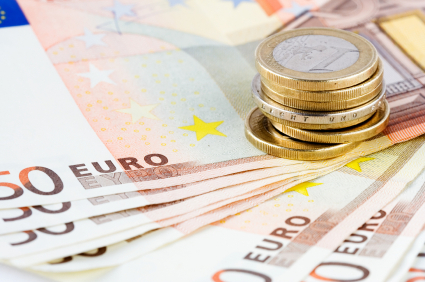 The Euro was introduced on January 1, 2002. 14 billion Euro banknotes and 55 billion coins were initially introduced to more than 300 million people in 12 countries of the European Union.
12 countries who initially converted were:
Austria, Belgium, Finland, France, Germany, Greece, Ireland, Italy, Luxembourg, Netherlands Spain and Portugal, & Monaco.
For a list of the Euro conversion rates (for the participating countries old denominations) click here Consult newer sources such as the business or travel section of your newspaper for the latest conversion rates.
Old Rates
The following rates are listed for historical reference only to give one a general idea of each countries exchange rates before the Euro was introduced. Today the Euro is the currency for approximately 300 million people spread across 17 EU countries. The Euro has a "common" side of the bill across all the countries and each country prints its own national emblem on the other side.
Just prior to the introduction of the Euro, the US dollar equaled the following:
| | | |
| --- | --- | --- |
| Greece 304 Drachma | Italy 1770 Lira | Austria 12.70 Schilling |
| Switzerland 1.51 Francs | France 6.05 Francs | Spain 152.50 Pesetas |
| Portugal 184 Escudos | Germany 1.80 Marks | Belgium 37.1 Francs |
| Britain 0.62 Pounds | Denmark 6.85 Kroner | Ireland 0.71 Punt |
| Netherlands 2.03 Guilder | Norway 7.70 Krone | Sweden 8.20 Krona |
ATM's
ATM's are scattered throughout large and small towns in all of Europe, both in eastern and western Europe. The major difference between ATM's in eastern versus western Europe used to be that the ATM's in eastern Europe sometimes would have problems accepting ATM cards from North America. That is no longer the case as European ATMs accept Western European ATM's accept cards containing universally known providers such as Cirrus, Star, Plus, and Explore. ATM's are a very easy way to get money for the most part. In western Europe I found that I had about a 80% success rate on getting money from ATM's. In other words 80% of the ATM's I initially used actually worked. Sometimes I would have to try 2 or 3 ATM's before I found one that would actually work. This isn't a big problem in large cities or even good size towns, but is a big problem in the smaller towns or the country side.
ALWAYS take out more local currency then you think you will need, ESPECIALLY if you know you are going to be in small towns or in the country. Time and time again on my initial European travels I would take out just what I thought I was going to use, and then time and time again I would have to waste time looking for another ATM in order to take out more money because of unforeseen circumstances. I did this because I was afraid to lose the small amount of money in the re-exchange rate. However, I forgot that I was paying a fee to use the ATM every time. Your bank may or may not charge you a small fee for using the ATM. These fees range from a dollar to several dollars.
Those with PayPal accounts will have a PayPal debit/ATM card – often the cost of using an ATM with PayPal is less than what you will pay by using a major credit card.
Money Belt
If you are going to be carrying cash, especially larger amounts of cash, a money belt is highly recommended. A money belt (preferably one that is water resistant) is an excellent way of securely carrying your money or other important documents. It is well hidden under your clothes and out of sight of potential thieves and pick pockets. A water resistant belt is always a good idea, especially if you are traveling in a hot climate in the summer time.
A money belt worn around your neck is not recommended. This is much easier to see then a money belt worn under your clothes. It can be easily removed from your neck either by quickly pulling it until it snaps, or quickly cutting it.
I found that staying drenched with water during the day was a better way to stay cool instead of completely shedding upper body garments (at least for the male gender). The dampness would allow one to stay cool for up to an hour and was quite refreshing especially if there was a slight breeze. I perfected this technique in the 112 degree F heat of downtown Athens in mid July.
One note is that there are water fountains, especially in the southern European countries such as Greece and Italy, running constantly. This makes drenching yourself much easier when you can easily find running water fountains.
Bring some Cash
It is also a good idea to take some currency from your own country as backup. I took $500 hundred dollars US for 6 weeks, and I could have used another $500. If you take cash from the US take both larger ($100) and smaller $20 dollar bills. They are easy to exchange. Sometimes banks will not exchange older $100's or even $50's and those bills that are especially dirt or ripped as they are afraid of counterfeiting – however sometimes you do get a better exchange rate for the larger bills. For those bringing large bills to convert to local currency try to get newer currency from your home country.
Remember that larger bills are also harder to cash at small stores, restaurants, or other places. Unfortunately ATM's usually give you large bills especially if you withdraw a large amount. I never had a big problem using the large bills to pay for something small, the large bills just raised a few eyebrows when the cashier had to give up almost all of her small bills in change!
Credit Cards
I found that southern Europe including much of Greece and Italy did not take credit cards in small establishments. This was true in a number of small hotels, restaurants and stores. It was much easier to use credit cards at most establishments in the rest of Europe.
Hiding Places in Hotel Room
For the most part I stayed at decent, clean, comfortable hotels. I would leave my backpack in the hotel room. I would leave for most of the day and sight-see and then return in the late afternoon or evening. I never had anything stolen. Sometimes rooms have small safes (make sure they are bolted or securely fastened down) before using. Often hotels will store luggage for a few hours or perhaps longer if you plan to return in a certain amount of time. Some hotels/hostels may charge extra for the use of their safe (if its located in the behind the reception).
For especially paranoid folks, there are ways to cleverly hide your valuables in your room without losing them. First, you want to shy away from places that will be looked at or altered by housekeeping staff. Some of these "stay away from places" are bed sheets, pillow cases, towels, or mattresses.
Some places you may want to consider hiding valuables are the inside seam of the bottom of curtains, and small non flammable items can be placed in and on a light bulb cover, especially if the light bulb cover is colored or non white. Other potential hiding areas are on the bottom drawer of pull out drawers, cracks at the bottom of closets, or in the back of pictures that are hanging on the walls. If you are in a "drop tile" situation (the ceiling is made up of drop tiles) – pick one of the drop tiles, push it up, and place some of your valuables above it – just be sure to collect it when you return. I'm sure you can think of some other nifty hiding places. Send me your ideas.
Other Info
There are foreign currency exchange offices located throughout the cities to a lesser extent small towns (in small towns money exchangers often are located at public transportation hubs, IE bus or train stations). Some will charge a small commission rate to exchange money and some will not.
Sometimes motorcycle or bicycle rental companies keep passports until customers return their equipment. Other times hotels will hold on to your passport until you pay the hotel bill. Keep in mind that you usually need a passport to exchange money. It will do you little good if your passport is sitting in a hotel or equipment rental company far from where you are exchanging money. At the very least it will be a hassle to go back and get your passport, and try to explain to staff, that you need it for exchanging money, especially if they do not speak English.
Prices vary dramatically from country to country. The cheapest prices are in eastern Europe, the next cheapest were in Greece and southern Italy. The most expensive prices were in northern Europe, and particularly in France, Austria, and Switzerland.
Lets provide some examples. A normal can of soda in Greece or The Czech Republic would cost about $2.50 US, where in Switzerland or Paris a can of soda would be around $4.50 or $5.00 US dollars. Another example: renting a motor scooter for an entire day cost about $30 in Greece. Another example: a good sit down dinner for one in Prague (Czech Republic) was between $12 and $16. In Paris a decent sit down dinner would average around $25-35.