Jamestown is located about 3 miles south of Sonora on Highway 108. This mining town has had its share of history. It is named after a Colonel, George James. Nearby Wood's Creek was extremely rich and provided some sizable nuggets over the years. This creek is named after an Oregon miner Benjamin Wood who first discovered gold in the area in 1848 (one of the earliest gold mining related settlements in this part of California).
The town has a colorful past and is one of the more popular tourist towns in the area. There is a rather large main street that extends for about 1/2 to 3/4 of a mile. Several well worth visiting gold shops are located here. There are also several excellent art galleries and many antique shops along main street. Some additional art galleries are located on the side streets.
The gold shop Gold Prospecting Expeditions is famous in its own right. They have a long panning trough in front of the store. Gold panning is free in this trough. The only catch is you have to bring your own pan unless you want to rent a pan for several dollars. Ralph Shock, the grizzled old prospector who owned this shop (but has since passed on into gold mining heaven) was a character with an interesting personality that fit the stereotype of a grizzled gold miner. His family still owns this business (3rd generation is involved).
Ralph wore gold nuggets like they were going out of style and his classic trademark cowboy hat was always perched on the top of his head. He always enjoyed discussing methods of gold mining and showing the awestruck tourists his large nuggets that he kept hidden behind the counter. When he whipped out one of the nuggets everyone oohed and ahhd. We personally never peaked Ralph's interest, until one day we showed up with several 1-6 ounce nuggets we had found on a local mining claim. But you can be sure he peaked our interest many times with his collections of gold nuggets.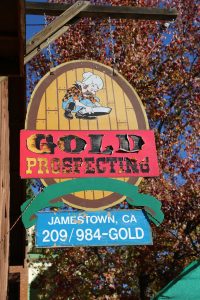 For prospecting trips, gold nuggets, and gold mining supplies this is the store for you. They offer many different types of gold mining trips to suit all types of tastes with everything from hour long outings to helicopter multi-day camping trips. On some of the gold mining trips they also offer whitewater rafting. Ask about the mining camp replica.
The shop contains several photographs and pictures of celebrities who have visited or who have written them letters. Ronald Reagan and Michael Landon are two names that come to mind. I always find it interesting to look at the grizzled prospectors that hang around this shop. They are dressed as a miner would have been dressed in the early 1850's. Most of these guys are leaders for the trips. This gold shop is located at 18170 Main Street. Phone Number: (209) 984-4653 or 984-GOLD. For more information visit: www.goldprospecting.com
Watch Ralph's son Bill demonstrate how to pan for gold:

Jamestown is also home to Railtown, a State Historic Park that chronicles the history of the Railroad after it first came to Jamestown in 1897. Check out the old restored rail road cars. A number of movie props and other artifacts used in feature films, TV shows, and commercials are on site. Several prominent films have partially been shot in Jamestown including Little House on the Prairie", "Pale Rider", "Bad Girls", and "Back to the Future III".
Guided tours are available at certain times. Self-guided tours are free. Admission for the short train ride is $5 with discounts given for children. For more information call Phone Number (209) 984-3953 or visit: www.railtown1897.org
In the mid 90's Jamestown was in the news as the site of the Ellie Nessler killing. One day in 1993 she burst into the tiny courtroom on main street and killed someone that had molested her son. This caused quite a stir in this town and in the San Francisco Bay area – a surfacing if you will of vigilante justice that was much more common during the actual California Gold Rush.
In addition to the films mentioned above, Jamestown has also been the site for several well known westerns, one even starring Clint Eastwood. Some of the westerns partially filmed here include High Noon and Butch Cassidy and the Sundance Kid.
Jamestown has not yet been taken over by wine tasting rooms like select other historical towns the foothills of the Sierra Nevadas. There are several in town but the focus here is still on boutique shops (art etc), antique shops and mom and pop restaurants.