Several large human made lakes are present in California's southern gold country. During drought years these lakes become extremely low and some of the boat launching ramps are left completely surrounded by dry land. In some cases we have had to drive a significant distance to actually reach the lowered shoreline.
Three of the largest and best lakes for recreation are Lake Don Pedro, Lake McClure, and New Melones Dam.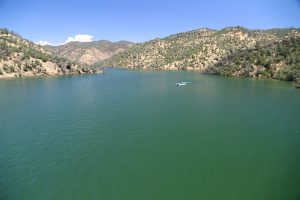 Lake Don Pedro offers over 160 miles of shoreline and 13,000 surface acres of water. The lake was first constructed in 1923 and backed up the Tuolumne River for 1.5 miles upstream. A new dam was constructed in 1971 and great increased the capacity of this lake. The old dam is still in place however, it is now 250 feet under water when the lake is full. The maximum level of this lake is 585 feet. The weather can be quite warm along any of these gold country lakes. The weather around Don Pedro like the other lakes in gold country rises to the upper 90's and low 100's in the summer months. Don Pedro's surface lake temperature averages about 80 degrees in the summer.
This lake has many many arms and it winds around and touches Highway 132 and Highway 49 in places. Boating, fishing, swimming, water skiing, knee boarding, jet skiing, windsurfing, and sailing and house boating are some of the popular water activities enjoyed on this lake. There are 550 campsites along the lake. Some have hookups for RVs. All the others have water, hot showers, a table, BBQ grill, and a food locker. Boat camping is allowed on most of the 160 miles of shoreline. There are bathrooms scattered around the shoreline of the lake.
Camping reservations can be made up to one year but no less then seven days in advance of your date of arrival. Sometimes you will not need reservations and can get a spot on your date of arrival. During the busy summer months and holiday weekends, reservations are a must. Call PHONE NUMBER (209) 852-2396.
Lake Don Pedro has three resorts open to the public (see below).
Moccasin Point Marina is located the lake's east shore. Recently it was remodeled. They have a grocery store that has an excellent supply of fishing gear, snacks, and groceries. A new restaurant also recently opened. The marina contains several large house boats, some 50 to 60 feet long. The manufacturers of these boats is called Forever Resorts. They own 19 resorts scattered about the western United States. To reserve houseboats at Moccasin Point please call Toll Free (800) 255-5561. Their local number is (209) 989-2206.
The west shore of the lake contains two recreational areas; Fleming Meadows and Blue Oaks. Fleming Meadows contains the Lake Don Pedro Marina. This marina rents wave runners, shuttle crafts, and many boats. This marina is located at 81 Bonds Flat Road. Houseboat rentals for 7 days and 7 nights are $1,8500. You can reach the Lake Don Pedro marina at (209) 852-2369.
Blue Oaks Resort is located on the west shore and is not a full service marina.
For more information about Lake Don Pedro, visit the official website here: www.donpedrolake.com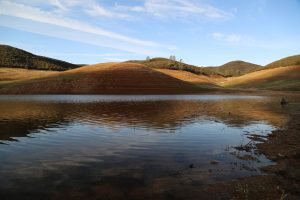 Lake McClure is located just southeast of Lake Don Pedro. In fact during high water, these two lakes are within only a couple of miles of each other. Highway 132 divides both two lakes. Lake McClure, like Don Pedro, has many long arms. One arm during some years extends all the way past the Bagby Recreation area. Horshoe Bend features easy access to Lake McClure, a few minutes drive from Highway 132. Campgrounds and a boat launch ramp are available.
Fishing is supposed to be excellent on this lake. For more information about Lake McClure visit the official website: www.lakemcclure.com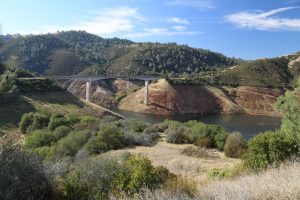 New Melones Reservoir covers what used to be the middle and south forks of the Stanislaus River. Like the other two lakes mentioned above this lake is quite large. This lake is located west of Sonora. Along one arm of this lake is an area covered with many excellent quartz crystal specimens. Apparently others have discovered this area because you now have to look very carefully on the surface for the crystals.
However, if you do some digging you will be sure to find some crystals. The New Melones Lake Marina is located at 6503 Glory Hole Road. They are a full service marina at the Glory Hole Recreation area. They have houseboat and other boat rentals. For more information call (209) 785-3300. They are the only marina on the entire lake. For more information, visit: www.newmeloneslakemarina.com