UPDATE: UNFORTUNATELY THIS LODGE IS NOW CLOSED
If it reopens under new ownership we will post the update here.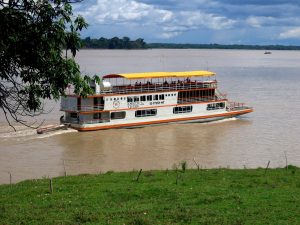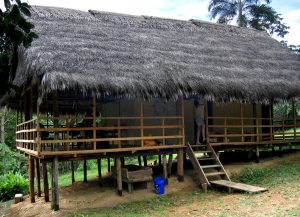 One jungle lodge you will NEVER find in a travel guidebook is the Eco Vagabond Lodge located about 1 hour from Iquitos by fast boat. This lodge is very rustic and is located mere meters from the great Amazon River. It is owned by an Argentine and a Peruvian – they no longer live at the lodge, but a great bilingual guide Carmina who is in her late 20's now takes trips to this lodge from Iquitos. If you want a simple, pure & inexpensive jungle experience without all the tourist hype or amenities this lodge is the one for you.
The costs are minimal. From Iquitos to the lodge by fast boat its only 10 soles, and 10 soles for the return trip. If you use the slow boat, its even cheaper than that. Once at the lodge you can eat some of the fruit if in season that grows on the many fruit trees that grow on the property. There are many citrus trees, some avocadoes and several Noona trees (sort of like a cross between a Cherimoya and Custard Apple)
The actual lodge is well constructed – the roof is made entirely of thatched palm fronds and keeps the lodge completely dry even in a large rainstorm (and in the jungle there can be some terrific rainstorms)There are now three beds and three hammocks available for your sleeping pleasure. There are two small rooms built into the lodge. In addition 2 or 3 blow up mattresses and a supply of mosquito nets are available. No electricity or running water. This is a true affordable jungle experience and a great place to really get away from it all and to get away from people for a while.
Mosquitos are not a problem during the day – at night after dusk depending on the time of year, you will most certainly be bothered. Repellent helps but is by no means foolproof. Being under a mosquito net is your best bet.
Nearby neighbors and friends of the lodge, Don Juan and his wife are about 10 minutes away by walking and then using a canoe to row across the small river which separates their property from the lodges. These two elderly people live in a small house setup on wood sticks not far from the banks of the Amazon River. Their first house was completely washed away 10 years ago when the Amazon flooded over its banks. Don Juan and his wife are two simple elderly people who have much experience in the jungle and know well the ways of life in this area. Their grandchildren come to visit them often and chances are you will see them on your visit especially Cesar or Maria.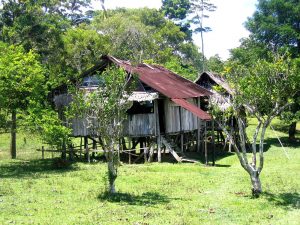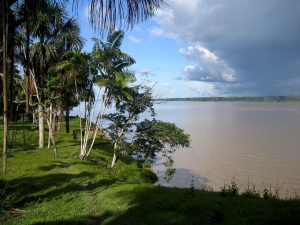 Dona Angela cooks all your meals. You will need to tell Carmina how many meals you will want and then pay Carmina so she can give the money to Dona Angela so that she can purchase supplies for the meals. Most meals run several soles each. Dona Angela cooks all the meals on a small wood burning oven set in the corner of the main dining room in their house. The local food is simple – meat is somewhat scarce so there is a lot of rice. Fried bananas are common. There is a type of wild pig that lives near the banks of the Amazon, and this is quite good. The lemonade is the best I've ever tasted – its not overwhelming like some of the artificial crap you find at fast food restaurants, but rather its more subtle with the real taste of excellent citrus hanging on every drop.
There are two main rooms in their house, one for cooking and eating and then a short walkway to the other room which is the bedroom – mainly used for sleeping. As there is no electricity there is really no artificial entertainment. When the sun goes down, the candles are lit and food is served. Early to bed.
If you want to go on a fishing trip for Piranha or other Amazonian fish Don Juan will be your guide. You will take a small dugout canoe along the banks of the Amazon until you reach one of the many small tributaries that flow into the Amazon River. Don Juan will fasten some raw meat to a string and tie it to a plant and leave it at the entrance to the tributary. This will attract the Piranhas and other fish. Then he will take the dugout canoe into the actual tributary which will be covered with jungle vegetation and you will throw out a string with raw meat attached to the hook. The fishing is best when the water level is lowest.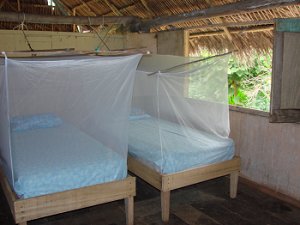 You can take a jungle walk by yourself or with Carmina. There is a trail that winds around the property and meanders through the jungle – its a round trip hike which crosses several small creeks. The hike takes about an hour. You will pass a pond which depending on the time of the year, is stocked with Paiche (the world's largest freshwater fish). If there are fish in the pond when you are here, you are free to do some fishing for several soles.
Recently the owners of the hotel received a healthy cash donation and plans are in the works to build their own fish farm for guests and to buy a Peque Peque (outboard motor) which would be put onto a boat to help ferry people around the river.
Mazon is a small jungle town located about an hour away with a combined walk and Tuk Tuk ride. Here we borrow the name Tuk Tuk to describe the same method of transportation which is found in Thailand. Essentially a Tuk Tuk is a motorcycle taxi – a covered 3-person carriage is attached to the back of a motorcycle. From the lodge you will walk about 50 minutes along the banks of the Amazon crossing several different private properties. You will eventually come out on a small road which runs between the Amazon river and the small city of Mazon. You may have to wait a while for a Tuk Tuk to come by – when they do you can flag it down and get a ride into Mazon for just a couple of soles.
Mazon has a small market, several restaurants and a small medical facility.
We keep this information here for memory sake. Note, this lodge is no longer open to the public.