The following is a list of camps and descriptions that we stayed at while hiking up the Shira route.
Base Camp is located at 6500 feet among lush vegetation. During certain times of the year elephants and herds of animals can be seen in this area. During clear days, there are stunning views of Mt. Meru and Mt. Kilimanjaro. Several small roads and trails are in this area – some of the trails lead up to small mountains from which there are excellent views of the African plains and surrounding mountains.
Camp I is located at 9000 feet. The jungle extends all the way from Base Camp to about 10,000 feet. The trail meanders its way through the jungle and slowly ascends to this camp. Hiking time to Camp I is about 5 or 6 hours slowed by mud and rainy conditions.
Camp II is located among lava flows in a vast valley between several lower and higher ridges leading to the enormous Kilimanjaro. This camp is free of the jungle and in the lower heath zone surrounded by small bushes and grass. Normally the bushes are quite tall at this location but a recent fire had burned and destroyed much of the vegetation. This camp is located at 11,500 feet. Hiking time today is between 6 and 8 hours.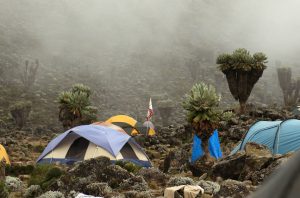 Camp III is called Fischer Camp, named after Scott Fisher, the Mountain Madness guide who pioneered this particular route up Kilimanjaro. This camp is located at the upper heath zone. This means scattered bushes will be located here along with a unique native plant to the slopes of Kilamanjaro called the Giant Ground Sel or (Senecio kilamanjarii). This unique plant looks somewhat like a saguaro cactus found in the deserts of Arizona. It is tall and features several forked vertical branches. Several small streams are located nearby and numerous rocks. This camp elevation is 12,300 feet. Hiking time today is between 4 and 6 hours.
Camp IV is called Lava Tower Camp. This camp is located about 30 minutes walking time below a large lava formation. Camp here is among bare ground and rocks with a few tufts of grass. This is located at the base of one side of Kilimanjaro. From this camp one can see exactly where to walk, including the intimidating steepness waiting for you the next day. If you look carefully you will be able to see a glacier that roughly resembles an arrow. This is where your next camp will be. There are excellent sun sets from this camp, provided it is not covered in clouds. From here you can see the approximate location of the summit. Know that you still have over 5000 feet to get there. This camp elevation is about 14,300 feet. Hiking time today is about 5 to 7 hours.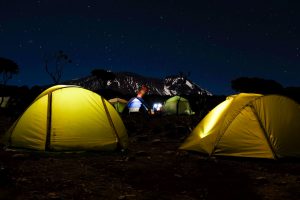 Camp V is called Arrow Glacier Camp. This is the shortest hiking day of the trek. Expect to camp in and or near snow. It is a miserable camp if it is raining or snowing. From here one stares at a wall of the mountain that rises 3500 vertical feet. Know that the next day you have to climb this entire vertical wall to the crater rim. From this camp, it an impressive view looking up at the sheer snow covered walls and rock.
Some guided groups opt to sleep for a couple of hours at this elevation and then attempt the summit beginning at midnight. This is crazy and would be an incredibly long and strenuous day. You would be climbing the 3500 vertical feet in the darkness with nothing but your headlamp to guide the way. By the time you reach the top you would be exhausted and then still have the steep downhill to deal with. This camp elevation is about 15,300 feet. Hiking time is about 3 hours.
Camp VI is called Summit Crater Camp; this day is one of the hardest hiking days. One climbs from 15,3000 to 18,500 feet. If you were going to climb 3200 feet vertical from sea level you would have a much easier time. The vertical elevation gain at this high altitude is much more difficult. It is best to take it slow and climb carefully. The guides will tell you in Swahili, pole, pole. This is the most dangerous day of the climb. Some of the sections are extremely steep and slippery, not to mention there may be rock fall.
We passed someone from another climbing group who was recovering from a melon-sized rock that crashed into his skull. His blood was draining into a plastic bucket as they attempted to bandage and help him.
One will climb on all fours during particular steep sections. But, the views are incredible! 16,000 foot Mt. Meru is clearly visible peaking above the ascending cloud layer. While we were climbing we did not see or hear any rock fall. If you are careful you will be fine. In the steep sections, take it very slowly and be aware of where you are stepping or climbing. Camp elevation this day is 18,500 feet. Hiking time is between 7 to 10 hours.
Mweka Camp is located at 10,000 feet. Before reaching this camp you will ideally summit the mountain, which takes about 1 to 2 hours from Crater Camp. There are two routes, one straight up to the summit, or the other via a longer route up the valley and then up to the summit. I won't give any specifics of the summit except to say it is an incredible experience upon reaching the top – especially in light of all the struggles to get there.
After spending some valuable time on the top descend down to Barafu Hut. Descending can be quite difficult and is on very loose volcanic scree. Climbers end up sliding down in sections more than actually hiking. During this day, one will descend about 9500 feet from the summit. Mweka Camp is located at 10,000 feet. Here you briefly experience the crowds that climb this mountain. When I was here, this camp had the feel of a refuge camp. Many tour groups had tents scattered as far as the eye could see. Toilets and other belongings were randomly strewn about. From here you have great views of Kilimanjaro. Hiking time on this day is about 7 to 9 hours.
The last day takes about 4 to 6 hours to make the steep descent to one of the park's entrances at Mountain Village Lodge. This was the muddiest day of the entire climb. You end up being in mud up to your knees in some places. If the trail was not muddy you could make very good time.