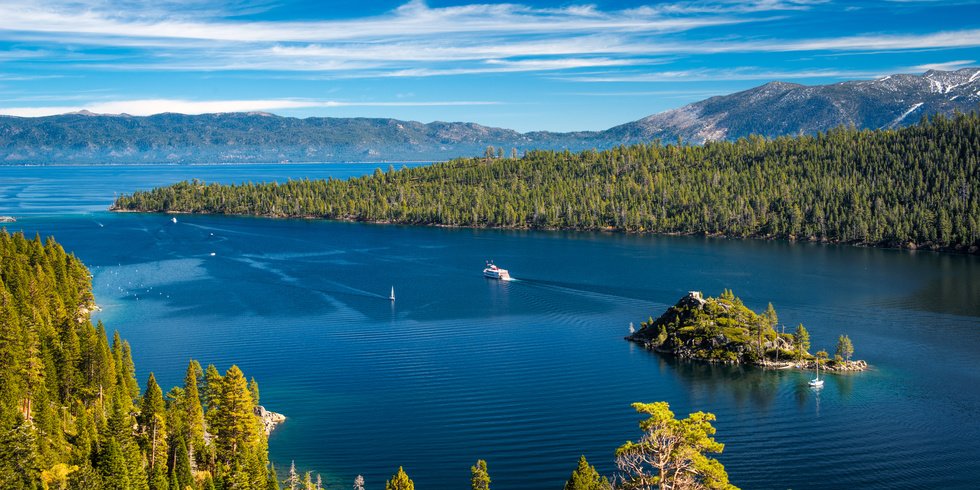 This is only a small sampling of the events that occur throughout the year. Many ski resorts have events planned throughout the ski season.
January
-Winter Celebration at Heavenly Ski Resort. Event includes ski races, fireworks, & ice sculpting.
February
-Cross Country Ski and Food Festival at Northstar at Tahoe

-Snowfest Winter Carnival has been held annually since 1982, events and activities for families on Tahoe's north shore. Runs about a month into March. Visit: www.tahoesnowfestival.com

-University of Nevada, Reno Winter Carnival is a weeklong event with snow sculpting, ski races, contests, and a chili cookout.
March
-The Great Ski Race is 30 kilometers and is the biggest cross country ski event in the West. Held annually since 1977. Visit: www.thegreatskirace.com

-Mother Earth Awakening Powwow is at the Stewart Indian Cultural Center in Carson City. This powwow is a celebration of Spring with Native American dancing, crafts, and food.
April
-Reno International Jazz Festival at the University of Nevada, Reno. Visit: www.unr.edu/rjf

-Spring Daze is held at Squaw Valley USA and is slalom races, snowboard lessons, and entertainment and prizes
May
-Cinco De Mayo Chili Cook-off is held in Virginia City

RENO, Nev. – The Reno River Festival is if full of events, competitions, exhibitors and activities. Top kayak professionals and amateur athletes from around the country will compete in the Reno River Festival. This event is typically held in mid May at the Truckee River Whitewater Park, located in the heart of downtown Reno. "We were overwhelmed by the positive response we received after the inaugural Reno River Festival last year" from everything we heard, we knew it was going to become an event that people looked forward to each season," said Deanna Ashby, executive director of marketing for the Reno-Sparks Convention and Visitors Authority (RSCVA). "Plans are underway to bring back the industry's top athletes and the biggest name exhibitors and products for the weekend, plus we're adding additional activities and events for kayakers, would be kayakers and spectators alike."

The Reno River Festival takes place at the year old $1.5 million Truckee River Whitewater Park, located in the heart of the booming downtown business and arts district in downtown Reno.The park is both Nevada's and the region's first whitewater park and kayak slalom racing course and totals 2,600 feet in length. The park is rated a class 2 to 3 for difficulty (on a scale of 1 to 6) and features north and south channels that surround a city park on an island in the river, 11 "drop pools" and boulders for kayaking maneuvers, a slalom racing course, and 7,000 tons of smooth flat rocks along the shores for easy river access and spectator seating. In addition to being open and free to the public, the whitewater park boasts pedestrian bridges to city streets, an amphitheater for concerts, open grass areas for picnics, food vendors and is a perfect compliment for Reno's numerous annual festivals and special events.

"The Truckee River Whitewater Park and the annual Reno River Festival give Reno-Tahoe the chance to tout that America's Adventure Place can be found right outside your hotel door," notes Ashby. "The Truckee River is something that offers visitors a dynamic experience of kayaking and fun on the river not to mention all the other adventure attractions including 24-hour gaming excitement, golf, skiing, trails, lakes and art".

For more details about the annual Reno River Festival, please visit www.RenoRiverFestival.com. For more information about Reno-Tahoe, America's Adventure Place, logon to www.VisitRenoTahoe.com or call 800-FOR-RENO (800-367-7366).
June
– (This is a happenin' month!)
-Beer Fest is at Northstar at Tahoe. Northern California microbreweries provide brews for tasting.

-Boat Parade takes place at Tahoe Keys Marina in South Lake Tahoe.

-Kings Beach Arts and Crafts Fair runs through August

-Reno Rodeo Celebration is held at the Reno Livestock Center www.renorodeo.com

-Valhalla Renaissance Fair is held in South Lake Tahoe www.valhallafaire.com

-Annual Carson Valley Days include a rodeo, art show, and contests. It has been held annually for the last 70+ years.

-Annual Wagon Train. Participants celebrate the crossing of the Emigrant Trail.

-Opening Day Lake Tahoe – South Shore Lake Tahoe visitors and locals will kick off a summer-long season of activities with the annual Opening Days Lake Tahoe. The two-day event will be highlighted by the Blue Avenue Block Party on Highway 50 at Stateline, Miss Hawaiian Tropic Northern Nevada State Finals, the Tahoe Queen vs. M.S. Dixie II paddle wheeler race, parasail competition, boat parade, headliner concerts, and 24-hour indoor and outdoor activities.
July
-Fourth of July Celebrations are held at Kings Beach, North Lake Tahoe, South Lake Tahoe, and at Donner Lake.

-Isuzu Celebrity Golf Invitational. See celebrities from all professions play golf. www.tahoecelebritygolf.com

-Lake Tahoe Summer Music Festival is a weeklong series of chamber music in North Lake Tahoe
www.tahoemusic.org

-Tahoe Celebrity Golf, South Shore: www.tahoecelebritygolf.com

-Trans Tahoe Swim is a relay race across Lake Tahoe

-Truckee Championship Rodeo is held at the Truckee Rodeo grounds. www.truckeerodeo.org

-Music at Sand Harbor features a variety of popular musicians
August
-Shakespeare at Sand Harbor www.laketahoeshakespeare.com

-Annual Lake Tahoe Invitational Baseball Tournament is held in South Lake Tahoe. Eighteen of America's top semi-pro teams compete.
September
-Great Reno Balloon Race. Visit: www.renoballoon.com

-International Camel races. Camels and ostriches race through Virginia City. More info? Call: 800 200-4557

-Reno National Championship Air Races are held at Stead airport. Visit: www.airrace.org
October
-Halloween Carnival is held at the South Lake Tahoe recreation complex
November
-Christmas on the Comstock is held in downtown Virginia City

-Truckee Ski Swap is held at the Truckee Community Center

-Winter Festival of the Lights. This is when businesses along Lake Tahoe Blvd. decorate with millions of white lights.
December
-Community Christmas Tree Lighting is held at the North Tahoe Community Center in Kings Beach

-New Year's Eve Celebration is held at North star at Tahoe.

-Tiny Tim Christmas Celebration is held at the Truckee Community Center.