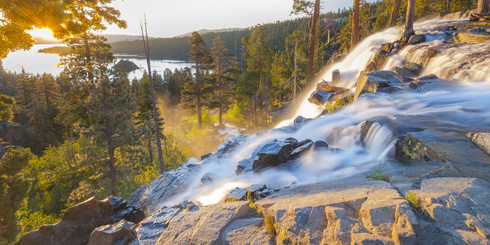 The sun shines at Lake Tahoe about 67 percent of the year or 252 days. In the winter there are heavy periods of snowfall, but the rest of the year is relatively dry. There is little or no humidity in this alpine environment, especially in the summer months.
The weather can change quite dramatically at The Lake even in summer. We were there one year towards the end of June and one night the lake level received 3 inches of snow. Another year in July we experienced a short but dramatic hail and lightning storm.
This storm left hail all over the ground and the lightning caused a small fire when it struck a tree nearby our cabin. Be prepared for any type of climate. Layers of clothing are suggested for the winter months and shorts and T-shirts for the warmer summer days. Jackets and sweaters are necessary for summer nights.
The following is a sampling of temperatures and precipitation for selected months. The maximum and minimum temperatures are daily averages. The precipitation also includes the moisture content of the snow pack.
Month (Temp High/Low) – Precipitation