Little Tokyo (part of the fringes of downtown Los Angeles) is home to the largest Japanese-American population in North America. Markets, hotels, Japanese shops and plenty of little restaurants can keep one occupied for some time. Best to ditch the car and explore by foot as geographically Little Tokyo is fairly small.
During World War II when the Japanese that lived here were forcibly moved to internment camps such as Manzaznar in California's Eastern Sierra – this part of town was known as Bronzeville (an African American community).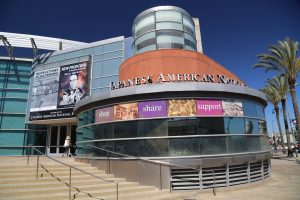 Japanese American Museum – opened in 1992, is a prominent museum located in the core of Little Tokyo at 369 East First Street in Los Angeles (just south of downtown, right next to one of the MOCA museums). This is the heart of Little Tokyo in Los Angeles. The core of the museum contains many objects, documents, photos and other items related to over 130 years of Japanese American History. A "resource" center is also on site for those interested in additional research.
The permanent exhibit focuses almost entirely on Japanese American history and how it relates to WWII. An actual wooden Barack from one of the WWII Internment camps is on display as well as a number of sobering photos and articles from this "dark" period in American history. It is well worthwhile to visit this exhibit to get the perspective of the Japanese Americans who were living in the USA (especially the western USA) during the early to mid 1940's.
After you have had a chance to explore the main exhibits visit the rooms that contain the rotating exhibits. Clothing, a focus on Japanese Hawaiians, paintings and or photography are often part of these rotating exhibits. It should also be noted that its well worth the stop to their Chado Tea Room on the first floor. This restaurant/tea room features over 300 types of tea. We had an amazing delicate raspberry tea with our lunch. Throw away any pre-conceived notions you might have about "museum restaurants" – this one is top notch. Visit: www.janm.org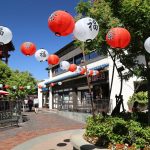 Japanese Village Plaza is a great place to stock up on various Japanese products. Lots of clothing stores and lots of restaurant options. Open air walkways. We always like popping into the tiny Nijiya Market here, especially for some Matcha Tea. Also if you are into anime, check out the Anime Jungle – a selling plenty of anime toys and collectibles.
Often live music on the weekends or other special culturally related events. Check the website for the latest – visit: www.japanesevillageplaza.net
Little Tokyo Mall – continuing through Japanese Village Plaza you will eventually reach this mall – more shopping including more clothing and restaurants featuring sushi, bento, baked goods and ramen. Parking is one of the hardest challenges to visiting Little Tokyo Mall. Some street parking is available, the parking garage on site is quite expensive.
We recommend Uber or using the Los Angeles Metro – the Little Tokyo / Arts District Station on the Gold Line is within a very short walk.
Miyako Hotel – this the largest and most centrally located hotel in Little Tokyo. Many stories, right next door to the Japanese Village Plaza.
Easy access to the core of downtown Los Angeles as well. Also affiliated with the Miyako Hybrid Hotel which we have visited before in Torrance. Visit: www.miyakoinn.com
For more information visit: www.visitlittletokyo.com