Some of California's earliest commercial wine making dates back to the 1830's in what is now Los Angeles. The first documented plantings of European varietals for commercial purposes were by Jean-Louis Vignes in 1833 in Los Angeles before commercial vineyards were planted in Napa and Sonoma to the north.

Malibu Family Wines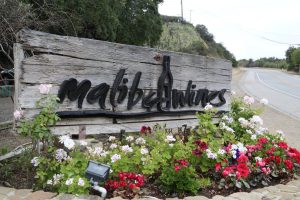 operates five tasting rooms in Southern California – they even have a floating tasting room – located on Queen Mary in Long Beach. But their original tasting room is located at at 31740 Mulholland Hwy in Malibu (although note that the tasting room is nowhere near the actual town of Malibu – rather it is located in the Santa Monica Mountains well inland from the Pacific Ocean).
The tastings (general and reserve) are held outdoors in a western looking environment with similar feel. During a recent mid week abnormally foggy and cold visit in mid Spring (late afternoon temps in the high 50's!?) it was fairly empty and we had the grounds mostly to ourselves. During weekends it can fill up rather dramatically – live entertainment is featured on Saturdays and Sundays. The estate grapes grow nearby on the hillsides.
For more wine details from Malibu Family Wines visit: www.malibufamilywines.com
Malibu Wine Safari
There is a place in the rugged mountains located above the Pacific Ocean just north of Los Angeles where grapes grow on steep hillsides. This is wine country for Los Angeles – the closest appellation nearly entirely within the county of Los Angeles. This is the Malibu Coast wine country.
Malibu Family Wines was purchased in 1978 by Ron Selmer after a huge fire burned the area in 1978. Part of the property he purchased was owned by Harvey Mudd, the founder of Claremont College. Saddleback Ranch (named after the prominent rocky natural 'saddle' on the property) was once home to the largest avocado grove in the county with some 15,000 trees – but unusually cold weather in 1992 killed many trees. After this freeze they decided to plant grapes (use much less water then avocado trees). Today they grow about 3,000 avocado trees. Approximately thirty employees are needed to maintain 88 acres of vineyard on over 1,000 acres.
Along with agriculture (vines and avocados) hospitality has been greatly embraced by the ranch. It has become a playground for residents of Los Angeles and beyond. Weddings are now an integral part of their business with multiple locations on site. The ranch has worked with Hollywood on both movies and TV shows including "The Biggest Loser" and "The Bachelor". And of course their very popular wine and property tours.
The Vintner Safari is 2 hour relaxing experience in which guests are toured throughout parts of the property from an open top wine safari truck. Guests check in about a 1/2 mile up the road from their Malibu Wines Tasting Room. An old western style house serves as the check in area for tours for guests. If you think it looks a bit like a movie set you are not wrong. It was used in Jennifer Lopez's movie "Mi Familia". Also note the creatively painted water towers on the hill near where you check in – these were painted by Ron's wife Lisa who is an accomplished artist.
During the tour you will visit a number of animals that live on the property including llamas, zebras and water buffalo among others. Carrots are provided to feed these animals. Poor Stanley the Giraffe, "lost" his head on a freeway overpass near University Drive and MacArthur Boulevard in one of the opening scenes on the 73 Freeway in Orange County in "The Hangover III" movie as he was being towed down this freeway. Fortunately Stanley is alive and well today and visitors can often see him on the property.
One of the stops on this particular safari is to well-preserved Chumash art in a small cave depicting various animals. And of course wine is a big part of the experience. At several stops throughout the tour wine is served – portions are ample and a nice diversity of wine is served from whites to reds. This is dry country and droughts are common – water is always an issue and the ranch has had to buy water from the state of California which is trucked onto the property.
The final stop of the tour is near a scenic overlook into the Conejo Valley far below. Ron wanted to capture a part of this view and creatively had a large square representing a picture frame installed overlooking the valley. Ron also collects old air-stream trailers and a number of these are parked next to the lawn. In the late afternoon, with a warm breeze blowing this is a great place to enjoy the final wines of the tour (including the Semler label, higher-end wines) along with a provided tasty charcuterie plate.
And after the safari, continue at the Malibu Wines tasting room only 1/2 mile away. If busy, shuttles are provided every 15 minutes between the safari parking lot and the tasting room.
For more information and to book a safari tour visit: www.lasafaris.com
Rosenthal Wine Bar and Patio

is an open to the public tasting room right on Highway 1 at 18741 Pacific Coast Highway (directly across from the Pacific Ocean) featuring wines from the Rosenthal Estate (Malibu location) along with a number of wines from various vineyards they source from on the Central Coast (Santa Ynez to Paso Robles). The estate vineyards were first planted in 1987 under the direction of George Rosenthal (began Raleigh Enterprises, a real estate investment company in 1955 which rapidly grew and also founded Raleigh Studios, a large independent film and television studio operator).
Creatively combining wine and surf – look for the giant lifeguard platform with larger than life wine glasses and a bottle of Rosenthal wine perched on top. Both Rosenthal Estate wines are poured here as are the popular Surfrider wines. The tasting room is spacious, the staff friendly and knowledgeable about wine (thank goodness, as this is not always the case at stand alone tasting rooms). Choose from several tasting flights. Tasting is either inside at the bar, at small tables or outside on their patio.
To visit their spectacular estate reservations must be made well in advance. For more information visit: www.rosenthalestatewines.com
San Antonio Winery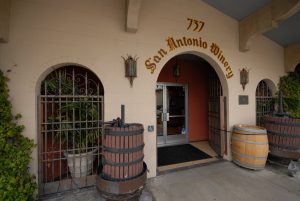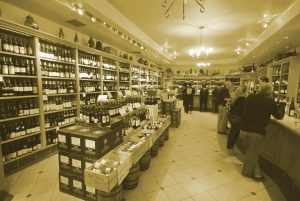 is located fairly close to the 5 freeway east of downtown at 737 Lamar Street. This historical winery was founded in 1917 at a time when there were many wineries in and around Los Angeles. Today they are one of only a small number of bonded winery within the city limits of Los Angeles. They have a healthy advertising budget and you may see their signs around parts of town including nearby Chinatown.
They make a wide variety of wines, all affordably priced. They own vineyards on California's central coast including around Paso Robles, Monterrey and then also in Rutherford, Napa Valley. All of their wines are priced very affordably from just a few dollars to $50. As of our latest update, most of their wines are in the $15 to $50 range with a production of wines to satisfy many different palates. They make a wide variety of sweet wines also. San Antonio Winery has been family (Riboli Family) owned since day one. When we were there the original owners nephew, 93 year old Stefano who came to America from Italy in 1937, was helping with the tastings. He comes to work every day is known as "the boss" and is a great source of information about the local history of the area, anything related to wine – and he loves to meet and talk to people.
Besides their complimentary tastings, San Antonio winery also offers tours, food and wine classes, holds special wine festivals and runs the Maddalena Restaurant on site, featuring cuisine from northern Italy.
For more information visit: www.sanantoniowinery.com or www.riboliwines.com

NOTE: This page is currently in the process of being updated with additional reviews of area wineries and tasting experiences.
Agua Dolce – www.aguadulcewinery.com
Cornell Winery & Tasting Room – www.cornellwinery.com
Moraga Vineyards – www.moragavineyards.com
Rosenthal (Estate) – www.rosenthalestatewines.com

Heading up to NorCal to do some wine tasting in the world famous Napa Valley? Dave has personally visited, tasted and written about more than 1,000 Napa Valley based commercial wine producers (wineries) giving him a unique perspective of the valley that few people have. Click on the graphic to the left or visit: www.napawineproject.com

California's original planted grapevines date back to the early California Missions. Of historical note is the Ramona Vine at Mission San Gabriel (north of downtown). This vine was planted in 1774 – this mission was founded in 1771 and at one point was the largest winery in the state of California. Early wine was used for sacramental purposes at these area missions.