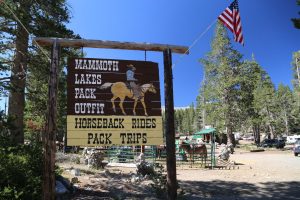 Do you want to venture deeper into the Eastern Sierra's without having to drive a car or expend too much energy. A simple and relaxing method of transportation is on horseback. Several local outfitters are listed below:
Agnew Meadows Pack Station offer two hour or half day horseback rides from Agnew Meadow. Phone: 760.934.2345.
Mammoth Lakes Pack Outfit is located on Lake Mary Road just past Twin Lakes. They offer rides into the high Sierras for 3 or 6 days at a time. They also offer photography workshops and semiannual horse drives. For more information call them at Phone: 760.934.2434. www.mammothpack.com
McGee Creek Pack Station is located on the McGee Creek Road near Crowley Lake. They offer trips to a 12,000 foot pass in a seldom seen section of the John Muir Wilderness area. Phone: 760.935.4324. www.mcgeecreekpackstation.com
Red's Meadow Resort & Pack Station is located at Red's Meadow past the Minaret Vista. Besides horse riding trips they offer a wagon dinner ride near Rainbow Falls. Trips are guided through the John Muir and Ansel Adams wilderness areas. Phone: 760.934.2345.
Sierra Meadows Ranch is located on Sherwin Creek Road near Mammoth Creek. Besides horse rides they offer other western events. Call for details. Phone: 760.934.6161.
A good list of most of the Pack Stations scattered up and down the 395 is available here: www.owensvalleyhistory.com/pack_stations/page54.html