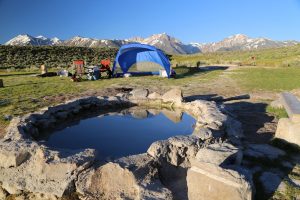 Mammoth Lakes is a year round playground offering world-class high altitude skiing over a diversity of terrain in the winter months and sometimes even into early summer, rugged natural beauty, a variety of lakes and unique geological formations including Devils Postpile, numerous fishing opportunities, hiking and hot springs.
Mammoth Lakes has two distinct seasons, summer and winter. Highway 120 (Tioga Pass) is used as a primary highway for those from the San Francisco Bay area. This road is open seasonally (often closed during late Fall, all winter, sometimes all Spring and into the early summer months because of snow). Because there is no such road subjected to winter closure for those coming from Los Angeles – this tends to be a winter playground for those from Southern California (versus those from northern California who often congregate at the ski resorts in and around Lake Tahoe).
While many come here for the skiing and or to enjoy the warm summer months – Fall can be an equally enjoyable time to visit. The leaves on the Aspen trees begin to change color and you can watch the progression of reds and gold's slowly make its way down the steep sides of the mountains. Usually by mid September only the aspen located at the upper reaches of the mountains have turned color. By mid October the rest of the Aspen on the lower slopes have typically turned. While the days at this time of year can still be warm even at 8000 feet – the nights will be crisp or cold.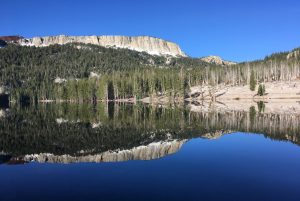 The Mammoth area has so much to offer in the way of outdoor activities. Hiking trails are numerous, little visited streams flowing with cold clear water are nestled among the shadows of the sharp Eastern Sierra peaks and tiny hot springs are hidden except to those who know of their whereabouts. And a number of intriguing geological formations are located within a short drive of town,
The town of Mammoth Lakes is located at about 8000 feet three miles from the 395 highway (via state route 203) Mammoth Lakes contains numerous condo's – a number with generic alpine architecture but some more interesting with individualistic designs. Most of the homes in Mammoth Lakes are "play homes" or people's second home away from home – often from Southern California residents. With many condominium resorts the number of short stay hotel options are fairly limited.
There is no 'downtown' in the traditional sense of the word in Mammoth Lakes – the town is rather spread out. The 'middle' of town is centered around shopping centers along Main Street (state route 203). One could perhaps make the argument that Mammoth Ski Resort is seasonally sometimes the downtown of Mammoth Lakes. Also note that Old Mammoth is a part of Mammoth Lakes – this was a former mining town known as Mammoth City. Today it is a number of residential homes, ski resorts and a golf course located along Old Mammoth Road.
Looking for discounts on ski, clothing and other winter apparel? September is the prime sales month in Mammoth Lakes (in between the summer and the winter seasons).
Transportation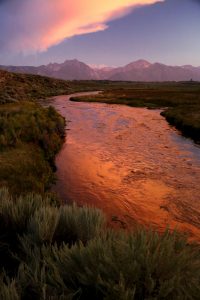 Those who enjoy driving quickly on the 395 will arrive at Mammoth from Los Angeles in about 4 hours (although be aware at times the highway patrol tend to congregate in high numbers between the city of Bishop and Mammoth Lakes). If you prefer a slower pace – expect a drive of around 5 hours from Los Angeles.
Those who live in the San Francisco Bay Area will find it takes about the same amount of time to drive to Mammoth in the summer as it does for those who live in Los Angeles. However, it is a different story in the winter. All the major roads over the Sierras are closed except the great Interstate 80. In the summer you can cut over on Highways 108 or 120 (Sonora and Tioga passes respectively). In the winter you must drive the 80 to Reno and then cut down on the 395 which is doable, except you will spend much of your day driving.
Mammoth Yosemite Airport. An excellent option for visitors is the small and seasonally misnamed Mammoth Yosemite Airport (during the winter Yosemite is not directly accessible from this side of the Sierra Nevada mountains because Highway 120 is closed). This airport is very small, totally unassuming from the outside and easy to fly into or out of. Alaska offers year round non-stop flights from Los Angeles and United Express offers seasonal flights from San Francisco. The airport is conveniently located only about a 12-15-minute drive from Mammoth Lakes.
Welcome Center
As you climb the grade into Mammoth Lakes – just prior to reaching town on your right hand side you will find the informative Welcome Center. First time visitor's to the area should especially stop in here. Operated by three entities – the US Forest Service, National Park Service and Mammoth Lakes Tourism the center contains recreational information including trail maps – and staff on site to answer any questions you may have about the area. Biking trails in the summer or cross country ski trails can be accessed directly from the property.