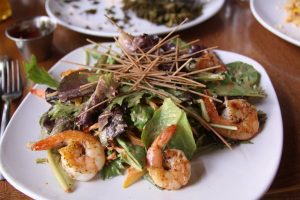 On the whole, we find the restaurants in Mammoth to be quite expensive and the food generally average. This is not to say that there aren't some good restaurants – and the food scene has generally improved in the past 10 or so years. Pick up a copy of Mammoth Menus, which is available at Vons or at some of the restaurants. This is a very informative guide to dining in the Mammoth area. Menus and prices are included.
Prices subject to change without notice.
Unless otherwise noted all Phone Numbers are in the 760 area code.
General
Base Camp Cafe is located at 3325 Main Street in the Mammoth Factory Store Shopping Center next almost next to Schats Baker. Open for breakfast and lunch daily (closed Tuesday and Wednesday) – usually closed by 4pm. Despite being in a shared parking lot, the parking spots directly in front of the restaurant are for the restaurant only.

Plenty of soups and salads. Also a very good tea selection. On the go and short on time? Call them ahead of time and order one of their brown bag lunches to go. Very basic eggs Benedict – nothing accompanying it – slightly more expensive then other breakfast restaurants. Both indoor and outdoor dining available (the outdoor is very limited to just a few tables for small parties behind their wooden fence separating this dining space from the parking lot).


Bleu Mammoth is located in the Mammoth Factory Store Shopping Center (stand along building). This restaurant offers a variety of services including a market, wine bar and plenty of beer options. One can either order to go – from the back of the restaurant or sit down for table side service.

Focuses on 'mountain fresh' specialty foods and beverages including cheeses, wild game meats, seafood (delivered from Santa Barbara) and wine and beer from boutique producers. They also bake their own artisan breads. Fairly expensive products – including a variety of pricey Kombucha drinks. Plenty of parking surrounding the restaurant. Visit: www.bleufoods.com

Breakfast Club is located at 2987 Main St – roughly on the corner of Main and Old Mammoth Road – across from t he Shell Gas Station.

Known for their breakfasts especially the eggs Benedict. A great selection of omelettes and pastry's. Makes a good pre ski load up stop or in the summer pre hike stop. Be sure to bring enough cash as they do not take debit or credit cards.


Good Life Cafe is located at 126 Old Mammoth Road in a two story older looking shopping center. Open daily from 630am until 9pm for breakfast, lunch and dinner. But mostly popular for their breakfast – especially those looking to start their day early. Both indoor seating and if the weather permits – outdoor seating on a fenced in space directly next to the parking lot. Plenty of parking on site.

Serving Mammoth Lakes since 1994 – offers casual dining and quality food at reasonable pricing. Known and frequented by locals as well as those passing through the Sierra's. Also offers take away. We recommend their Eggs Florentine or Eggs Benedict. Also if visiting during the summer, their fruit plate is rather nice with a diversity of fruit. Their slogan is, "We don't serve fast food, we serve fresh wholesome food as fast as we can". During a recent visit, despite the restaurant being quite crowded, the service was rather quick. Not to be confused with the Good Life Cafe in Mendocino, California.

Giovanni's is located at 437 Old Mammoth Rd in the Von's Shopping Center. Open daily for lunch and dinner.

Serving Mammoth Lakes since 1986 – known for their pizzas and a winter Sunday getaway for NFL football games on their big screens. Complementing their pizzas are a variety of chicken wings, pastas and salads. A popular hangout at times. Lots of beer on tap. They also do a thriving takeaway business. For more information visit: www.giovannismammoth.com

Jimmy's Taverna is located at 248 Old Mammoth Rd near the corner of Old Sierra Nevada Road. Jimmy's brings some of Coastal California cuisine to the mountains. Focus is on seafood – but also has a number of meat dishes. Also some Turkish and Greek influenced dishes.

Has a very good wine and spirits selection. Plenty of parking nearby. Offers select happy hours. Reservations are recommended. For more information visit: www.jimmystaverna.com


John's Pizza Works is located at 3499 Main Street. Makes for a great carbo load after hitting the slopes of Mammoth Mountain all day. Not just pizza but also a nice bar as well (Saloon) with various sporting events on the tv's. Known for various daily inexpensive food themes including Taco Tuesdays (especially popular). Also check out Wild Wing Wednesdays.

Open daily and typically closes at midnight. Located in the Red Rooster Mall. Visit: www.johnspizzaworks.com
Nevados is rated 3 stars and is located 1 mile north of Old Mammoth Road at Minaret Road. They serve American style cuisine. Their dinner prices range from $19 to $28. The food is quite good. Reservations are encouraged. Phone Number (760) 934-4466.
Mogul has been in business in Mammoth for well over 40 years. This is an icon of the Mammoth restaurant scene. They are known for their good steaks, and readers of the Mammoth Times have affirmed this for numerous years by voting them "Best Steak" in Mammoth.

They also offer early specials, fresh fish, seafood, chicken and a kid's menu. Check out their well stocked bar. They are located at Tavern Road across from the Chart House. For more information call Phone Number 760.934.3039. Web: www.themogul.com
Petra's Bistro & Winebar is located at 6080 Minaret Rd in the Alpenhof Lodge. Just down from the Village at Mammoth condos & restaurants – and very close to one of the ski lifts (village gondola). Makes an ideal stop after a day of skiing for a glass of wine and a toasty environment. Wines are by the glass or by the bottle, also a healthy selection of custom crafted cocktails.

Focuses on contemporary California cuisine – using a number of fresh ingredients. This is the place to see and be seen in Mammoth Lakes. Founded in 2003. Visit: www.petrasbistro.com

Red Lantern is located at 248 Old Mammoth Rd on the corner of Sierra Nevada Road. Family owned, they pride themselves on serving some of Mammoth Lake's finest Chinese food. The prepare their meals fresh daily. Owners Jim and Nancy Demitriades would often travel the world for work and realized there was not a good Asian restaurant in Mammoth Lakes. That changed when they opened Red Lantern in 2011.

The decorations were mostly brought over from China. Gotta hand it to non Chinese owners for creating a cool Asian element at 8,000 feet up in the Eastern Sierra. Soups, seafood and meat dishes available. Handcrafted cocktails with Asian names. Visit: www.redlantern-mammoth.com
Restaurant at Convict Lake is Mammoth's only four star restaurant. They are located about 2 miles up Convict Canyon, 9 miles south of Mammoth (about a 15 minute drive from Mammoth Lakes). They feature a continental cuisine with an emphasis on French dishes. Try their tableside flambeed desserts.

Reservations are recommended. Prices range from $26 to $50. A stunning location on the shores of Convict Lake. Weddings and receptions can also be held on site. Phone Number (760) 934-3803.
Web: www.convictlake.com/


Roberto's Cafe is located at 271 Old Mammoth Rd. A happy brightly colored sign outside the restaurant attracts glances of passerby's. Family owned and operated, they have been in business since 1985. Prior occupants including a number of small hamburger stands.

One of the top go to Mexican restaurants in Mammoth Lakes. Known for their Happy hours and signature cocktails. Large bar on the second floor. Every day a different special is offered – good wings and fish tacos. Open daily for lunch and dinner. For more information visit: www.robertoscafe.com
Salsas Mexican Food is located at 588 Old Mammoth Rd. As they say here, this is the Garden of Eat'n! During warmer weather months, covered outdoor seating is available.

Focus is on tacos and burritos – priced reasonably. Basic Mexican food. Not a big space – can get busy during the middle of lunch time.



Shea Schats Bakery is located at 3305 Main Street. Like the other Schats Bakery in Bishop, this location is also known for its Sheepherder bread. The Bishop bakery is owned by Eric Schat and his family, this bakery was opened by his son Paul. The bakery features a number of other breads including various cheese breads – one with bacon. Baked fresh daily. When it comes to food, the Schats seem to be all over the Eastern Sierra.


Order sandwiches, desserts and fresh squeezed orange juice. Two separate ordering sites within the restaurant – one for pre-prepared items – lots of breakfast and baked goods and a second room which features the sandwich ordering station. Stock up here before hitting the nearby slopes. A crowd favorite this one. Seating indoors and in the back (weather permitting).


Visit: www.facebook.com/pages/Schats-Bakery/123247701072923

Sidedoor Cafe is located in the Village at Mammoth Lakes (address: 100 Canyon Blvd. #229) and has been here since the Village opened in 2005. Great place to see and be seen – especially with a fine glass of wine in your hand, such as the Palazzo Napa Valley Red Cuvée . Known for having a great selection of wine – both locally and internationally. Also a beautiful selection of dessert wines – especially to be enjoyed on those cold winter evenings following your up and down journeys on the nearby slopes. Owned by Shields and Kathy Richardson (Stephanie, if she still works here is the manager and tends to work on the weekends only).

Features plenty of small dishes including a crostini + artichoke dip. Known for their crepes and paninis. Plenty of indoor seating (dimly lit) or outdoor seating in a roped off space. Visit: www.sidedoormammoth.com


Skadi is an excellent restaurant named after the Viking goddess of skiing and hunting. They use only the freshest ingredients grown on their ranch down in Santa Paula. Excellent views of the mountains. Note: They are closed on Mondays & Tuesdays. They are located at Old Mammoth Road and Chateau Road. For more information call Phone Number 760.934.3902. The main courses are priced up to $22 per entree.

Be sure to visit their very informative website located at: www.skadirestaurant.com

Slocums American Grill & Bar serves grilled steaks, chops and ribs. The also have excellent fish dishes. They have been in business since 1983. They are located 3221 Main Street.

First founded as Josh Slocums Restaurant in Newport Beach (since closed). Perhaps has what is Mammoth's happiest happy hour (weekdays from 4-6pm)! Steaks, salads, burgers and more.

Stellar Brew & Natural Cafe is a funky looking colorful building located at 3280 Main Street – two parking spots are located parallel to the restaurant but others are located nearby lined up next to Main Street. Focuses on fresh light fare for both breakfast and lunch using organic ingredients (and local ingredients where possible). Great selection of teas and other uncommon drinks as well as plenty of coffees to satisfy your early morning craving for caffeine and sugar.

Plenty of breakfast burritos in the warmer oven – including some veg & vegan options. Highly recommended is the Acai Bowl for breakfast (you will be filled up after eating all this!). Tiny space inside contains several tables – also 2 picnic type tables outside on the deck for enjoying a good breakfast or lunch when the weather permits. Owned by East Sierra native Andrea Walker. A wonderful addition to Mammoth Lakes. Visit: www.stellarbrewnaturalcafe.com


Toomey's is located in the Village at Mammoth Lakes (address: 6085 Minaret Rd). Founded in 2002 by Matt Toomey, a chef who used to make sandwiches at a Mobil Gas Station on the way into Yosemite.

Known for smoked trout bagels, wild buffalo meatloaf and seafood jambalaya. Relaxed and casual dining ambiance. Open for breakfast, lunch and dinner from 7am to 9pm daily. Visit: www.toomeysmammoth.com


Thai'd Up is located on Old Mammoth Road behind the Vons shopping center. uses phrases such as "authentic Thai food" and "just like on the streets of Bangkok". False advertising. This is one of the worst Thai restaurants we have ever eaten at – dining here is a brutal culinary experience. Not a Thai person in site during a recent visit – either front or the house or in the kitchen. Apparently the owners took a cooking class in Thailand and now consider their dishes authentic.

During a recent visit, dishes were obviously prepared much earlier in the day and left to sit out – one beef dish featured cold meat strips, dishes to sweet, uninteresting and boring. In a town already lacking in culinary excellence, this is one of the worst. Harsh but true. Sometimes coupons are available on the website for short periods – offering as an example, a free spring roll with a certain purchase.

The Stove is a stand alone restaurant located at 644 Old Mammoth Rd. One of the earliest opening restaurants in Mammoth Lakes – they are typically open by 630am. Often very crowded for breakfast with parking also crowded around their building.

Husband and wife owned this restaurant has been in business for more then 40 years. A real go to breakfast spot (also open for lunch) for both locals and visitors alike. Features a variety of build-your-own omelettes, classic breakfasts, lighter fares and for lunch soups, salads and sandwiches. Visit: www.thestoverestaurantmammoth.com

Toomey's is located in the Village at Mammoth Lakes (address: 6085 Minaret Rd). Founded in 2002 by Matt Toomey, a chef who used to make sandwiches at a Mobil Gas Station on the way into Yosemite.

Known for smoked trout bagels, wild buffalo meatloaf and seafood jambalaya. Relaxed and casual dining ambiance. Open for breakfast, lunch and dinner from 7am to 9pm daily. Visit: www.toomeysmammoth.com


Yodler Restaurant is ideally located for skiers in the winter, mountain bikers in the summer and others flocking to the slopes of Mammoth Mountain – as it is located directly across from the main lodge. Very Bavarian in its presentation and menus. Offers German fare with menus that are titled in German but with descriptions in English. Traditional bratwurst, burgers, sandwiches, salads and plenty of beer selection. Excellent salads.

Located at 10001 Minaret Road – plenty of parking in the main Mammoth Ski Resort parking lot located nearby – within a short walk. A bit touristy at times. Service was great the last time we ate here. Somewhat rustic interior – a nice bar with tons of drinks to warm you up on a cold 7,700+ foot elevation day. Sometimes can meet gorgeous singles at the bar – show also share your love of alcohol, the outdoors and a free spirit. Also outdoor seating on tables on their deck (weather permitting). A bar is also conveniently located outdoors during good weather. For more information, visit: www.theyodlermammoth.com