Mt. Shasta City is everything one looks for in a base-of-a-mountain town; it is small, charming and a meeting place for those attracted to this great mountain. It is a collection of those who come to the base of the mountain seeking spiritual guidance, those who come to marvel at its beauty, those who come to try to reach its lofty summit, those passing through on the 5, those who live and work here and those who just want to connect with nature.
The center of town features several blocks of mountaineering stores, used book shops, galleries, and restaurants. Most of the lodging is spread out along Mt. Shasta Blvd to the south of town. A number of mystical, new age organizations, and spiritual gatherers have setup shop in town.
One other note: the town's water supply is fed by spring water and is untreated. It comes out of the water faucets at about 45 degrees F.
HOT AIR BALLOONING
Shasta Valley Balloons: www.hot-airballoons.com
Mt. Shasta Balloon Co: www.mtshastaballoon.bizland.com Ask for Calire or Tony Colburn. This company is located in Weed, CA.
ARTISTS/GALLERIES
Bruce Harman: www.harmanvisions.com
Mei Drucker Art: https://meidruckerart.com
The Gallery in Mt. Shasta: www.thegalleryinmtshasta.com
SPIRITUAL
Crystal Wings: www.crystalwings.com
Soul Connections: www.soulconnectionstore.com
RIVER RAFTING
River Dancers: Phone (800) 926-502 or (530) 926-3517. They are located at 302 Terry Lynn Street. John McDermott will be your guide. He has been a professional guide for the past 15+ years. John's wife Chantal is a seasoned world traveler and is also a guide. Their son, Sage, is most likely to travel with family or children's kayaking trips. Here are two quotes, one from a satisfied customer and the other from John himself.
"John, in addition to obvious river skills, you are a master shepherd. I saw how mindfully you tended to the needs of the whole as well as the individual." — Lynn Lloyd
Rafting is dancing with the river; sometimes Rock and Roll, sometimes a waltz with nature." —- John McDermott
For more information visit: www.riverdancers.com
FISHING GUIDES
Jack Trout Fly Fishing and Guide Service: Phone (530) 926-4540. Jack Trout was born and raised in northern California. He knows the streams, lakes, and rivers like the back of his hand. Jack's knowledge coupled with his intimate knowledge of northern California's freshwaters and his ability to listen to your needs, guarantees his customers a time they soon will not forget. Jack Trout has even guided outside of the United States, in places such as Patagonia and Chile. He has fished all over North America. The following are two quotes, one from a satisfied customer, and the other from Jack Trout himself.
"Thanks again for a great trip, you are an excellent guide. I'll remember my first really successful fly fishing expedition for many years to come." — Jeff Woodard
"You have to think like a fish and look like a bug!" — Jack Trout
Jack takes trips to many freshwater sights, but some of the more popular ones are the McCloud River, the Upper Sacramento River, the Siskiyou High Mt. Lakes, and the famous Mt. Shasta Trout Ranch. This ranch is ideally suited for the beginner fisherman, or for someone who doesn't want to work too hard for spectacular fishing.
You can find out more about Jack Trout's guiding and other fishing information by surfing his web page at www.jacktrout.com
Wild Waters Fly Fishing: wildwatersflyfishing.com
MOUNTAINEERING
The Fifth Season is the premiere mountaineering store in Shasta City and has been in business since 1977. They offer a wide diversity of mountaineering equipment (although their ice ax selection is somewhat limited). They rent all sorts of mountaineering equipment at reasonable prices.
During the summer months, call ahead to reserve your rental equipment at least 2 weeks in advance, especially if you are reserving for the weekends. They are located at 300 N. Mt. Shasta Blvd. You can call them at Phone: (530) 926-3606. Visit: www.thefifthseason.com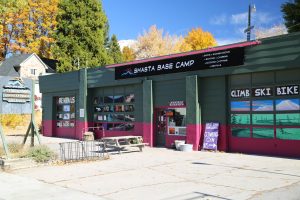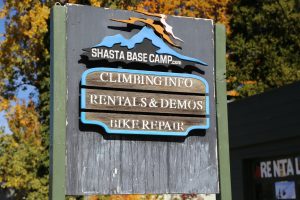 Shasta Base Camp sells and rents lots of mountaineering equipment as well as offers ski and snowboard rentals. Gear rentals for all seasons including alpine, back-country and plenty of helmets in all sizes for mountaineers and rock climbers. They also sell Shasta related souvenirs. On clear days you can see Mt Shasta peaking through the trees behind the store.
A well established mountaineering store with excellent service. For more information call (530) 926-2359. You can also visit them on the web at: www.shastabasecamp.com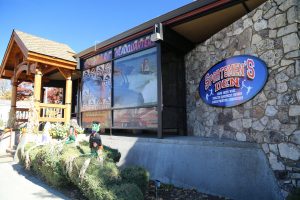 Sportsman Den was located at 402 N. Mt Shasta Blvd but in 2014 they moved to their current location at 100 Chestnut Street . This store has a rich heritage in Mt. Shasta City.
Originally it was founded in 1945 as a hunting and fishing store and has evolved beyond this to offer a diversity of sporting goods. They sell clothing and other gear for action sports, but no climbing equipment. Phone (530) 926-2295 or visit them on the web at: www.mtshastasports.com