Like Big Pine, Independence is a good starting point for various attractions in the surrounding area. This is the quintessential Eastern Sierra Nevada town – small, laid back and full of history. Oh and surrounded by the gorgeous Eastern Sierra Nevadas. Town features quiet residential neighborhoods with homes that date back decades. And some very historical buildings. It is also the county seat for Inyo. And was the home to noted author Mary Austin for a number of years.
The following are several attractions within town or close proximity worth making a stop.
Eastern California Museum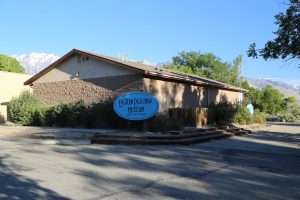 This is a must visit when driving through Independence. The external facade of the building looks boring, dated and perhaps a bit run down. This is a classic example of a 'do not judge a book by its cover'. Remarkably this museum first opened in 1928 and has been operating since then (the county of Inyo has operated it since 1968). It is located three blocks west of Main Street and the county courthouse at 155 N. Grant St.
There is plenty of parking in their adjoining parking lot – they request larger vehicles park on the street. This museum needs a larger space! They have excellent exhibits containing Native American cultural items including one of the largest collection of hand-made baskets from the Paiute and Shoshone Native Americans in the world. Also some impressive arrow heads including the largest and longest spear-point we have ever seen, bead-work and ceremonial dresses.
A highlight of the museum's collection are their historical photographs – over 27,000 to date. Also a good exhibit about Manzanar containing everyday photos from one of it's residences as well as art created by the residents. Geology, natural history, western artifacts, if it was created in this part of the Owens Valley and has some significance, you can bet it it contained within the museum!
An excellent example of the different types of barb wire is on display. Be sure to stroll behind the museum – a huge collection of outdoor implements, western style homes and other items of historical interest are on display including an impressive hydro electric piece of equipment. A large collection of books and historical information is available for research purposes by appointment only. Open 10-5pm daily. Visit: www.inyocounty.us/ecmsite or www.virtualtransportationmuseum.com
Mary Austin Home spent many years living in parts of California including in Independence. For some time she lived at the home on 253 Market Street. This is a home with character and while not open to the public worth stopping by especially if you are heading to the Eastern California Museum a few blocks away.
Mary was a prolific writer whose first book in 1903, "The Land of Little Rain" features the Owens Valley (still in print). Not only was she a writer but was involved in a number of other activities including the Water Wars in the Owens Valley (Los Angeles channeling water from the valley down to Southern California) and was one of the founding members of two theatres still in operation – the Historic Forest Theater in Carmel, Calfiornia and the The Santa Fe Little Theatre in Santa Fe, New Mexico.
She also co-authored a book with photographer Ansel Adams and was part of a literary circle that included Jack London and Ambrose Bierce among others.
Mary DeDecker native Plant Garden

is located on the same grounds as the Eastern California Museum. Follow the path that roams the land towards the back of the museum – plants surround the path – a nice flowing cold water creek is also here.
Great place to relax and wander among the many species of local endemic and native plants.
Also plenty of historical items on hand as part of the museum's collection.

Mazourka Canyon
The entrance to this canyon and it's dry and stark surrounding landscape is about a 20 minute drive from Independence. Simply take Mazourka Canyon Road off of 395 in the south part of town and follow this east. On your way to the canyon you will pass one of the original train stops on the old narrow gauge railroad that rain from Mound House (near Carson City in Nevado) to Keeler (near Lone Pine). Not much is left of what used to be a sizable train depot; a short section of train tracks (reinstalled long after the original track was removed), a sign and a plaque. The desert has taken over once again.
Continuing east the road becomes dirt (ok for a 2wd vehicle) and one soon passes a number of old mining remains including tailing piles and shafts blasted/dug into the hills both horizontally and vertically. Some of the mine shafts we have explored over the years along Mazourka Canyon are short – some much longer and are multi level.
We first came here more then 25 years ago with metal detectors – in the hopes of finding some left over riches, but after many trips during the heat of the summer and lots of looking, we have finally admitted defeat. However, we have always been attracted to the stark beauty of this part of California – whereas many people would be turned off by what they feel is visually uninspiring landscape. And in the summer, while most people head to the cozy temperatures of the higher country Sierra to the west of here, this landscape is not often visited; we've always enjoyed the remoteness of the region.
Mazourka Canyon road will eventually top out at Mazourka Peak (nearly 10,000 feet) and as one rises in elevation the landscape changes bringing in pinon pines and vegetation that seems more abundant then on the lower drier slopes. The temperature is cooler up here compared to the often summer searing heat of the Owens Valley and one can camp in numerous locations without a bunch of 'neighbors' next to you.
Mt. Whitney Fish Hatchery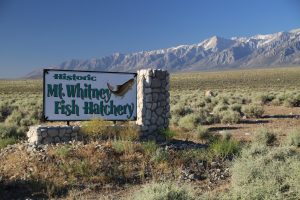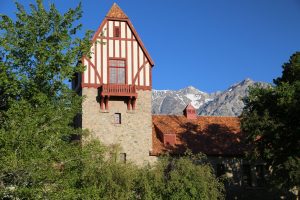 This is a real find – one thinks of a generic fish hatchery and perhaps doesn't realize the historical significance and visual impact of this particular one. Located mere minutes from the center of Independence – it is just off of Highway 395 via a short paved road that climbs east towards the Sierra Nevadas.
Construction was completed in 1917 and at the time it was the largest fish hatchery in California. Visually it is beautiful – with the backdrop of the Sierra's and it's architecture it almost looks like it could have come out of Bavaria.
Parking is in a dirt parking lot – visitors enter past a picturesque pond (full of gorgeous large trout of course) and enter in the door at the base of the tower. An interpretive center is contained within – providing information about it's history and raising fish. A one of a kind gift shop is also on site selling some unique items. Picnic grounds available.
This hatchery has also been instrumental in helping breed California's state fish, the Golden Trout. A major flood damaged the hatchery in 2008 – one gentleman was in his RV above the hatchery and ended up surviving this epic flash flood by body surfing a mile (his RV ultimately was unrecognizable it was washed down).
Onion Valley
Onion Valley is located about a vertical mile above Independence in the Sierra Nevada Mountains. It is a great place to escape the summer heat of the Owens Valley. From downtown Independence turn west onto Market Street (at the Post Office) and drive a little over 13 miles to the end of the road. Be careful driving this road as it has numerous switchbacks. The end of the road reaches an elevation of 9200 feet. You are above the desert scrub, the air is cooler, and if you go during the mid to late summer months you will be rewarded with a rich display of wildflowers. Onion Valley was named for the swamp onion.
A pack station and a campground are located at the roads end. Three trails leave from here. The Kearsarge Pass Trail is by far the most popular of the trails. This is because it is only 4.7 miles to the crest of the Sierras at about 12,000 feet. This trail a moderate hike. If you are in excellent shape you could do this hike in 4 or 5 hours round trip. A full day would be more ideal and allow you some extra time.
This area is also very popular with fisherman both with the nearby creek and several lakes within hiking distance of the campground.