Nowhere in California does the west feel more alive then in the Owens Valley. These are the quintessential landscapes that drew pioneers to this part of the country. With a dramatic backdrop of the state's most impressive mountains guiding one up and down the great 395, one is never far from inspiration. If there was a god of nature, she would live in this valley. If there was one small town we would live in at least seasonally, based on the perspective cultivated from years of travel around the world it would be Independence or Lone Pine. And perhaps it would be in Mary Austin's old home.
This guide includes information about a one-day hike to the summit of Mt. Whitney, the highest mountain in the lower 48 states, as well as destination information about surrounding towns and attractions. Mt. Whitney's peak elevation sits at 14,494 feet and is typically easily visible from the nearest town, Lone Pine. In addition, this guide contains information about select towns in the northern Owens Valley including Big Pine, Independence and Lone Pine and highlights various areas of interest including the Mt. Whitney Fish Hatchery, the Bristlecone Pines, the Eastern California Museum and the Owens Valley Radio Observatory, among others.
Access to the summit trail from the Eastern side of the Sierras is via the Whitney Portal Road (often closed in winter through mid Spring depending on levels of snowfall). This road is 13 miles in length starting in the center of Lone Pine. All hikers to the summit including those doing day hikes must obtain a hiking permit ahead of time. This hike is grueling and is nearly 22 miles long (round trip).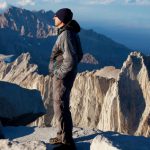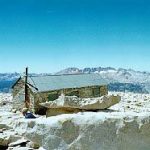 The Owens Valley can be very hot during the summer months with temperatures easily exceeding 100 degrees. The winter months can be very crisp and chilly with snow falling several thousand feet above the valley, and even falling into the valley in places. The vegetation in this area is desert like, with lots of sage brush situated among flat and alkaline areas – although after a strong winter season – parts of the Owens Valley can turn quite green.
Owens Valley is surrounded on the west and the east by tall mountains, especially in and around the town of Lone Pine. The Sierra's to the west of the valley are particularly impressive because they rise so dramatically from the valley.
When it comes to photography, lighting is nearly everything – with dramatic landscape and often beautiful lighting in the mornings and evenings, this entire range of the Sierra Nevada Mountains is a dream location for photographers.