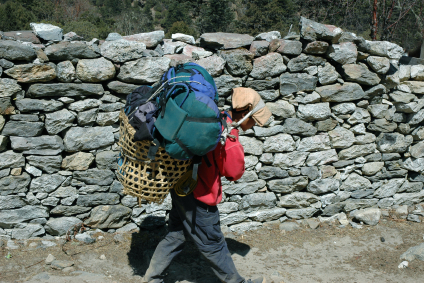 Once you reach Lucla and step out of your plane or helicopter you will be greeted by many people, mostly porters. The porters will surround you and ask if you need some help in carrying your packs. Porters can be hired for a few American dollars per day. Sometimes they will request that you pay for their dinner at one of the many lodges scattered along the trail.
I was surprised to see that the porters were quite short and wiry. I was also surprised at their great strength at the high elevations. Some were carrying two or three of our packs at once. Some had baskets that they would put the packs in. They would carry the basket on their backs, supported with a rag, or rope around their forehead, which was tied to the basket.
When I finally hired a porter a friend and I put all our heavy items in one pack. After the hike we weighed this pack and it was 75 pounds. If anyone has any experience with backpacking you will know that most if not all of the weight is supposed to be supported by the hip belt, not by your shoulders. Well, our porter carried this 75 pound pack at elevations between 13,000 and 16,000 feet, using ONLY the shoulder straps. We tried to tell him to use the hip straps but he would not listen. If I had tried to carry a pack of half that weight with just the shoulder straps at sea level, I might be able to last about 15 or 20 minutes before I would become so sore that I would not be able to continue.
Apparently our heavy packs that we gave the porters were heavy, but were not considered extreme weight. When the porters carry extreme weights they use sticks called "porters sticks". These sticks are basically a stick with a handle placed perpendicular to the top of the stick. We saw porters carrying up to three large plastic containers of water on their backs. Our guide estimated that they were carrying 150 to 160 pounds of water. They were actually moving along the trail much faster then we were!
Some of the porters are older, some are quite young. One of our porters was 17 years of age. He was smaller then the rest, but he was carrying just as much weight as the others. One thing to note about the porters is that there is a lot of competition among them in order to look good for the guide. This is because they expect the guide to recommend them to the professional guides in the hopes of getting a job with the professional trek companies which pay much more. Their competition sometimes turns into immaturity and our guide had to step in and interfere in their petty fights several times. One time a porter stole a homemade flute from one of the other porters. One of the porters just sat down and started crying. Our guide stepped in and made it clear that he would not continue to pay these porters if they kept displaying their childish behavior.
We found the porters to be completely honest and trustworthy. Keep in mind that there are always those individuals who are not as trustworthy. It is recommended that you keep all your cash and personal identification in a money belt. Keep track of your possessions if possible, and if you hire a porter to carry your pack keep some of your more important items with you. Carry a small day pack or waist pack for these items. Shoes are a valuable commodity along the trail. Keep an eye on your shoes.
The amount of backpacking you do should influence your decision whether to get a porter in Lucla. The best place to get a porter is in Lucla, but you can also easily get one in the next large town of Namche Bazaar. Namche is about 2 days hiking from Lucla. I did not get a porter until a day or two past Lucla. However, if I were to go back I would get a porter in Lucla. I think it would be much easier walk the trail without a heavy pack. Besides you need all the extra energy you can get because often times you are hiking all day.
If and when you get a porter I found it helpful to make clear to him that you want him within your eyesight or not much beyond that. Some of our group members had problems with porters walking far ahead, or lagging far behind. Then we would need something from our packs and our porter was too far ahead or behind us to find him.
One last thing about our porters was their terrible smell. I compare their odor to a carton of milk that has been sitting outside the refrigerator for several days. It smells quite sour. Fortunately they slept in separate rooms from the rest of our group.