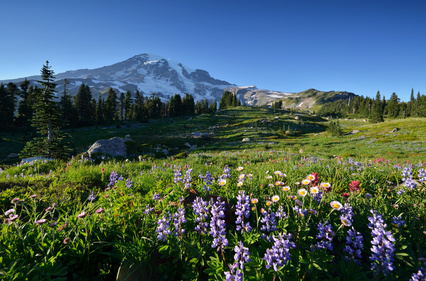 The following are important items that you will want to take to Mt. Rainier if you are planning to climb to the summit via the standard Disappointment Cleaver router.
Also, there may be additional items you will want to bring not listed here. This list assumes 2-3 days on the mountain and it assumes you will experience below freezing temperatures and strong winds.
For reference, Dave's climb was in late June. Other routes may require more technical equipment. The number of items below are generally per person unless otherwise noted.
ITEM
#
DESCRIPTION
Advil
10
or some similar painkiller such as Ibuprofen
Backpack
1
internal frame recommended
Balaclava
2
one that covers the face with the exception of the eyes and nose
Belay Devices
1
Boots
1
plastic mountaineering style with inner liner boots (double mountaineering boots)
Carabineers
4-5
At least 2 Locking & the rest can be standard
Chemical Warmers
4-6
for your feet and hands (not absolutely necessary but recommended. Try Grabber Chemical Warmers or Hotronic for battery powered warmers.
Crampons
1
12 point ones. Try Petzl, formerly known as Charlet Moser.
Chap stick
1
Be sure the chap stick also acts as a Sunscreen
Daypack
1
small one for summit day
Food (Dried)
n/a
the kind that you cook in the pouch – dried snacks are also good in addition to your planned meals
Fuel
1
white gas recommended – at least one canister 4oz of fuel is recommended per person per day
Gaiters
1
for keeping the snow out of your boots – long ones recommended
Glacier Glasses
1
try a pair of Julbo Mountaineering glasses
Gloves
3
stretchy tight snug inner liner, looser 2ndary liner, and outer waterproof/windproof shell
Gu
3-4
Great for short bursts of energy Gu Energy Gel
Harness
1
Find one that fits comfortably
Hat
1
Baseball cap usually works great
Headlamp
1
LED works great. The Princeton Aurora is a Dave's choice.
Helmet
1
Highly recommended – rock fall can occur on any of Rainier's routes. Try
Black Diamond
Ice Ax
1
at least 75 mm. Try Grivel, Mont Blanc.
Ice Pickets
1-2
If you climb in warm conditions, consider that one picket will probably not do the job
Jacket Down
1
at least 800 fill – good for wearing around camp or if very cold excellent for wearing while climbing. We use The North Face
Jacket Shell
1
waterproof and windproof outer jacket
Matches
n/a
must be windproof and waterproof
Pants (Shell)
1
waterproof – especially good for glissading down the mountain!
Poop bag
1
this item is required by the National Park Service and is available for free at the Jackson ranger station in Longmire – Dave's Quote: "If you poop it, you pack it"
Pot
1
pot for cooking food or melting snow – titanium is the lightest
Prusik Slings
3-4
to be used in emergency crevasse rescue (waist, foot, pack & rescue)
PurificationPills
1
for purifying water
Rope
1
allow about 50 feet between each person for 2-3 person teams and bring at least one extra rope as well
Sleeping Bag
1
at least 0 degrees F rated. Feathered Friends makes great down bags.
Sleeping Pad
1
as light as possible – foam is good. Blow up pads are heavier but more comfortable
Socks
3
preferably synthetic (dries fast, less smell) 1 thin, 1 mid-size, 1 thick
Spoon
1
titanium spoon is very lightweight
Stove
1
mountaineering type – one that can be lit and runs in strong winds. Try either the Optimus or MSR stoves
Suntan Lotion
1
SPF 50+ recommended – be sure to use this on ALL exposed portions of your body – don't forget under your nose and in your ears as the snow radiates the sun quite dramatically. Consider a nose guard as well. Buy suntan that is more like a cross between a paste and liquid – in a small tube. Suntan that is in liquid form is very messy.
Tent
1
3-4 season recommended – with plenty of guy ropes to tie down to stabilize against wind. The North Face makes some great tents.
Toilet Paper
1
one roll is usually enough for most people
Underwear (thermal)
2
1 for upper and 1 for lower body – usually fleece. The brand Marmot or Capilene (made by Patagonia) is highly recommended for cold conditions These are a bit more expensive then other brands, but it is worth the price.
Water bottles
2
minimum 2 1L bottles recommended – Nalgene is a popular brand – also you might want to consider taking a lightweight flexible plastic pouch which you can fill up with water – Platypus brand recommended
Ziploc Bags
n/a
bring some small ones and also some large ones – great for packing trash