Seattle is a young, vibrant and modern city. It boasts the second tallest building west of the Mississippi. It is a city of coffee shops (not just Starbucks), twenty and thirty "somethings", parks, an intimate relationship with water, and mountaineering & high tech companies. Due to its proximity to the Olympic Peninsula, Cascade Mountains and Puget Sound, Seattle is a city that loves to be outdoors. Numerous outdoor destinations are within a several hour drive or less of downtown. Seattle sits at the edge of the beautiful Puget Sound while behind the skyline in the distance are the prominent snow-covered peaks of Mt. Rainier and Mt. Baker.
Sound Transit is Seattle's light rail; it opened on December 19, 2009 from SEA-TAC airport to downtown. A number of stops are located along the way; expect about a 30 minute ride from the airport to downtown. For more information please visit: www.soundtransit.org
Seattle is also a mountaineering capital; The Mountaineers, the North West's premier mountaineering and outdoor organization was formed in 1906. Many outdoor companies such as REI, Outdoor Research, Cascade Designs, Mountain Safety Research (MSR), and Feathered Friends among others started here.
In addition to being a city where prominent outdoor companies got their start, Seattle is also where household name companies are based or founded including Microsoft, Costco, Nordstrom and Starbucks; this remarkable city is also home to other well known companies including Boeing and Amazon.
With the exception of the Olympic Peninsula one can comfortably see all the attractions listed below in 3-4 days. This is not an exhaustive travel guide to Seattle – these are only the attractions that Dave visited during numerous trips to Seattle. All attractions below are listed alphabetically.
Ballard Locks – Hiram M. Chittenden Locks are located in Ballard, Seattle and are a unique system of engineering allowing boats to move between the saltwater of the Puget Sound and the fresh water of the canal which connects to Lake Union and Lake Washington. These locks are in operation for boats 24/7, if there is boat traffic passing through visitors will see dock-men anchored to steel lines so they won't fall into the canal as they help guide the boats through.
Steel gates/bridges are part of each lock and open and close as necessary to raise or lower the water levels, so the boats can reach their destination. These bridges can be easily crossed when not in use – when boats need to pass through, bells ring indicating the bridge will open. Visitors then need to leave the bridge for the safety of the concrete dividers located between each of the locks.
One can cross the entire canal by foot to the other side – eventually reaching a fish ladder viewing station. Visitors enter a concrete building and look through thick windows into the side of the canal. During spawning season, the windows will be entirely covered by large fish swimming up river through the fish ladder. The best viewing times are of course during the height of spawning season – usually in September and early October – we've been here during late October and there are a few fish but certainly not the amounts found during peak season.
Both the locks and the fish ladder viewing are open year round during the day. The scenic and serene Carl S. English Jr. Botanical Garden is located directly next to the canal – visitors have to walk through the edge of this garden to reach the actual locks. Parking is metered except on Sundays when it is free.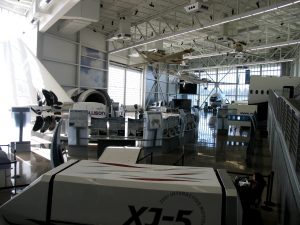 Future of Flight Aviation Center (Boeing) – this major attraction is located about 30 minutes north of Seattle in the town of Everett next to Paine Field. This Boeing owned and operated museum features several huge engines, parts of planes including a huge fin from a 747, special exhibits and video presentations.
Visitors can pay the normal admission price for entry to the museum only, or an additional fee to also take the tour (which is one of the primary highlights of any visit here). Guests will be first driven around Paine Field to see some of the large airplanes followed by a visit to the inside of the buildings. Boeing's main building is the largest building in the world by volume. This building absolutely dwarfs the nearby parking lot full of cars. The jets are built inside – all the parts are gathered, many of them shipped in from overseas, and then the planes are assembled at an amazing speed, typically in just several days. Visitors will be able to watch this construction taking place on the ground floor from above.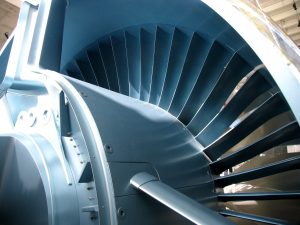 Seattle has two international airports – Paine Field while not technically in Seattle is the 3rd international airport in the region. This is Boeing's "delivery" airport – pilots from around the world fly here to pick up their new planes. As a result, one will often see an international collection of airlines parked at the airport.
The "flight shop" is worth a visit; merchandise includes Boeing clothing and other branded schwag with sales occasionally offered. Sometimes accomplished authors will stop by for book signings. On a clear day be sure to visit the "flight deck" for excellent views of Paine Field, Mt. Rainier to the south and Mt. Baker to the north (relatively close to the Canadian border). Need food? Do not despair- a cafe is on site. And when leaving, check out the exciting diversity of visitor brochures displayed near the main counter.
Visit: www.boeing.com/company/tours
Museum of Flight . An entire day, or at least most of the day needs to be reserved for a visit here. This massive museum spans several buildings and like other museums focusing on flight, exhibits are also located outdoors. The museum is located at 9404 E. Marginal Way South, right next to the King County International Airport about 8 miles south of Seattle.
The museum is organized into several exhibits. One of the primary exhibits focuses on spacecraft including a collection of moon rocks, tons of photos, interactive displays, a huge video screen showing the space station, and an actual replica of one of the rooms in the Space Station. Dave ended up spending about 2.5 hours just in this one exhibit! Docents are on hand to help answer any of your flight and space related questions. Real space craft are also displayed – the collection keeps growing.
The main part of the museum (called the Great Gallery) is a huge room containing a variety of aircraft including an intriguing car-plane hybrid as well as fighter jets and other historical airplanes. The use of flight simulators are available for an additional fee. An older red building simply referred to as the red barn, contains two levels primarily outlining Boeing's history (Boeing donated land for the museum). Another neat piece of trivia is this building was Boeing's original manufacturing plant.
Another major part of the museum is a large building with two levels; one level is entirely devoted to World War I era planes and flight related items and the other level highlights World War II aircraft. And a must visit here, is the steel-glass bridge; numerous speakers built into the railings continuously blast sounds of flying jets.
A diversity of large planes are displayed outside of the buildings. More planes continue to be added over time as older planes are restored at Paine Field Airport in Everett and then shipped down to the museum (about 35 miles north of here). Fortunately at the time of our latest visit there is still plenty of open space to add additional planes. Highlights of the outdoor exhibit include a Concorde and an older Air Force One jet (both of which you can enter and take photography inside). We mention this because we've been in an Air Force One Jet before in which photography was strictly forbidden, but refreshingly not here. Another highlight is the huge 747 – the first ever 747 built by Boeing. With a wingspan of almost 200 feet, it presents quite a site, especially standing underneath it!
Other highlights include a real life replica of a flight control tower and Kids' Flight Zone with its interactive displays for children – some of the displays will challenge flying skills of both children and adults alike. Visit: www.museumofflight.org
Olympic Peninsula
and some of the Puget Sound islands across from Seattle are highlights worth visiting. Car ferry's operate often – especially during the summer. These leave from near Pike's Market and also from Pier 52 along the Seattle harbor front. The closest ferry to the Olympic Peninsula is from Pier 52 to Bainbridge Island – total crossing time is about 35 minutes. Food is conveniently sold at Pier 52 near where the cars line up to enter the ferry.
Visit the Department of Transportation for more information about ferry trips and locations: www.wsdot.wa.gov/ferries
The Olympic Peninsula is a beautiful drive especially on a clear day. It is intensely forested; travelers probably won't run into too many other people – it is somewhat like driving on parts of New Zealand's south island. If you plan on driving the 101 all the way around the peninsula allow a minimum 3-5 days – as there are many beautiful places to stop and hike including near Lake Crescent (a very picturesque lake west of Port Angeles on the 101), Sol Duc Hot Springs and great hiking in the Hoh and Quinault Rain Forests. The Hoh is a good example of this regions rain forests; several easy to hike trails are available as well as a longer (multi-day) spectacular hike up to glacier covered Mt. Olympus. Everything is so green – moss is 'dripping' from the trees.
Some areas of this rain forest receive over 200 inches of rain in a single year. One should not expect to absorb the beauty of the Olympic Peninsula in one day, that simply is not enough time. Need more information? Check out the official visitors guide: www.olympicpeninsula.org and the National Park Service website: www.nps.gov/olym
Pike Place Market is one of Seattle's most iconic attractions. Centrally located just up from the waterfront, the market spans several blocks of shops. Pike Place Market is home to the famous Pike's Fish Throw; someone orders fish from a vendor immediately eliciting loud screams from employees. The fish is removed from the ice and thrown across the shop to someone else who catches it and wraps it up. The market is popular with both locals and travelers seeking fresh fruit (especially delicious are the yellow-red Rainier cherries in the summer) and vegetables as well as numerous specialty items. This is one of America's premiere farmers' markets.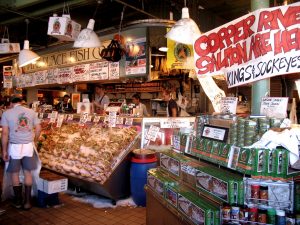 Pike Place Market is home to the world's very first Starbucks Coffee Shop located at 1912 Pike Place (opened in 1971). This small coffee shop is almost always very crowded – especially so after tour buses drop off passengers – the lines can snake out the doorway. No bathrooms are available – you will have to use the main Pike Place Market restrooms.
Other interior highlights include a bronze historical plaque, books for sale highlighting the history of Starbucks and 'first Starbucks' memorabilia. Often local musical talents perform in front or nearby.
One can easily spend an afternoon in this part of the city wandering produce stalls or outside among the fine selection of street shops.
This is the only place in the world that Dave has seen a policeman writing a clown a ticket!
For more information visit: www.pikeplacemarket.org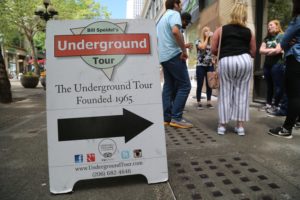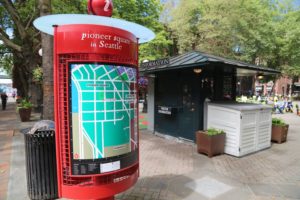 Pioneer Square is the home of Bill Speidel's Seattle Underground Tours – a do not miss experience when visiting the city. Bill passed on years ago, but the tour guides keep his unique perspective on history alive. Conveniently located in Seattle's Pioneer Square, guides lead a very humorous tour lasting approximately 90 minutes through several blocks of subterranean Seattle.
Tour groups surface at several points on the tour – highlights of the underground tour may change from year to year as underground real estate becomes available. Did you know that much of the downtown Seattle used to be 10-15 feet lower than where it is now and that there is an entire underground to the city? These tours provide a unique insight into Seattle's downtown life 100 years ago. At the end of the tour visitors will enter a gallery with more historical information followed by a stop in their gift shop. For more information visit: www.undergroundtour.com And more information about the Pioneer Square in general is available here: www.pioneersquare.org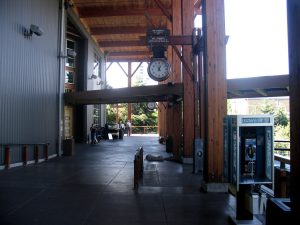 REI Flagship Store is one of the must highlights of a visit to Seattle especially for outdoor enthusiasts. Located at 222 Yale Ave North, part of the grounds include a parking garage available for free for REI shoppers. An attraction in and of itself, this store outranks all other REI stores in terms of size, on site attractions, and an unbelievable supply of outdoor equipment. This is REI's flagship store and it really shows. Outside clocks display select times at other REI stores around the country – visitors enter through fancy golden doors with their trademark ice axes as handles. A huge fireplace is located immediately inside.
Other highlights include a 65 foot climbing wall, a mountain bike test trail, and other gear testing stations. A "garage" downstairs contains returned items available at discounted prices.
The REI Visitor's center located at the main entrance is a good resource of information for what to do and see in the Seattle area and offers free maps and visitor guides. The staff are very helpful. A small display of REI historical items is located next to the visitor's center. Visit: www.rei.com/stores/seattle.html
Seattle Monorail is one of the first monorail systems in the USA. It services downtown Seattle to the Space Needle. This trip is extremely fast and is a great alternative to taking a car. Visit: www.seattlemonorail.com for more information. One can walk from the Needle to downtown – and any of the major downtown attractions (Pike's Market, Underground tours, Aquarium, etc). Expect to walk 20-30 minutes from the Space Needle to reach the heart of Seattle's downtown.
Space Needle is a required visit for anyone visiting Seattle for the first time. This iconic structure towers 520 feet above the city; one can be on the observation deck via the high speed elevator in merely 10 seconds. The elevator attendants ask everyone in the elevator if they have any questions about the Needle or Seattle in general. Visitors should ask questions inviting very short answers since the ride is so short!
On a clear day there are incredible views of Mt. Baker to the north, Mt. Rainier to the southeast, downtown Seattle and the lovely shining Puget Sound. One can walk in a circle, 360 degrees around the top of the needle. Provided tour guides help answer any questions visitors have about Seattle and the Space Needle. Choose from one of several powerful telescopes and or live interactive TV screens to enhance your view of the city. To view live web cams and learn more about the Seattle Space Needle visit: www.spaceneedle.com
All day parking in any of a number of open air lots near the Space Needle typically costs about $30. Prominent signs listing towing company phone numbers are displayed on the building walls near the parking lots.
There is plenty to do in the area right around the Space Needle. Consider a visit to the Bilbao Guggenheim museum look alike building located right next to the Space Needle. You can't miss seeing this wavy shaped brightly colored building. It houses the Museum of Pop Culture. Entrance admissions to each museum are separate. A free gallery displaying the clothes of about 20 famous musicians is located near the lobby. More info about the music museum is here: www.mopop.org
Front of the Music Project building located next to the Space Needle