Redding is not a hot-spot for museums – there are only several in town that are open to the public. We have visited and highlighted a few below.
Behrens-Eaton House Museum is highly recommended for a personalized tour and look back in time – to the life of prominent judge Judge Richard Behrens Eaton who lived here until he died in 2003. Upon his death a trust he established stipulated that his home and grounds be turned into a museum open to the public free of charge (although donations are gladly accepted).
During a recent visit we found the docents extremely knowledgeable and passionate about the history of this house. Visitor's are required to go on a docent led tour which brings life to the judge and his family and provides insights into the various furnishings and artwork contained within.
Higlights include Redding & Shasta County artifacts, WWII memorabilia and artifacts, antique and vintage books and antique clothing. Artwork from prominent California artists, a signed note and photograph by Abraham Lincoln and plenty of other historical treasures can be seen.
Check their website for limited hours. Plenty of parking is available in the parking lot next to the home. Visit: www.eatonhousemuseum.org
McConnell Arboretum & Botanical Gardens is located within about a 10 minute walk of the Sundial Bridge. Alternatively, visitors may pull into Arboretum Drive and park in the large parking lot for easy access to the gardens. The gardens are spread out among 25 acres along the banks of the Sacramento River. The focus of the plants and shrubs in the gardens are of Mediterranean origin (often drought tolerant). The gardens are sectioned into select Mediterranean parts of the world including Australia, South Africa and the European Mediterranean region. Also a garden focusing on Shasta County native plants.
Visitor's can stroll on well maintained pathways through the gardens stopping at landmarks including the water sculpture and the the mosaic oasis.
The Arboretum features 200 acres along the Sacramento River with native trees and plants. A one mile loop trail connects to the Sacramento River Trail.
And for those who want to take some of the plants growing in this area home – be sure to stop into the McConnell Arboretum & Botanical Gardens Nursery (limited hours) where you can purchase from a variety of plants propagated and sold on site. The focus here is on plants that are drought tolerant and do well in the Redding climate.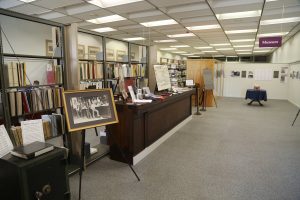 Shasta Historical Society is located in the heart of historic downtown Redding at 1449 Market St (a short walk from the Shasta College campus). This space is larger then it initially looks, 4,400 square feet of space (both ground floor and second floors) are home to a research library and archives focusing on relevant historical records for the city of Redding and the region. This building was built in 1902 and for a time housed the Redding Post Office (among other uses). The Shasta Historical Society was founded in 1930 and has been housed in a number of locations around town; in 1998 the society purchased this building. One of their charter members was B.F. Loomis – visit the Loomis Museum at the Lassen National Park entrance off of Highway 44 to see some of his remarkable photography of the Mt. Lassen eruption in 1915.
Their museum is one of the smallest 'museums' we have seen. Part of the main office space is walled off with temporary walls. It features rotating exhibits – during our most recent visit the exhibition focused on the importance and history of the Old City Hall.
Visitors can pick up complimentary copies of the society's publication, the Stagecoach which highlights articles about persons of historical significance as well as important buildings in town and upcoming events. Docents are friendly and happy to discuss any of a number of topics as they relate to Redding's rich history. Visit: www.shastahistorical.org

Turtle Bay Museum is a popular stop for visitors to Turtle Bay and the nearby Sundial Bridge. Located along the banks fo the Sacramento River – the museum is accessible via a very short walk on a paved path leading from the nearby parking lot. Especially popular with family's and young children. The museum features both permanent and rotating exhibits on a wide range of topics. The museum is not necessarily all Redding centric although exhibits tend to focus on topics relating to the city and nearby surroundings. Displays include information about the museum building, the Sundial Bridge, history, local timber industry and geology.
Changing exhibitions are varied – for example during our most recent visit displays included paintings by local artists, history of firefighting including gear and information about dinosaurs.
A small store (Sundial Bridge souvenirs are popular here) and a coffee bar are on site – offering sandwiches, salads and other quick to prepare food items.
Visit: www.turtlebay.org/