For a town of this size there are a fair number of attractions that are worth seeing.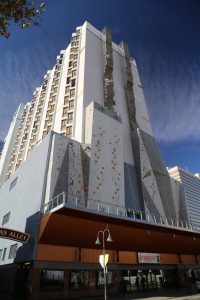 BaseCamp Reno
is extremely unique; it is the world's tallest climbing wall (either indoor or outdoor) – in this case it is located outside on the east wall of the Whitney Peak Hotel (tall is a theme here – this hotel is appropriately named for the tallest mountain in the lower 48 states, Mt. Whitney – located in neighboring California).
The climbing wall is 164 feet tall and features both beginner to expert routes. In addition a 7,000-square-foot bouldering park is located inside this hotel (with over 3,200 square feet of climbable space). Prices are reasonable – discounts are given to guests staying at this hotel.

Fleischmann Planetarium.
This planetarium is located on the northern edge of the campus of University of Nevada Reno; it was built in 1963. Many different shows about the night sky are held daily. We would recommend at least an hour and a half for a visit, which includes a show. The planetarium is open Monday through Friday from 8am until 5pm. They are also open on the weekend from 7am until 9pm.
Admission to the main planetarium is free but admission to the Star Show and Skydome is $10 for adults. Discounts are given those over the age of 59 and those under the age of 13. Children under 6 are admitted to only the daytime shows. Parking is free and is in the adjacent located parking garage (be sure to pickup a parking pass from the planetarium and then put it on the dash of your car). For more information you can call Phone Number (775) 784-4811 or visit: http://planetarium.unr.nevada.edu
Lake Mansion
is a historical home that is very important to the city of Reno. It was first built in 1877 by W.J. Marsh and then sold to Myron and Jane Lake in 1879. It is located at 250 Court Street (within walking distance to downtown Reno). This is not it's original location but rather it's 3rd location – and hopefully the last time it needs to be moved – it was moved here in 2004. Myron lake is associated with being one of Reno's founders. This is considered "Reno's First Address" and over the years was home to five families.
The home is listed on the National Register of Historic Places. Open daily from 10am until 4pm. Tours are either guided or self guided. Arts for All Nevada, a non profit is located at the mansion – they also oversee the mansion and any activities that take place here. For more information visit: www.artsforallnevada.org/lake-mansion
National Automobile Museum
is located at 10 Lake Street, directly above the Truckee River (on the south side) at the corner of Lake and Mill Street. Within easy walking distance from the core of downtown (if you are in good physical shape). Founder Bill Harrah (of Harrah's casino fame) had the funds, the interest and vision to create this remarkable and one of a kind museum. Visitors can view a 25 minute film about his life and this museum in the small theatre located on site.
This "super" automobile museum contains over 200 rare, antique and collectible automobiles at any one time. It is one of the top automobile museums in the country. Some of the vehicles on display are extremely valuable including the original 1907 Thomas Flyer which won one of the earliest automobile races – remarkably a race from New York to Paris in 1908! Bill Harrah purchased this automobile in 1964 and invited it's driver during the race, George Schuster (who was 91 in 1964) to view the car and verify it's authenticity. This automobile was ultimately restored to the condition at the finish of the race in 1908. One can still see mud coating the rims from the race 100+ years ago.
Other extremely rare vehicles in the collection include a 1902 Capitol prototype (started construction in 1889), a 1934 Dymaxion – the only car (of three prototypes) to have survived – designed by Buckminster Fuller and while not necessarily a rare vehicle type, the particular 1949 Mercury Series 9CM on display is rare because it was driven in the movie Rebel Without a Cause starring James Dean.
The museum is divided into four large galleries each separated into various years – starting with the world's first automobiles. Cars in that particular gallery date back to the late 1890's and early 1900's. In the spirit of a Clive Cussler novel, many of these old classics would be ideal automobiles suited for a gentleman by the name of Dirk Pitt.
Allow at least 2 hours. They are open Monday through Saturday from 9:30am until 5:30pm. On Sunday they are open from 10am until 4pm. Adult admission is $10. Discounts are given to those between the ages of 6 to 18 and those over the age of 62. For more information call Phone Number (775) 333-9300. www.automuseum.org
National Bowling Stadium
Donny, eat your heart out! This is one of the world's largest bowling 'alleys'. It is located just east (several blocks) of the downtown area. The building is instantly recognizable from the large aluminum geodesic dome that juts out prominently from the roof. This was built to resemble a bowling ball. 78 lanes are lined up from one end of the building to the other. Often professional tournaments are held in this building.
When professional tournaments are not taking place in the stadium, those interesting bowling can do so. Those interested in just seeing the sheer size of this arena can visit for free – simply take the escalator or elevator from the lobby to the second floor. A large grandstand provides excellent views of all the lanes.
The International Bowling Museum is located on the ground floor and features information about those admitted to the Bowling Hall of Fame, plaques, art and all things relating to this sport. Admission is free
One other note, is that there is an excellent tourist office open to the public, located on the first floor at the main entrance. We have found the operators of this office to be extremely helpful. They provide complimentary travel information (brochures and pamphlets) and also give away detailed of Reno. Visit: www.gobowlreno.com
Nevada Historical Society Museum
is located at 1650 North Virginia Street across from the Fleischmann Planetarium on the campus of the University of Nevada Reno. It was founded in 1904 and is Nevada's oldest museum. Some of the displays exhibit Native American artifacts, pioneer items, and other displays relating to cultural and state significance.
One item of interest is their research library which contains records dating from 1859. The museum is open Tuesday through Saturday from 10am until 5pm. Adult admission is $5. Those under the ages of 18 are admitted free of charge. Parking passes are available from their For more information call Phone Number (775) 688-1190 or visit: www.nvhistoricalsociety.org
Nevada Museum of Art
is located at 160 West Liberty Street, not far from the center of downtown. The museum was originally established in 1931 and moved to an impressively designed 4-story building in 2003. Features over 2,000 works of art from the 19th through 21st-century. Also houses a number of permanent collections.
An onsite parking lot is available to visitors. Closed Mondays, Tuesdays and national holidays. chez louie focuses on French cuisine and is located within the museum. Open for breakfast, lunch and dinner. A gift shop is located on the first floor. Visit: www.nevadaart.org
Sheppard Fine Arts Gallery
is located on the campus of the University of Nevada Reno. This art display features mostly contemporary art works housed in the The Church Fine Arts Complex (also home of the Nevada Repertory Company and Nightingale Concert Hall). 2,000 square feet of exhibit space is available – the gallery began in 1960. A diversity of art work is on display at any one time.
The theatre is home to theatrical productions while the music hall is home to musical performances and concerts. Both of these are open Monday through Friday from 11am until 5pm. Admission to the arts gallery is free. The prices for the events in the theatre or music hall vary. Call Phone Number (775) 784-6658 or (775) 784-6145 for prices or for more information.

Sierra Safari Zoo
is located at 10200 North Virginia Street about 15-20 minutes from downtown Reno. Like with most areas of Reno – if you drive a short ways outside of the city you will be in high desert country. This zoo is surrounded by dry desert like scenery – located on the south side of the 395 Highway.
Since opening in 1990, the zoo has become Nevada's largest featuring over 200 animals ranging from a number of wild cats, zebras, camels and lemurs among others. The zoo was started by three men, all who had an interest in exotic animals. Their collection actually began with ostriches and quickly expanded from there. Open daily during the summer – usually only on the weekends during the winter. IT can snow here and that can be an interesting experience to visit when everything is covered in white. For more information visit: www.sierrasafarizoo.org
The Discovery – Terry Lee Wells Nevada Discovery Museum
is located slightly south of downtown. This sizable museum (67,000 square feet) provides a wide variety of exhibits focusing on science, technology, engineering, art, history and invention. Exhibitions are both permanent and rotating. Highlights include human anatomy, under the stars and exhibits about early Nevada history including about the Washoe/Shoshone/Paiute Indians.
Plenty of parking is located on site. The museum store contains a variety of items – including toys, books, puzzles and games – lots of items for children. Closed Mondays. For more information visit: www.nvdm.org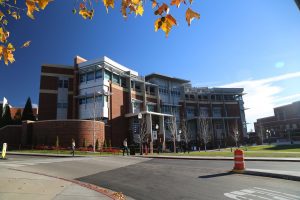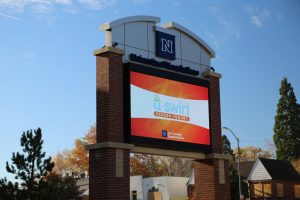 University of Nevada Reno, (UNR)
is located just north of town on N. Virginia Street. This is a lovely campus especially in mid summer when all the vegetation is green or in autumn when the foliage begins to change colors. I have found that the campus is always a little cooler in the summer months then the outlying areas or the main part of town. This is because there are many trees and the grounds remain well watered.
This campus is a beautiful place to take a quiet walk. There are some excellent views of downtown Reno from several places on the campus grounds. Pay attention to the old buildings and interesting architecture. Some of the older buildings on campus make ideal photo opps. There is a pond near the central plaza on campus.
Whenever we visit this campus we always make a point to bring some reading material which we read on the grassy slopes overlooking the pond. This is a peaceful and bucolic setting, a stark contrast to the hustle and bustle of the activity at the slot machines. www.unr.edu

Wilbur D. May Center
is well worth a visit especially if you have youngsters in tow. There is enough located here to attract the interest of both children and adults. The center is located in Rancho San Rafael Park at 1502 Washington Street. The property features three main attractions; the Wilbur May Museum, the Arboretum and Botanical Garden, and the Great Basin Adventure (a children's amusement park).
The museum was a highlight during one of our visits. It is a replica of Wilbur's large ranch – the Double Diamond. The museum contains many artifacts and cultural treasures from the travels of Wilbur D. May. Wilbur was quite wealthy and an adventurer. He accumulated many intriguing treasures during his lifetime of travels. Today these have been curated in various exhibits. Some of the more interesting objects displayed are his souvenirs from his African hunting trips, rare Tang Dynasty horse sculptures, 18th century sterling silver, and a real treat for the children is a shrunken head from his South American travels.
Not only was Wilbur a great traveler, but he was also a painter, and a composer. Several of his compositions are displayed in the museum, and several are displayed next to a fine piano. Among one of his more famous pieces of work is the song entitled "Pizza, Pizza".
The arboretum contains 12 different gardens, each representing different habitats based on elevation found in Nevada. Several paths wind there way through the gardens including stops at the Native Collection (featuring native plants), a section devoted to plants that do not need much water to survive and a rock garden. For more information visit: www.maycenter.com