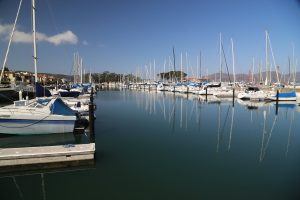 Ever dreamed of sailing San Francisco? The Aldebaran is more than just a sailboat; it is a private customized sailing experience in the San Francisco Bay with Captain John at the helm. Aldebaran is docked at Loch Lomond Marina (near San Rafael) in Marin County.
Captain John (brother of Dave, of Dave's Travel Corner) has been sailing San Francisco & beyond for over 10 years and has first hand experience with San Francisco Bay Sailing. He lives in the San Francisco area and he sails almost every week.
Consider a romantic sail to Sam's, a popular restaurant in Tiburon where folks arriving from the bay dock and walk onto an open air deck for delicious food. Enjoy drinks and a wonderful lunch overlooking the bay and Angel Island in the distance. After lunch, perhaps a sail to the bay at Angel Island is in order where you are free to explore the island and local attractions at your leisure. This itinerary is just one of many that you can choose from.
Reserve Online Here – www.reservationkey.com

John's sailing articles appeared in the popular Latitude 38 Sailing Magazine. Black Sea/Turkey:
Page 1 | Page 2 | Page 3 | Page 4 | Page 5 | Page 6 | Page 7 — Mexico: | Page 1 | Page 2 | Page 3

The best months to sail in "the Bay" are September and October when the days are warmer and there is less fog, however sailing in the San Francisco Bay takes place any month of the year.

Trips are open to ages 10 and above. The Aldebaran is available for romantic, sightseeing, limited fishing and general touring trips.

Are you a celebrity? Come with us incognito on one of our sailing trips. We will give the Paparazzi "the slip"! Ha.

Possible Itineraries
The following are suggested itineraries – but feel free to talk to Captain John about any custom trips.
– Around Angel Island – includes stop at scenic harbor, see historic buildings from the water
– Berkeley Marina and back
– Bay Bridge tour – new construction
– San Francisco Waterfront – pass through Aquatic Park, Fort Mason, Pier 39, Ferry Building
– Alcatraz
– Alameda

Captain John
Captain John has been sailing for over 10 years. He knows the ins and outs of sailing on the San Francisco Bay including tidal fluctuations, wind patterns, as well as the best places to dock the Aldebaran both on the Bay's several islands as well as the mainland. Besides sailing the Aldebaran, John races on large sailboats.

In addition to sailing, John enjoys world travel (having traveled with Dave on several of his trips), photography, & piloting private planes. He is also an accomplished violinist – he is a former member of Stanford University's Symphony Orchestra and the UC Davis Symphony Orchestra.

Rest assured, John will provide you with an unforgettable trip on the bay. There is nothing quite like taking a private leisurely paced boating trip on the San Francisco Bay with an insider's perspective & insights.

Sailing on the bay will give you a new perspective different from any you can experience from land.

Boat Details & Pricing
The Aldebaran is a 22 foot Tanzer sailboat. It has full safety equipment and is well maintained. Comfortably seats 6 passengers. A small cabin is part of this boat.

Normal trips on the Aldebaran depart from the slip at 11am and return around 4pm. Please consult our availability calendar for pricing information. If you would like half day trips or extended full day trips please email Captain John or call 707 217-3194.

San Francisco Bay
Enjoy rich natural and man-made attractions in the San Francisco Bay area. Sights such as "the rock" known as Alcatraz, the famous Golden Gate Bridge, the sharp rising skyline of San Francisco, the Bay Bridge and Treasure Island and more, are sights worth seeing. More information about San Francisco is available on Dave's Travel Corner here

Reservations
Please reserve online or contact John at jmt@pon.net or call: 707 217-3194. For directions click here

Photographs
The following are photographs from sailing on the Aldebaran in the San Francisco Bay.