There are an incredible array of shopping centers, malls, and shopping districts in San Francisco. There are vast tourist shopping areas selling everything from electronic equipment to post cards. When I play tourist south of Union square, Chinatown, and south of Market street, I am often amazed by the great number of shops all selling similar items. As you walk through these shopping sections soon every store almost looks the same. You will often see electronic equipment behind glass counters. If you look towards the back of the store you will usually see shady looking salesman. The stereotype of these people is a male, 35 to 55 years of age, wearing blue pants, a black leather jacket and they are sporting a thin mustache. They always look bored out of their minds.
I enjoy pricing various items from store to store and then arguing with the sales people over their outrageous prices. Purchasing post cards is a hobby of mind and in these parts of The City I have been able to get some great deals. Never buy postcards at the entrance to a shopping section. Always wait until you are towards the end or away from the main tourist section before you purchase post cards. The most inexpensive post cards I have ever found were priced at 12 postcards per $1, located in the seedy shopping areas south of Market street (a 10 to 15 minute walk south of Union Square).
The shopping areas mentioned above for the most part, do not sell fancy items, rather they sell electronics and touristy items. It depends on your shopping taste but if you generally do not enjoy tourist traps these shops are not the place for you.
The Cannery is now a beautifully renovated space for shops and restaurants in what was an old Del Monte Factory canning location. This old brick cannery was originally founded in 1907 as a cannery for fruits and vegetables and was renovated in the 1960's. This space actually fared quite well during the 1906 earthquake escaping destruction both from the earthquake itself as well as the ensuing fires. Today features some 30 shops – easily within walking distance of Fisherman's Wharf. Outdoor dining in the courtyard under old olive trees. Outdoor music and events often held here. Location: 2801 Leavenworth St – open 9am until 10pm daily.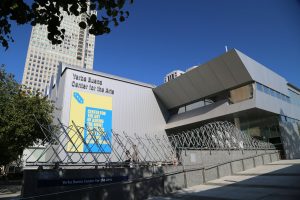 Embarcadero Center contains some nice shops, although nothing quite as fancy as some of the shops in Union Square. This center is composed of 4 stories which contains the Hyatt Regency, a movie theatre, shops, restaurants, offices and galleries. There is one neat business that offers free walk in internet access for a few hours a day or a week. I was able to access my E-mail. There are some good views of the financial district from the upper story in the Embarcadero Center. I also recommend when you need a break from shopping to walk over to the Yerba Buena Center across from the Moscone Center (The Moscone Center often holds large shows and exhibits). This can be a great area for a picnic lunch because there are many benches with great views of the financial district of downtown San Francisco. When I have eaten here I always find it a challenge to pick out certain streets and name certain buildings. On warm Autumn days, the grass is a great place to spend some time on relaxing. Website: www.embarcaderocenter.com

Fisherman's Wharf is another family shopping and sightseeing area. Fisherman's Wharf and Pier 39 are located right next to each other and both have a similar feel. If you enjoy fresh seafood and wonderful San Franciscan French bread, this is the place for you. Besides the several museums and attractions in this area, there are many souvenir shops and good restaurants.
Parking can be very difficult to find, especially along Beach Street (the street the parallels the water), but you can also find parking on North Point, Bay and Francisco streets. Website: www.fishermanswharf.org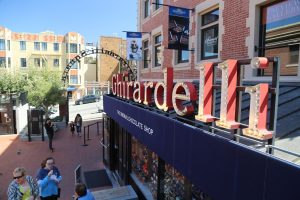 Ghirardelli Square is a nice place to take the family for shopping and it is also a good place for a picnic lunch (although you may soon be surrounded by aggressive seagulls!). This center is made mostly from brick and features small quaint specialty stores. The main walkways are in open air and there are stores on either side.
This shopping center and also the streets near Fisherman's Wharf, are good places to view mimes. If you are not planning on putting any money in their cap or tray, I recommend watching them from a distance. I found that when you stand in front of them and watch and don't offer them any money, they will display frustration and walk away. There are also some great photo opportunities of Angel Island or Alcatraz Island from Ghiradelli Square. One is Alcatraz framed between some of the buildings which makes a nice photograph. Website: www.ghirardellisq.com
Japan Town contains several small shopping areas. These are the Kintetsu, East, and Kinokuniya. These shopping areas have many art galleries, antique stores, and restaurants including some highly recommended Ramen stops such as Hinodeya Dashi. The shops specialize in Japanese goods. We recommend Hotel Kabuki as a very central place to stay within walking distance everything within Japan Town. The region is bordered by Post, Geary, Laguna, and Fillmore streets. More info about Japan Town here: www.sfjapantown.org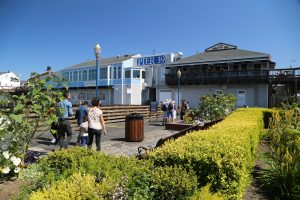 Pier 39 (also discussed in the Attractions section) is a touristy shopping center. They sell the usual tourist items such as shot glasses, postcards, magnets, T-shirts, and much more.
There are many shops scattered along the pier, and then also along the main street that parallels the marina. A regionally famous resting spot for the local seal lions is located next to the pier – and visitors can sit down on the wooden platforms to observe their behavior.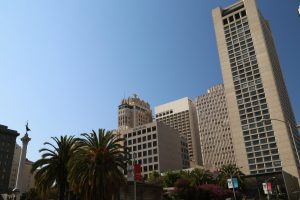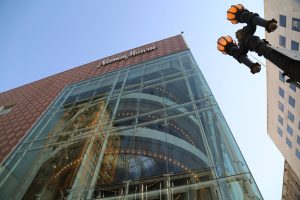 Union Square has many upscale shops some affordable, some quite expensive. This square is the heart of The City's shopping district. Just a few of the high end shops here are Armani, Gucci, Kenneth Cole, Macy's, Neiman-Marcus, Saks Fifth Avenue, and Versace. Gumps is a fancy store that sells fine china, pottery and jade among other things. This store and others have intriguing Christmas time window displays. Some will have live animals running around in their front windows.
There is a small park in the center of this square. I enjoy sitting on one of the many benches here and watching many different people walk by. There are often painting exhibits and other shows being held in this park. There are the usual homeless sitting in their same corners or standing in "their area" asking for money or playing a variety of musical instruments. If you look up and around the square you will see large buildings, some with outside glass elevators that whisk people up to the top of the buildings. Parking is tough and traffic is tight in this part of town – talk has even been about charging to enter this part of the city like they do in the center of London.
I recommend parking in the nearby O'Farrell Street Garage. After 6pm at certain times of the day, parking is a flat $15. You pay after you park – there is a ticket booth on the first floor of this garage next to the entrance on O'Farrell Street. You *must* have your ticket with you in order to pay. Also consider parking in the Union Square garage which is built directly in the middle of the square underneath the park. Website: www.unionsquareshop.com
We also recommend shopping at Crocker Galleria if you like upscale fancy shops. This center was modeled after the Galleria Vittorio Emmanuelle in Milan, Italy. This center is worth seeing even if you do not go for the shopping experiences. The reason I say this is because the building is a multi storied glass dome. There is 3 pavilion levels and a rooftop garden. Website: www.shopatgalleria.com
If you enjoy premium hotels, check out the St. Francis lobby and accompanying area – it faces Union Square. The center of Union Square was totally remodeled and designed around the turn of this century. The 'new' look is now 'old' yet still quite nice – very spacious and modern looking.