According to famous San Francisco Chronicle columnist Herb Caen, one of the best lines Mark Twain never wrote was, "the coldest winter I ever spent was one summer in San Francisco". He might as well have.
If you like fog, and more fog, and yet more fog, then San Francisco is most definitely the city for you. If you like fog combined with bitterly chilling winds, especially in the middle of the summer but at anytime of the year, then San Francisco is also for you. The City is often one of the coldest cities in the Bay area in the summer. While 30 miles inland the temperature is blistering, San Francisco is often 20 degrees cooler. San Francisco is noted not for its extreme temperatures but rather for its range of consistency. The temperature rarely falls below 40 degrees F or rises above 85 degrees F. The all time record high temperature recorded in San Francisco was a whopping 106 degrees on September 1, 2017!
A common statement on one of the radio stations when offering up the local daily weather forecast goes something like this, "and its 100 degrees in Livemore 90 in San Jose and here, south of market we are checking in at 55 degrees".
The best time of the year to visit The City if you like warmer temperatures is in the Fall. We try to avoid visiting San Francisco unless it is in September or October (by far the best weather months of the entire year).
By Fall (sometimes) the fog disappears and The City is unveiled with sunshine and clear skies. The temperatures are often a bit higher in this season, even when compared to the summer months of July and August. Some summer months can see weeks go by with temperatures rarely above 70 degrees. San Francisco receives about 20 inches of rain a year. Most of this falls in the winter months however, fog drip in the summer can cause one to need a raincoat year round.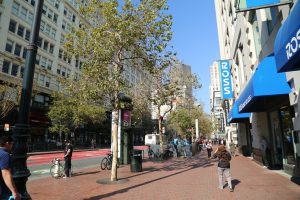 There are often microclimates within the City especially in the summer – for instance one part of the City may have sunshine and another part may still be socked in fog. If the City is clear but there is still fog in the area, that fog will usually hang out on the Golden Gate Bridge.
Should you be visiting San Francisco in the winter, expect temperatures during the day to range from the high 40's to the mid to upper 50's. Because San Francisco is located close to the ocean its temperatures are more moderate in the winter than some of the surrounding inland areas which often see frost and colder temperatures.
The highest temperature ever recorded in San Francisco was in 2018 at 106 degrees. Folks not used to this weather who don't get out of SF much were extremely provoked and remarkably uncomfortable.