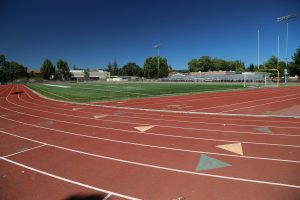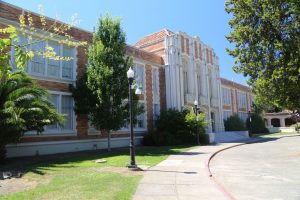 Santa Rosa High School (SRHS) is a landmark historic campus in the city of Santa Rosa. It is Santa Rosa's oldest high school by a long shot and is located on Mendocino Avenue right next to the Junior College. Founded in 1874 it has not always been in it's current location. Supported by a strong history in the community, an active Foundation and strong academic programs, Santa Rosa High School is the leading high school in the city.
The main building was finished in 1925 and has appeared in several movies, including When Peggy Sue Got Married and Inventing the Abbots. The school was supposed to be used in the original Scream movie but the extremely narrow minded small-city mindset school board at the time denied permission to director Wes Craven.
The campus has a number of stately buildings including DeSoto Hall (named for former well-liked but tough English teacher, Gene DeSoto), a picturesque music building and a very historic auditorium. A state of the art all-weather track + Nevers football field is located on the western fringes of the campus and is open to the public.
Famous alumni include Robert Ripley of Ripley's Believe it or Not fame and professional football player, Ernie Nevers. The front of the main campus building is very photogenic. A museum is located in the North East corner of the main building – dedicated to the long history at this school (visits are by appointment). Additional photos and information is available here: www.srhsf.org
Santa Rosa Junior College looks like an Ivy League college. Several movies have been partially filmed here, among them Phenomenon staring John Travolta. There are over 30,000 plus students who attend this school during any given school year. About half of these are full time while the other half attend part time. SRJC also has another campus in Petaluma (recently underwent a major expansion & construction), about 15 miles south of Santa Rosa off of Highway 101. SRJC may be opening a new campus at some point, in Healdsburg. The Santa Rosa campus has a brand new very spacious library and now boasts a much needed large parking garage in front of Bailey Field on the Mendocino side of the campus.
SRJC also has a planetarium and has scheduled shows from the Fall through the Spring. The shows occur on Friday, Saturday, and Sunday. Call Phone Number (707) 527-4371 for more information. SRJC was given NASA equipment to be able to communicate with astronauts when they are conducting space missions. SRJC is only one of 5 or 6 sites in the United States to have this capability, the main site being ground control in Houston.
Occasionally a well known speaker will present on campus – one we recall is Phil Jackson – former head coach of the Chicago Bulls and Los Angeles Lakers. The SRJC web page is www.santarosa.edu
Sonoma State University is located about 15 miles south of Santa Rosa just east of Rohnert Park. The University features a wide selection of sports and cultural events which are open to the general public. The University Art Gallery displays contemporary art and photography. A fairly new library contains a state of the art computer controlled filing system – also good local history information contained within this library.
The university was founded in 1961 as Sonoma State College and today is the smallest of the CSU universities. Buildings of note include the large Charles M. Schulz library (named after the comic strip artist who worked in Santa Rosa and donated a significant amount of money towards construction of this building). Also noteworthy for their collection of personal writings and original letters from the author Jack London.
The acoustically superior Green Music Center opened on campus in mid 2012 and often hosts big name talent (and is the home of the Santa Rosa Symphony). Campus tours are available by reservation. Known for good wine education programs (Wine Business Institute). For more information call Phone Number (707) 664-2880. www.sonoma.edu