Coddingtown is one of two primary malls in Santa Rosa and is the city's oldest mall. It continues to undergo a number of select remodels over the years with parts of the mall torn down and then rebuilt from the ground up. Originally founded by Hugh Codding in 1962 as an open-air mall it was later enclosed in 1979. The name Codding is a long time prominent family in town – Hugh Codding developed a number of shopping centers in town as well as residential developments including Town & Country and Montgomery Village (Hugh died in 2010). For a number of years 50% of the mall was owned by the Simon Property Group but now it is currently entirely owned by the Codding family.
Coddingtown is a single story mall, except for the major department stores, located just off of Guerneville Road, west of Highway 101. This mall is anchored by Macys and JC Penny with a Nordstrom Rack store on the North East corner of the mall. A number of chain as well as boutique stores are located inside. Whole Foods maintains a large store on the North / West side of the mall; after a number of years of not having a supermarket here some residents might agree it is nice to have a grocery store in this part of town.
Old timers may remember dining at Narsi's Hof Brau inside the actual mall and at the well-known at the time Los Robles Lodge (right at the edge of Coddingtown and roughly where Dick's Sporting Good/Habit Burger are located today).
The mall features plenty of parking – often more then is needed for shoppers (other then busy winter holiday times). Sometimes there are special events held on the grounds including a small fair with rides and used automobiles for sale. Visit: www.coddingtownmall.com
Downtown Santa Rosa features a mix of small shops and restaurants mostly centered along Fourth Street and Old Courthouse Square (used to be split by a street but now features a central park/green area). The downtown corridor is conducive to pedestrians.
For decades, downtown has suffered severely due to very poor city planning policies and urban sprawl. Downtown Santa Rosa would do good to look at downtown Napa as a model for tourism. With the reunification of the downtown plaza in 2017, the downtown area has perhaps seen a limited renaissance of sorts .
A number of coffee shops and mom and pop stores are located within several blocks of the main part of downtown. Barnes and Nobles is by far the largest bookstore located downtown in the old Rosenberg's building (although perhaps more intriguing is a wander through the long time crammed to the gills, Treehorn Books).
One shop worth checking out is Corrick's Stationery Store – owned by multiple generations of the same family it is located in the heart of downtown at 637 Fourth Street (located on Fourth Street since 1915). Its roots date back to the 1870's when the Corrick family purchased what was C.A. Wright & Co (a stationary store that served Santa Rosa since the 1870s). Not just stationary, this store also features a variety of art, collectibles and miscellaneous gifts.
Another old downtown standby is Stanroy's Music Center. Old timers will recall Sawyer's News – a community friendly news space where both business people and others would wander in throughout the day caching up on gossip and buying magazines, newspapers and a variety of books.
Montgomery Village dates from 1950 and is the second shopping center that prominent Santa Rosa developer Hugh Codding created (after the Town & Country Shopping Center). The proceeds from the sale of Town & Country ($100,000 at the time) allowed him to invest in Montgomery Village. When it opened, this shopping center only had 16 business – but it was surrounded by 2500+ homes that Codding Construction built.
The name Montgomery is a dedication to Billy Montgomery, Santa Rosa's first citizen to be killed in World War II (he died at Pearl Harbor on December 7, 1941). The street Montgomery Drive predates this shopping center – the street was formed after the railroad tracks were removed (used to cut through the middle of what is now the shopping center on its way to the town of Sonoma). A city councilman in 1943 passed a resolution to name this new street Montgomery Drive in honor of Billy Montgomery.
Interestingly enough, in 1955 the community of Montgomery Village was not yet a part of Santa Rosa – and at the time there were both sides for and opposing its incorporation into its own city. Ultimately it became a part of Santa Rosa and the population of Santa Rosa at the time went from 18,000 to 30,000 people.
Today the village is spread out over several blocks bisected by multiple streets. A number of clothing stores are located here, a Ross, Coldwater Springs clothing and Spa and many other small boutique and novelty stores. The shops typically appeal to an older clientele. Several restaurants are also on site including Cattlemen's, Shogun, Sea Thai Bistro and Lisa Hemmingway's (See our Restaurant section of this guide for information about these restaurants). During the summer weekends, events are often held here – live bands, with food and drink for sale.
A micro courtyard is located nearly at the intersection of the usually very busy Farmers Lane and Montgomery Drive. A number of picturesque statues are on display with a board listing upcoming events at the center.
Old Railroad Square is located just west of the 101 Freeway across from the Santa Rosa Convention center. This square (which is actually several blocks) contains historic turn of the century buildings (often brick) including originally uses for warehouses and canneries (walls from nearby canneries can still be seen near this part of town). Listed on the National Register of Historical Places since 1979.
Old Railroad Square is known for its specialty and boutique stores including antiques, gifts and clothing. Plenty of dining options and nearby lodging. And only about a 10 minute walk to downtown Santa Rosa. The West End Farmers' Market is held here Sundays. Also made appearances in two older films – Hitchcock's Shadow of a Doubt and Cheaper by the Dozen starring Steve Martin.
In addition the Santa Rosa Convention and Visitor's Bureau/California Welcome Center is located here (in an old stone building directly next to the train tracks). Commercial train service started in 2017 (SMART Rail) with the Santa Rosa Downtown train depot and boarding platform across from the Visitor's Center. For more information visit: www.railroadsquare.net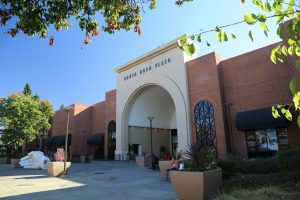 Santa Rosa Plaza is at the end of 4th Street in downtown Santa Rosa. This is Santa Rosa's "newer" mall and is two stories. This mall is anchored by Macy's and Sears.
Santa Rosa has grown in population quite a bit in recent years. Most of this population growth has occurred in outlying city limit areas, and has led to a boom of shopping centers and stores located far from downtown. The downtown has fallen behind this population explosion.
The city of Santa Rosa finally opened up policy to allow for the construction of much taller buildings in the CBD. This is a good idea, which will hopefully will eventually bring more life to the downtown and help slow down the crazy urban expansion away from downtown. The Wednesday Night market has been a good idea and has been held for many years now. Unfortunately it is only held during several summer months of the year – as the weather in Santa Rosa is not conducive for this type of outdoor market the rest of the year.

Santa Rosa Avenue is another popular very crowded at times, shopping area. This is strip shop hell – with one of the busiest Costco stores in the nation as well as many national franchise stores such as Bed Bath & Beyond, Best Buy, Office Depot, REI etc. Suburban urban is the name of the game along here and the stores cater to those who live in Sonoma County as well as those from neighboring counties where the selection of big name chain stores is often lacking.
As one heads further south on Santa Rosa Avenue the stores become less chain like – and one finds automobile repair shops, storage spaces, truck or car rental operations and a mix of businesses sprawled out on both side of the ave.